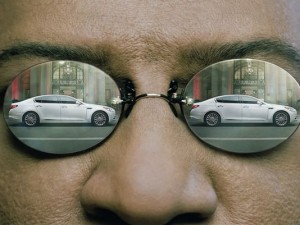 When the third quarter of this Sunday's Super Bowl rolls around, viewers still glued to the tube will see the trademark reflective sunglasses and trench coat of The Matrix' Morpheus in a new role – touting the all-new 2015 Kia K900 luxury sedan.
Actually, the 60-second game day spot is the first of a multifaceted marketing campaign that will draw heavily on imagery from the films, including levitating cars, authentic costumes and props and more.
The intent of the campaign is clear: There's something different going on at Kia.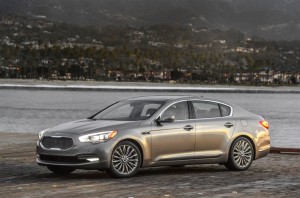 What We Know About the 2015 Kia K900
First unveiled at the 2013 Los Angeles Auto Show, the 2015 Kia K900 marks the Korean automaker's foray into the large luxury sedan market. The K900 will be Kia's flagship sedan, although it will be priced somewhat below traditional luxury sedan competitors.
A fully-outfitted top-of-the-line K900 with V8 engine and VIP package will carry a price of $65,500. V8 and V8 VIP models will go on sale by the end of March, with V6 versions to follow a few months later. Pricing for the base models is expected to be released closer to the on-sale date.
The hook for consumers is more value for less money. Who can argue with that?
Does the K900 deliver? Here are some specifics.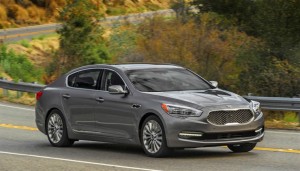 Exterior Styling – Auto critics comment that the K900 is more visually distinct, aggressive and sportier than the Hyundai Equus, its corporate sibling. The rear-wheel drive luxury sedan has a long hood, a shorter, higher trunk and short overhangs. The car rides on 19-inch chrome multi-spoke wheels and tires. Other styling cues are the Kia signature chrome-ringed grille and adaptive LED headlights.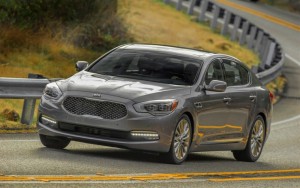 Powertrain – Power comes from a 311-horsepower 3.8-liter V6 and a 420-horsepower 5.0 direct-injected 5.0-liter V8 –Kia's first — both matched with an eight-speed automatic transmission. The V8 produces 376 pound-feet of torque. Rear-wheel drive is all that's offered.  No all-wheel drive is available.
Fuel economy with the V8 is an EPA-estimated 15 mpg city/23 mpg highway and 18 mpg combined. The V6 fuel economy is 18 mpg city/27 mpg highway and 21 mpg combined.
Interior – Luxury car owners want to be comfortable, indeed, pampered. The K900 offers plenty of soft-touch materials and rich surfaces, like wood and matte silver metal, although there are still a few hard plastic surfaces, albeit not where passengers are likely to touch.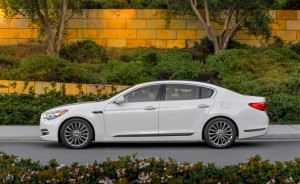 Other luxury touches include leather upholstery (with optional Napa leather seats), heated and ventilated front seats, 12-way power adjustable driver's seat (optional 16-way), and a nine-inch navigation and multimedia display. Opt for the V8 model and there's even more luxury features, including a 12-inch display screen, panoramic sunroof, and heated, ventilated and reclining rear seats.
Safety – Advanced technology abounds in the K900 with many standard safety features such as eight airbags, electronic stability control, antilock brakes and a tire pressure warning system. Optional adaptive cruise control, an advance collision warning system with last-minute automatic braking, blind-spot proximity warning, lane departure warning (but no lane correction), parking sensors and a monitor display with a 360-degree view.
Search used cars for sale and find the best deals near you at iSeeCars.com.
To get a FREE iSeeCars VIN Report for a car, click here.