Small, cheap cars should be the least expensive cars to insure, right? You might be surprised by the answer. According to InsWeb, a leading online comparison provider for insurance, the least expensive cars to insure are mostly family vehicles.
InsWeb published a list of 25 least expensive vehicles to insure – not all of which are family cars, but the majority are. How did they come up with the list? InsWeb compared customer requested auto insurance quotes for about 400 companies for a nine-month period (January to September, 2010) for 2010 model year vehicles.
Here's a look at the top five least expensive cars to insure. For the complete list, go to InsWeb.
Kia Sedona – Yes, it's a minivan. The 2010 Kia Sedona not only carries seven, but it also boasts top safety scores, Kia's impressive warranty and low purchase price. Best of all, it's the least expensive 2010 vehicle to insure, according to InsWeb. Last redesigned in 2006, Kia upgraded the engine to an all-new 3.5-liter V6 for 2011. Car and Driver comments: "Some families want an old-fashioned sliding-door minivan. Who can blame them? They're hugely practical. Kia's own kid-bus has a long list of standard features and options, all at value prices."
Mazda Mazda5 – Call it a small minivan or a wagon that happens to have sliding rear doors, but the 12010 Mazda Mazda5 has a solid second-place spot as least expensive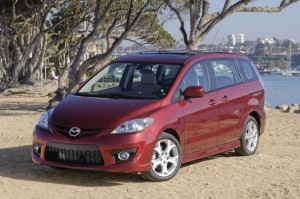 car to insure on the InsWeb list. What's not to like? There's seating for six, sporty handling and strong safety scores. A good alternative to compact crossover SUVs and larger vans, Mazda Mazda5 is shorter than larger competitors in cargo space. Consumer Guide observes: "Mazda 5 deserves consideration as a well-made sensibly sized wagon that's sedan sporty, minivan versatile, and priced right."
Chrysler PT Cruiser – With 2010 as its final model year, the Chrysler PT Cruiser affordable compact wagon marks the end of an era where its utilitarian design and
admittedly funky look made it a consumer favorite. Still, used 2010 PT Cruisers are affordable – even more so now – and generous cargo area, doors that open wide, and seats with chair height are other draws. Chrysler PT Cruiser is number six on the InsWeb list. Edmunds remarks: "The 2010 Chrysler PT Cruiser was pulled from the ashes for one more year, but we think it should have been allowed to die in peace."
Kia Optima – Here's another Kia on the least expensive cars to insure list, coming in at number nine. This time, it's the Kia Optima, a midsize sedan that's inexpensive to buy, offers the lengthy Kia warranty, and features a comfortable, quality interior. Even better, since Kia redesigned Optima for 2011, those 2010 models should be a good value. Kelley Blue Book says, "The 2010 Kia Optima continues to offer buyers a well-built, well-equipped family sedan for less money than the competition."
Buick LaCrosse – The large family sedan Buick LaCrosse, at number 14 on the InsWeb list, is also a Top Safety Pick for both 2010 and 2011 by the Insurance Institute for Highway Safety (IIHS). LaCrosse is upscale enough to challenge entry-level luxury cars, yet it's affordable and a great bargain. The Los Angeles Times observes: "No fair appraisal of this car can conclude anything but that the Buick is as good as or better than the Lexus [ES 350] in every way."
Other least expensive cars to insure on the InsWeb list include 15th place Ford Taurus and 20th place Chevrolet HHR.
Search used cars for sale and find the best deals near you at iSeeCars.com.
To get a FREE iSeeCars VIN Report for a car, click here.