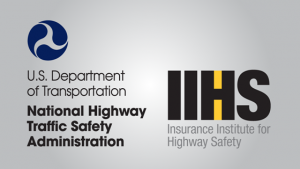 In a huge win for consumers – except the extra cost the technology will cost in the short term – the National Highway Traffic Safety Administration (NHTSA) has just announced an historic agreement reached with 20 automakers to make automatic braking standard on new vehicles by 2022.
If the number 20 doesn't sound like much, consider that it includes every major automaker selling vehicles in the U.S. today: Audi (and parent Volkswagen), BMW, Fiat Chrysler Automobiles (FCA), Ford, General Motors, Honda, Hyundai, Jaguar Land Rover, Kia, Maserati, Mazda, Mercedes-Benz, Mitsubishi Motors, Nissan, Porsche, Subaru, Tesla, Toyota and Volvo. Together, these automakers account for 99 percent of the auto market in America.
The Agreement Specifics
Hammered out by the NHTSA and the Insurance Institute for Highway Safety (IIHS), the agreement includes a pledge from the major automakers to equip nearly all light-duty vehicles with automatic emergency braking (AED) and forward collision warning by 2022.
That's just six years off.
Light-duty vehicles are those weighing up to 8,500 pounds. Manufacturers of trucks that weigh up to 10,000 pounds (between 8,500 and 10,000 pounds) will have until September 2025 to comply with the new AEB standard.
The landmark agreement was reached just six months after 10 automakers reacted to the NHTSA-IIHS challenge issued in September 2015 designed to encourage AEB acceptance by automakers.
The NHTSA said that this agreement means AEB will become standard at least three years quicker than if the agency had to go through the formal regulatory process. According to IIHS estimates, about 28,000 vehicle crashes and 12,000 injuries will be prevented during those three years – thanks to automakers' commitment to AEB.
NHTSA will monitor automakers' progress toward meeting goals, including timelines. Consumer Reports will also assist in monitoring the progress, working with the NHTSA and the IIHS to put the plan into action and hold automakers accountable for their commitment to AEB.
What Is Automatic Emergency Braking?
According to the IIHS, automatic emergency braking is proven technology that is one of the most promising safety advances since the advent of electronic stability control nearly 20 years ago.
NHTSA data show that in nearly one-third of all 2013 crashes reported by police involved a rear-end collision with another vehicle before the start of the crash. In a large number of the crashes, the agency said the driver either failed to apply the brakes at all or didn't apply them fully before the crash.
Automatic emergency braking systems work by automatically detecting an imminent crash and applying the brakes of the vehicle or supplementing the car's brakes in order to avoid the crash automatically or to mitigate its severity.
The systems use on-board sensors such as radar, cameras or lasers to detect potential imminent crashes, provide a warning to the driver, and automatically apply the brakes if the driver fails to act in sufficient time.
In order to meet the commitment, AEB systems must receive at least an "Advanced" in the IIHS testing criteria. This means they must reduce the car's speed by at least 10 mph in either a 12 mph or 25 mph test, or by 5 mph in both tests. The vehicles' AEB systems also have to have a forward collision warning that meets NHTSA standards.
Cost of AEB Systems
How much consumers have to pay for automatic emergency braking systems on new cars today depends on the make and model. Some models offer the advanced safety technology at a cost of $300-$400. In other makes and models, however, the tech is part of an expensive package that can add up to thousands of dollars and include all the tech bells and whistles.
If there's a light at the end of this tunnel, it's that with economies of scale – more automakers making the tech standard on more new vehicles – the cost is likely to ratchet down.
The flip side to the scenario where increasing numbers of new vehicles on the road have AEB standard is that used cars are likely to take a hit in terms of what consumers are willing to pay for them. A used car without the ability to safeguard occupants with AEB might not be what many consumers – especially those with families – are willing to buy.
Search used cars for sale and find the best deals near you at iSeeCars.com.
To get a FREE iSeeCars VIN Report for a car, click here.