Much ado has been made about the size of the diminutively tiny 2014 Chevrolet Spark since its arrival on our shores this model year mainly because no one thought North American buyers would go for an affordable compact car that was bullied even by models like the bowtie division's own Sonic. But the 2014 Chevrolet Spark is just one of those cars with a bigger personality and more appeal than that which can be accounted for with a tape measure. This is what turns an ordinary, economical penalty box and gives it a personality.
Luckily for the sake of fairness, we can think of another model on the new car market that is similarly small for the five door subcompact hatch class, as affordable in most ways and is also similarly transformed into an unexpectedly fun to drive car when equipped with the standard 5-speed manual transmission. Yes, dear readers, we are speaking about the 2014 Mazda2 Touring hatchback which comes standard with a rev-happy and surprisingly potent 1.5 liter 100 horsepower 4-cylinder as standard.
So how well do these two wallet friendly compact hatches perform in one of our grueling comparison tests? Well, if either one of these models is on your shopping list (as well as the Toyota Yaris, Kia Rio and Nissan Versa Note) then by all means check out the results of this matchup as follows. They may be tiny but they carry a mighty wallop!
Exterior, Interior Design and Cargo Hauling
While neither of these vehicles is likely to offend anyone, we did feel that the 2014 Mazda2 tester exacerbated the fact that from some oblong angles this car can look
like a flying chicken egg kind of like the one Robin Williams used to travel to Earth from the Planet Ork in the classic TV show "Mork and Mindy," or perhaps that was just us who saw that similarity.
The tautly peeled back and pulled sheet metal of the 2014 Spark manages to look fashionable yet also larger than it really is thanks to the fact that it apes the posture of a small domesticated housecat about to be attacked by a Pit Bull. Notice that when cats are threatened they arch their backs up high much like the Spark does with all that's missing being claws and a snarling meow.
As for interior comfort, both of these vehicles are strictly for four adults, but all can be 6 foot tall without there being too much hassle. The layout inside the 2014 Mazda2 was simple, logical and all materials felt expertly assembled much like they would ten years from now. It lacked the cool looking motorcycle inspired gauge pod from the 2014 Chevy Spark but there is an appeal to the Mazda2's no nonsense approach.
In the cargo hauling wars, here is what we discovered about the 2014 Mazda2—13.3 cubic feet behind the rear seats and when those are folded down that figure grows to 27.8 cubic feet. The Spark felt notably less adept at carrying 4 passengers and their stuff, as its 11.8 cubic feet reading will attest. That number did grow, however, to a suitably impressive 31.2 cubic feet when the Sparks rear seats were folded down. It's too bad that our Spark 2LT model came equipped with the eye searing red leatherette seat upholstery, as it was our only criticism of an otherwise exemplary small car interior.
(Winner: 2014 Mazda2)
Value, Features and Fuel Economy
Our 2014 Mazda2 Touring model stickered at $16,210 (this is the highest trim level available) and came standard with air conditioning, power windows, locks and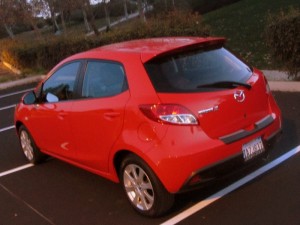 mirrors, cruise control, AM/FM/CD 6-speaker audio system with a USB/iPod integration port, steering wheel mounted audio/cruise control, 15-inch alloys and en EPA fuel economy estimate of 29 city/35 highway. We averaged 32.8 miles per gallon during our seven days with the Mazda and it runs off regular unleaded.
Our 2014 Chevy Spark 2LT stickered at $15,045 in top spec trim which includes air conditioning, power windows, door locks and mirrors, leatherette seats, cruise control, AM/FM/CD 6-speaker audio, a USB/iPod jack, heated front seats, 15-inch alloy wheels, a smattering of exterior trim and spoiler enhancements, Bluetooth as well as the Chevy MyLink system which lets you utilize your smart phone to listen to audio/Pandora radio/Stitcher all via a nicely sized center dashboard touch screen. Chevy's MyLink also can turn your Spark into a drive-in movie theater as it allows owners to stream their videos onto the car's screen as long as you are in park.
As long as GM can keep people from watching Sandra Bullock in "Speed" while jetting through bumper to bumper traffic, we think that really the future of affordability and integrated smart phone technology is available somewhere here for you see. Our 2014 Chevy Spark 2LT has EPA fuel economy readings of 32 city/38 highway and during a week with us our average hovered just below 31 miles per gallon.
(Winner: 2014 Mazda2 and 2014 Chevy Sonic)
Driving Impressions and Safety
According to the IIHS (Insurance Institute for Highway Safety), the 2014 Mazda2 scored top points in a front offset collision as well as for roof strength, which matters most in rollover type accident. Sadly, the 2014 Mazda2 only got an "acceptable" score in side impact protection which will no doubt make owners think twice before heading into a blind intersection at 50 miles per hour.
At this time, however, it appears that the 2014 Chevy Spark has not yet been tested for crash worthiness by either the Government regulated NHTSA (National Highway Traffic Safety Administration) or the IIHS (Insurance Institute for Highway Safety). We were very impressed that each and every 2014 Spark comes with ten airbags each as well as standard On-Star for the first six months of ownership.
The 2014 Chevy Spark also offers up unique safety features like a clutch hill holder, which is standard with every manual transmission equipped variant sold in the United States. A hill holder will keep your Spark from rolling downhill into the car behind you during those awkward clutch release moments that make people fear driving a manual. Trust us, in San Francisco you would kill for a hill holder system if you loved cars with clutches.
Now, neither of these economy hatches is going to fool a Lexus owner when it comes to suppressing wind, engine and tire noise which are always in evidence yet thankfully at most times fully drowned out by the audio systems in this Chevy Spark and Mazda2. But what they may lack in overall spit and polished refinement, the 2014 Mazda2 and 2014 Chevy Spark are easily forgiven all that simply because they are so darn cute looking and fun to drive. Sure, in a couple of years their hooligan attitudes may lead to Juvenile Hall Criminal Justice but until that day rest easy knowing neither car can get in too much trouble with their respective power output.
And you see, that is where the oddly simple dichotomy plays out here—admittedly the Mazda2 has the sweetest and most precise manual gearbox and the most communicative steering rack which allows it the sportier edge over the Spark. This all remains true while rip snorting growl noises routinely come from the standard 1.5 liter 4-cylinder motor each and every time you head yet again to redline. Brake pedal feel was decent in both hatchback and even under heavy usage we never detected brake fade issues with either model.
The 2014 Chevy Spark may not have the razor sharp reflexes of the Mazda2 but then we don't think it is really meant to mimic those driving attributes. Now, while
the 2014 Spark's manual transmission gearlever may feel slightly rubbery with rather long throws, there is no denying that it is nearly impossible to stall this car. And as the Spark doesn't react to steering or throttle inputs as quickly as the Mazda, we dare say that the Spark might be the wiser vehicle to purchase a first time or inexperienced driver. Otherwise, we love the 2. (Winner: 2014 Mazda2)
And the Winner Is…(2014 Mazda2!)
Now this was a very close call that came mainly down to one thing—the Mazda's manual gearbox was simply more fun to use than the somewhat rubbery feeling you get when rowing the gears in the Chevy. And honestly, both of these little baby hatchback cuties demanded quite a bit of driver involvement to keep their itsy-bitsy fuel sipping motors on the boil in cut and thrust everyday traffic. But either way, you can't lose with either the Mazda2 or Chevy Spark because they prove size isn't everything!
(1st Place: 2014 Mazda2, 2nd Place: 2014 Chevrolet  Spark)
Written by James Hamel
(Note: All vehicles provided by manufacturers for comparison test purposes.)
Search used cars for sale and find the best deals near you at iSeeCars.com.
To get a FREE iSeeCars VIN Report for a car, click here.