With every new auto show seeming to unveil an autonomous or self-driving car from yet another automaker seeking to make headway in this albeit-a bit-far-off transportation reality, more attention is likely to focus on the environment for driver and passengers. In other words, you'll be able to do more in a seat in cars of the future than just sit. Here's a glimpse at what may be in store for new car shoppers in the not-so-distant timeframe.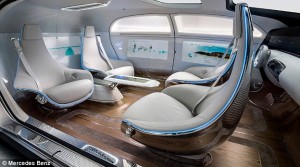 Elegance And Space
Using the occasion of the 2015 North American International Auto Show, Mercedes-Benz showed Americans what elegance and space can look like in its self-driving car concept, the Mercedes F 015 Luxury in Motion.
In revealing the concept, the automaker said the car features "four rotating lounge chairs that allow a face-to-face seat configuration." Make that living-room style conversation and interaction. The seats swivel 360 degrees. The dashboard can be controlled with eye-tracking technology and gestures.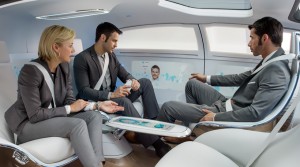 As The New York Times indicated in an article published in January 2015, the idea of passengers being able to sit face to face was common in horse-drawn carriages and Chrysler even briefly offered an option permitting front-seat passenger to swivel toward the rear and included a folding table – all the better to conduct business meetings while on the road.
But going mainstream with such automotive seating – and including the driver in the mix? This was unheard of – until the introduction and growing interest in autonomous cars.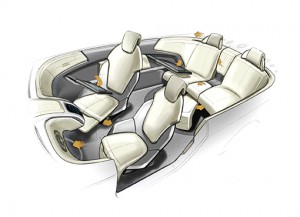 Paradigm Shift By 2035
At the recent 2015 Frankfurt Motor Show, Johnson Controls, a seat technology firm, unveiled designs for seating in self-driving cars of the future that the company says will happen gradually, over time.
Company officials suggest that instead of a driver seat, the driver will sit in a comfortable control unit – and passengers will face each other. The driver will be a "supervisor" more than a "driver" in this new automobile environment.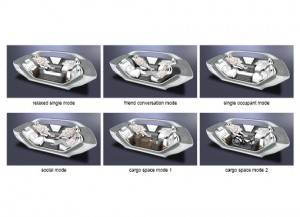 Seating in the cars of the future will reflect multiple talents, showcasing superior comfort, strength, safety and entertainment. Dr. Detleff Jürss, group vice president of Johnson Controls, said that, as a passive driver, the occupant's seat has to "offer all possible options for work, entertainment, and communication while driving."
Jürss said that interim "minimal" changes will start to occur by 2025, when consumers are able to buy "driverless" cars that still require the driver's input.
The company further predicts a "potential paradigm shift" in car interiors by 2035. At that point, Jürrs said, drivers will only need to type in their desired destination – and the self-driving car will take care of the rest.
Will Consumers Go Along For The Ride?
We're all for comfort, especially when it's necessary to sit behind the wheel for extended periods of time. Frankly, anything seating developers and automakers can do to make vehicle seats more comfortable, functional, safe and convenient, we're on-board with that.
As for driverless cars – even after the massive safety, privacy, insurance, infrastructure and other issues are settled – it's still going to take a great deal of time for them to gain consumer acceptance.
Giving up control of the wheel – assuming you'd even want to do that – we're wondering if consumers will go along for the ride? It should be interesting watching developments in this field in years to come.
Search used cars for sale and find the best deals near you at iSeeCars.com.
To get a FREE iSeeCars VIN Report for a car, click here.