With any vehicle purchase, you hope with all your might that you're getting a reliable vehicle; everyone wants to avoid the dreaded lemon. With pickup trucks it's a bit more than hope. Many pickup buyers don't just hope for a reliable pickup, they rely on their pickups. Trucks are the workhorses of the industry, and truck-buyers don't make a penny if their trucks are sitting in repair shops. One bad truck purchase can sour an owner on an entire line of vehicles. As always, the smartest thing to do would be to choose a make and model that has the least chance of leaving you stuck. After some thorough research at Consumer Reports, Edmunds, Truck Trend, and J.D. Power and Associates, these are the most reliable pickup trucks available today.
Best 1-Ton Option:
Ford F-350 Super Duty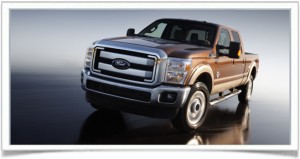 "The heavy-duty F-series is a massively capable pickup that will satisfy both contractor and luxury seeker alike. It tows and hauls so easily it makes light-duty trucks look like Tonka toys." (Car and Driver) The available V10 Powerstroke diesel is a true workhorse, handling heavy loads with little strain. The interior can seat anywhere from three to six people, and it boasts an excessive amount of comfort for a large pickup truck. If this monster had a propeller it could be a tugboat for freighters.
Best ¾-Ton Option:
While the F-250 shows to be every bit as good as the F-350, we thought we'd give you a little more variety here and list an option that breaks from the Ford line. The Sierra 2500HD is the closest you're going to come to the top of the big-truck line without having the Ford emblem on the grille. "It's an up-to-date truck, and its superior driving dynamics and extraordinary interior quality nicely complement its expected hauling and towing talents." (Edmunds) The 5-year/100,000-mile powertrain warranty is an added bonus that could make up the slack for an only slightly-better-than-average reliability score.
Best ½-Ton Option:
Very few vehicles garner a perfect score of 10 out of 10 from J.D. Power & Associates' reliability tests, but this is one of them. The Tundra is the model by which all other half-ton pickups should be judged when it comes to dependability. "The current Toyota Tundra, which came onto the scene in 2007 fresh from a redesign, matches or beats domestic full-size pickups when it comes to size, performance, and price." (Edmunds) Its interior is judged as merely average, but there's nothing average about its performance.
Best Luxury Option:
This one should come as no surprise. Not only is it the best luxury pickup available, it can also double as an SUV. "You're meant to travel in the EXT, not just shuttle from job site to job site. That's why the seats are sufficiently bolstered to be supportive enough for long journeys, and they're available with both heating and cooling functions." (Car and Driver) It also possesses a leather- and wood-trimmed interior, an array of chrome fixtures, and enough comfort to seat five adults luxuriously.
Best All-Around Option:
The Tundra is the standard-bearer for a reliable pickup truck, but the F-150 is your best all-around choice. No other truck can offer the combination of power, economy, convenience, comfort, and reliability that the Ford can. It possesses enough options to let you choose what you need as far as your pickup's capabilities, but is refined enough to not be overly excessive in price. Ford's technology and build quality are both drastically improved in recent years.
Search used cars for sale and find the best deals near you at iSeeCars.com.
To get a FREE iSeeCars VIN Report for a car, click here.