Remember the Hummer H1? It was supposed to be indestructible to a mere civilian. It could conquer the deserts of Egypt, the jungles of Asia, and the muddy, snow-covered mountainous regions of Europe; surely some paved highways in America couldn't hurt it. Now, how many H1s have you seen on your local roads lately? The whole moral of the story here is, nothing is unsinkable; everything has its flaws, even the mighty full-size SUV. So that you don't fall into the H1 trap with one of the newer full-sized SUVs, we've researched Consumer Reports, Edmunds, and J.D. Power and Associates to find the most reliable SUVs available today.
According to Edmunds, the Sequoia is "the best all-around eight-passenger SUV available." Not only did it score a perfect 10 out of 10 in J.D. Power and Associates' quality and dependability studies, it possesses some of the best cargo space and interior features in this line. It has comfortable seats, an adult-friendly third-row seat, and optional safety features that include a backup camera, dynamic laser cruise control, and front and rear sonar systems. Most consumers never find the need to utilize the 3-year/36,000-mile factory warranty on the Sequoia.
2. Lexus RX 350
The RX 350 didn't match the Sequoia in the J.D. Power quality and dependability tests, but 9 out of 10 is about as close as you can get to it. Not only is it dependable, this Lexus offers an extremely smooth ride, excellent fuel economy for this class, and the optional sport-tuned suspension makes it a truly fun SUV to drive. The interior features comfortable seating, a telescoping steering wheel that can accommodate just about any size driver, and an optional heads-up display that projects navigation directions, audio information, and vehicle speed directly on the windshield.
3. Lincoln MKX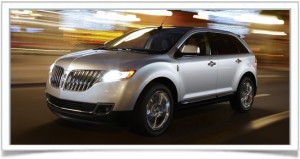 The MKX comes with Ford Motor Company's 4-year/50,000-mile bumper-to-bumper coverage as well as powertrain coverage for 6 years/70,000 miles. Most will not find a need to utilize this coverage with the MKX's reliability standards, but it is a comfort to know it's there just in case. It received a score of 8 out of 10 in J.D. Power and Associates' quality and dependability studies, and the interior is roomy and comfortable, indicative of Lincoln's luxury leanings. There is no third-row seat, but the added comfort of the second-row seat and enhanced cargo capacity may make you forget all about that.
4. Cadillac SRX
It's not often that you see a General Motors line of vehicle placing high in a dependability study these days, but the SRX is making that a thing of the past. It also scored 8 out of 10 in J.D. Power and Associates' quality and dependability studies, and has a much lower starting MSRP than several other luxury brands in this line. "Whereas the Lexus comes off as a very well-appointed people-mover, the Cadillac is awash in luxury and character." (www.motortrend.com) Seating is roomy enough, even in the third row, and the ride is Cadillac-smooth.
The biggest knock against the QX56 is its exterior styling. It's big, hulking, squared where it should be rounded, and overall pretty bland. "Instead of heavy breathing and hey-lookit-me decoration, the Infiniti delivers impeccable manners behind a forgettable face." (Car and Driver) Being as big as it is, however, does afford it some conveniences like roomier seating, but some reviewers believe the materials quality is on the low side for the price. Still, earning 8 out of 10 on the J.D. Power tests means you're getting a vehicle that thrives on its reliability, and Infiniti is no slouch in the luxury department.
Search used cars for sale and find the best deals near you at iSeeCars.com.
To get a FREE iSeeCars VIN Report for a car, click here.