Although automakers love to promote – and consumers are eager to learn about – all-new or significantly redesigned models, what often doesn't get as much publicity is the introduction of technology to existing (and all-new or significantly redesigned) products. That's something we're going to rectify here as we take a peek at new technology coming in 2016 and 2017 vehicles.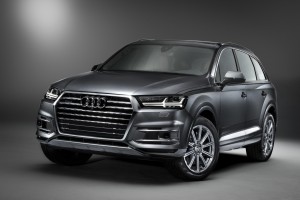 Audi Technology in All-New 2017 Q7 – With an all-new lightweight, multi-material body and chassis, the 2017 Audi Q7 luxury seven-passenger SUV also boasts benchmark connectivity, infotainment and technology systems. The suite of technologies includes Audi virtual cockpit, a Q7-specific app for Android and Apple integration as well as Apple CarPlay and Android Auto smartphone integration, and driver assistance systems that include Audi pre sense® basic, standard pre sense city, pre sense plus (part of driver assistance package), pre sense rear (standard on Premium Plus and Prestige models), vehicle exit assist, rear cross traffic alert, collision avoidance assist, turn assist, adaptive cruise control with stop & go and traffic jam assist, Audi Drive Select, and night vision assistant.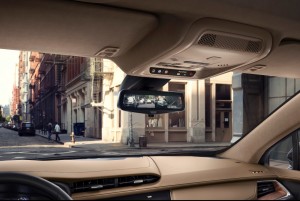 Cadillac Rear-Camera Mirror System, Electronic Precision Shift – Cadillac patented the industry-leading rear-camera mirror system that debuts on the 2016 Cadillac CT6 luxury sedan and the first in a lineup of four Cadillac crossover SUVs to carry the "XT" nomenclature, the 2017 XT5. The system affords the driver a 300 percent field of vision increase due to the use of a video display applied over the conventional rear-view mirror. A high dynamic range camera streams images to video processing software, resulting in wider images. Obstacles – such as rear seat passengers, roof and rear pillars are "removed" to project an unobstructed view to the vehicle's liquid crystal display. Another new technology debuting on new Cadillac vehicles is Electronic Precision Shift, Cadillac's first electronically controlled transmission shifter. This system reduces noise and vibration and allows for more cabin space with additional storage beneath the center console.
Faraday Future – Tesla Rival Plans 1st Luxury EV Production in 2017 – With $1 billion already committed for a plant, Faraday Future, Inc., an electric-car startup, has revved up excitement in electric vehicles by posing a direct threat to Tesla. The fledgling EV company has already hired 400 employees, some of them lured from Tesla, as well as BMW and General Motors.  For now, these workers are housed in Gardena, California in Nissan's former U.S. sales office. Nick Sampson, Faraday senior vice president, said that the company's first car will include some self-driving functions, although they're starting from a "clean sheet of paper and, being 100% electric, we won't fit into any of the current categories of vehicles." It should be interesting to follow the fortunes of Faraday Future and its ability to deliver on the promise of a premium, long-range electric car to rival Tesla's Model S.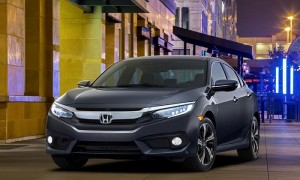 Honda Sensing™ – Available in the completely redesigned 10th-generation 2016 Honda Civic, the Honda Sensing™ suite includes Collision Mitigation Braking System™, Lane Keeping Assist and Road Departure Warning, and adds, for the first time, Adaptive Cruise Control with Low-Speed Follow, setting a new bar for advanced safety and driver-assistive technology in the mainstream compact car class.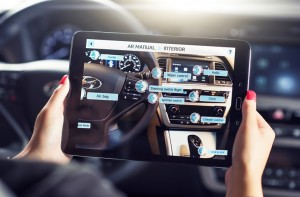 Hyundai Virtual Guide – Getting to know your Hyundai vehicle's capabilities just got a lot easier with the launch of the Hyundai augmented reality owner's manual app, called the Hyundai Virtual Guide. While it will at launch be compatible with the 2015 Sonata, the 2D/3D owner's manual for smartphones and computers will quickly spread across the entire 2016 Hyundai lineup. On the Sonata, for example, the app recognizes more than 45 of the popular car's major features and is available to download for free on the Apple App store as well as Google Play. Key to this high-tech owner's manual is two- and three-dimensional tracking technology to deliver instant information about various parts of the car. Just position the phone or tablet camera over that part of the car. The app has 82 how-to videos, six 3D overlay images, and over 50 informational guides.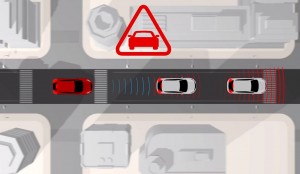 Nissan Predictive Forward Collision Warning in 2016 Altima – Although predictive forward collision warning first appeared on the Infiniti Q50 two years ago, Nissan is putting the safety technology on the more mainstream refreshed 2016 Nissan Altima sedan. The beauty of predictive forward collision warning is that it allows the driver to peek around obstacles in front of the vehicle. This is made possible by harnessing the radar sensors that are already in the vehicle's adaptive cruise control. Nissan also bounces pulses off the ground underneath the vehicle to help determine if there's another vehicle up ahead.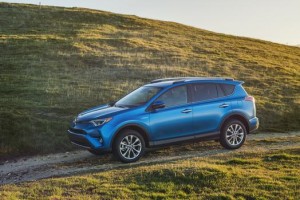 Toyota Bird's Eye View Camera – The redesigned 2016 Toyota RAV4, besides its new exterior styling, more convenience features and styling cues on the inside and a new hybrid model, offers a Toyota-first safety technology, the Bird's Eye View Camera. This tech makes use of four safety cameras to provide the driver with a panoramic view of his or her surroundings, as well as assistance when parallel parking or pulling into or out of parking spaces.
Toyota Research Institute, Inc. – Recognizing that there exists a gap between fundamental research and product development, Toyota Motor Corporation announced in early November the creation of Toyota Research Institute, Inc., an R&D enterprise with an initial focus on artificial intelligence and robotics. There will be two campuses, one in Palo Alto, California near Stanford University and the other near Massachusetts Institute of Technology in Cambridge, Massachusetts. Why should consumers care about this? The new company has ambitious goals that are consumer-driven: 1) continuously improved safety so that there's less likelihood a car will be involved in an accident; 2) more accessible driving, regardless of ability; 3) apply Toyota's outdoor technology to indoor uses, particularly for seniors.
Of course, we've just scratched the surface of new car technology coming in 2016 and 2017 vehicles. Look for a lot more at the upcoming CES 2016 (formerly called Consumer Electronics Show, but now just CES) in Las Vegas, January 6-9, 2016. We'll bring you the latest news about what automakers are debuting in new car tech.
Search used cars for sale and find the best deals near you at iSeeCars.com.
To get a FREE iSeeCars VIN Report for a car, click here.