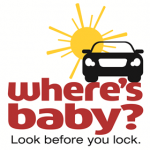 No responsible, loving parent wants to think about their child dying from heatstroke in a hot car. Yet this unthinkable tragedy happens to an average of 38 kids every year. The good news is that there are new tools for preventing hot car deaths that are inexpensive, easy to use and provide the peace of mind knowing your child is protected.
According to the National Highway Traffic Safety Administration (NHTSA), these are devices or products that are included as features in child safety seats or are marketed as add-on products parents can use.
In essence, what all these tools and devices do is to provide countermeasures against hot car deaths. Some use simple visual and tactile reminders for parents, while others are electronic reminders that can be added to a child restraint system. Still other systems integrate with the vehicle's dashboard and restraint system.
Aftermarket products tested by the NHTSA include a child restraint system with built-in Bluetooth connectivity and a replacement chest clip transmitter with vehicle-based receiver. 
New Devices to Help Prevent Hot Car Deaths 
NHTSA has identified the following products and devices that are designed to prevent children from being forgotten in vehicles and dying from heatstroke. All of these products and devices entered the marketplace in late 2014 or are ones that were previously evaluated by the NHTSA and manufacturers updated them to improve their performance:
Aviso Child-in-Car Alert (Aviso Reminder Systems, LLC – This is an add-on vehicle-based and child restraint system-based system that interfaces with the car's power and horn. The Aviso provides a detection confirmation tone when the child is placed in the child safety seat, an end-of-trip convenience reminder, and a left-behind alert a fixed time after the vehicle has been shut off if the child has not been removed from the child restraint system.
ChildMinder Elite Pad System (Baby Alert USA) – This is another add-on child-restraint-based system that relies on a fob to deliver user notifications. If the child leaves the seat at any time, the transmitter module immediately beeps. The left-behind notification cannot be cancelled until the driver walks back toward the vehicle or the child is removed from the child safety seat.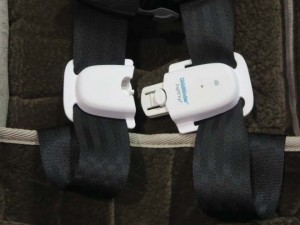 ChildMinder SoftClip (Baby Alert USA) – Yet another add-on CRS-based system that relies on a fob for user notifications, this product uses a retrofit chest clip with a transmitter and closure switch. The system remains activated whenever a child is buckled into the child restraint system.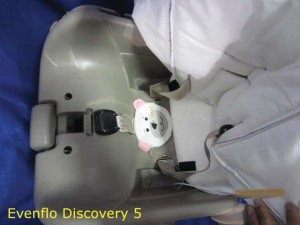 Forget Me Not (Beverly Marketing) – This system relies on a smartphone for user notification (special app required), and may be purchased with a fob for notification delivery.
SOS (SWG Safety) – This system interfaces with the vehicle's onboard diagnostics system, OBD-II port. A retrofit chest clip, which replaces the original clip, contains a transmitter and closure switch. This is a user-installed system that is compatible with rear-facing harness-based CRS systems.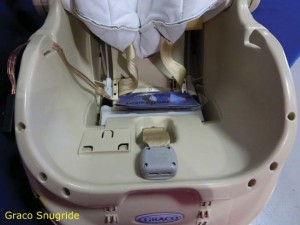 Suddenly Safe 'N' Secure Wireless Child Protection System –This is a system installed by the user and is compatible with most types of child restraint systems. When used with an infant carrier, it remains activated whenever a child is in the CRS, whether or not the carrier is installed in the base of the vehicle – unless the user manually switches off the transmitter. The left-behind notification is user-adjustable from a dial on the fob.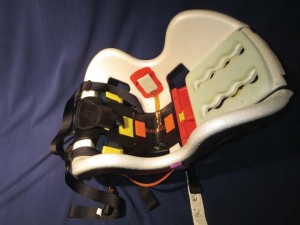 True Fit I-Alert C685 (The First Years) – This is a convertible CRS with an integrated UCRS monitor, and it relies on a user's smartphone (specialized app required) for delivery notification. The system demonstrated good repeatability for child detection in all configurations tested.
Reminder Tips to Prevent Kids Dying in Hot Cars
Even without buying additional devices, there are common sense things parents and caregivers can do to prevent kids from dying in hot cars. The DOT and NHTSA urge parents and caregivers to take the following precautions to prevent heatstroke incidents from occurring:
Never leave a child unattended in a vehicle – even if the windows are partially open or the engine is running and the air conditioning is on;
Make a habit of looking in the vehicle – front and back – before locking the door and walking away;
Ask the childcare provider to call if the child doesn't show up for care as expected;
Do things that serve as a reminder that a child is in the vehicle, such as placing a phone, purse or briefcase in the back seat to ensure no child is accidentally left in the vehicle, or writing a note or using a stuffed animal placed in the driver's view to indicate a child is in the car seat;
Always lock your vehicle when not in use and store keys out of a child's reach, so children cannot enter unattended. Teach children that a vehicle is not a play area;
Community members who see a child alone in a vehicle should immediately call 911 or the local emergency number. A child in distress due to heat should be removed from the vehicle as quickly as possible and rapidly cooled.
Bottom line: There is no more important parental duty than to do all that you can to protect your children, see to their needs, watch out and be proactive to ensure their safety – especially when they are travelling in a vehicle. By using a combination of common sense, practical reminders and handy, useful tools and devices, no child need ever perish in a hot car again.
Search used cars for sale and find the best deals near you at iSeeCars.com.
To get a FREE iSeeCars VIN Report for a car, click here.