Despite the abundance of American manufacturer's SUVs on the road, there are a few Asian models worth noting. If you're shopping for an SUV you may want to take a look at the 2010-2011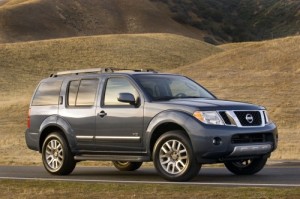 Nissan Pathfinder and the 2010-2011 Toyota 4Runner. Before we take a look and see how well they stack up to their American competition, we'll use the research archives at Car and Driver, Consumer Reports, Edmunds, and Motor Trend, to see how well they fare against each other.
Powertrain: The Toyota comes with the option of four-cylinder and six-cylinder engines. As such, it's going to do better on fuel efficiency since the two engine options from Nissan are six- and eight-cylinders. The 5.6L V8 that comes as an option on the Pathfinder pushed out 310 horsepower and 380 lb-ft. of torque. That's the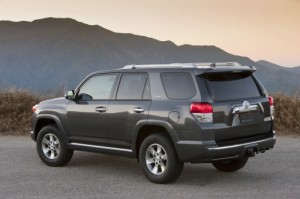 strongest engine available from these two models. Both vehicles have available 4WD and automatic transmissions.
Winner: Nissan Pathfinder, because a four-cylinder SUV is nothing more than an oversized car
Braking/Safety/Handling: The only impact test that the Toyota scored four stars on was the driver's-side front impact. The rest of the scores were five stars. The Nissan couldn't quite match those numbers as it scored four stars in all impact tests. Braking on the Nissan came to a stop from 60 mph in 134 feet, just average for this class. The Pathfinder also exhibits heavy body roll when cornering, despite a fairly sharp steering. The 4Runner, despite being based on a truck platform, delivers reasonably confident handling as long as you're not trying to drive Lemans.
Winner: Toyota 4Runner
Cargo/Hauling: With a smaller engine choice, the Toyota is definitely going to come up short in towing capacity. Its max load, properly equipped, is 5,000 lbs. That pales in comparison to the four tons the Nissan can haul. The 4Runner does provide ample interior storage space though. Maximum cargo capacity is 90 cubic feet. Contrarily, the Pathfinder's max is 79 cubes, but it does get some extra points here since its seats fold completely flat.
Winner: Nissan Pathfinder
Comfort/Interior: The Nissan features an attractive cabin and plenty of space up front. Ergonomics are well built into the front seats, but that's about as far as it goes. Rear passengers are going to feel cramped for leg and shoulder room in the second-row seat, and the third-row seat is suited only for children. The 4Runner's materials quality has dipped a bit, but it still offers a very aesthetically pleasing cabin with many options you'd find in its sister vehicle Lexus. The third-row seat is still cramped in this model as well, but the second-row is a step up from the Pathfinder.
Winner: Toyota 4Runner
Amenities/Options: Options on the Nissan are ample and should suffice just about any buyer. Dual-zone climate control, power-adjustable pedals, a rearview camera, a 10-speaker Bose stereo system, and a navigation system with 9.3GB of digital music storage are all available on the Pathfinder. However, the 4Runner is going to take this category with several luxury-type options. A 15-speaker stereo system, heated front leather seats with lumbar support, a  hood scoop, and color-keyed fender flares are all gadgets you won't find on the Nissan.
Winner: Toyota 4Runner
Value for the $: The Nissan starts off with a base MSRP of $27,540, climbing to $42,300 if you want the fully-loaded V8 version. The Toyota starts in a nearly identical range at $27,500 and climbs to a top end of $39,800.
Winner: Unless you're going to be doing some major hauling, your best bet here is to stick with the 4Runner. The 4-cylinder model is fairly useless, but there is only one trim level of the Nissan that comes with the V8 and that's at the top of the price range. Comparing the V6 models, the 4Runner is the clear winner here.
Search used cars for sale and find the best deals near you at iSeeCars.com.
To get a FREE iSeeCars VIN Report for a car, click here.