Another month has passed and once again, iSeeCars has carefully examined hundreds of thousands of used car listings from model year 2012 to find the best deals. This month, several vehicles from October's best deals list carry over and a few new ones join in. Typically, the holiday season has the best new and used car deals as dealerships attempt to unload inventory before the new year, and private sellers try to cash in their used vehicles to help boost finances during the gift-giving season.
Used buyers looking for an electric car, a heavy-duty pickup truck, a convertible, or a minivan will be happy to know that there's something in the top ten best deals to match their needs. Our top ten best deals include both the Nissan LEAF and the Mitsubishi i-MiEV electric cars as well as a Toyota Prius Plug-in Hybrid. Also on that list are two Silverado HD models, a Ram 2500, and a Sierra 2500HD. Convertible lovers will be interested in the Mitsubishi Eclipse Spyder that appears on our list and those who need a minivan or compact car will note the Nissan Quest and Kia Forte Koup are there as well.
Top 25 Used Car Deals in the U.S. for November 2015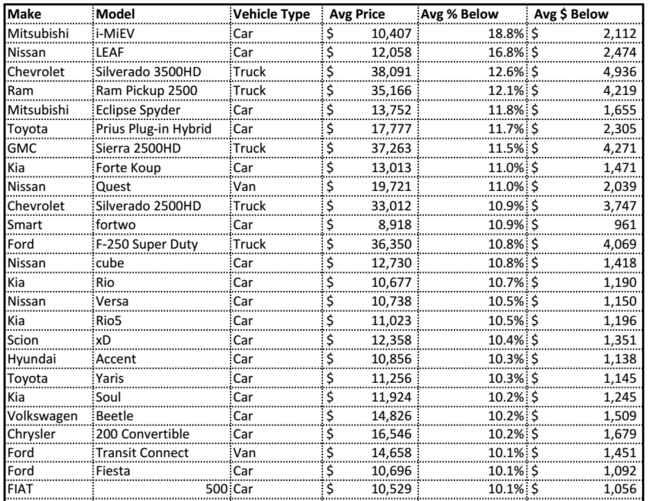 Best Deals By Region
The best deals in each region of the U.S. are for the vehicle most popular there. In both the South and West, where electric vehicles are more common, the Nissan LEAF is the best deal to be found, selling on average for about 17 percent or $2,500 below market value.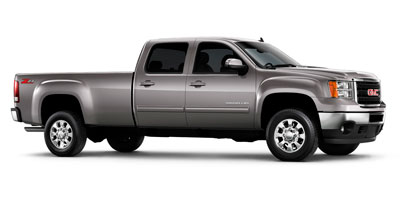 In all four regions, especially the Midwest and Northeast, heavy-duty pickup trucks take many of the top spots for deals, with the Ram 2500 ranking consistently highest. The Ram is selling for $31,845 to $35,951 on average across regions, for savings of $4,000 (12-13 percent below market value). In the Midwest, both the Ford F-250 Super Duty and the GMC Sierra 2500HD are similarly well-priced right now. The same can be said in the South, though there the GMC is replaced with its twin, the Chevrolet Silverado 2500HD.
Top 5 Used Car Deals For November 2015 By Region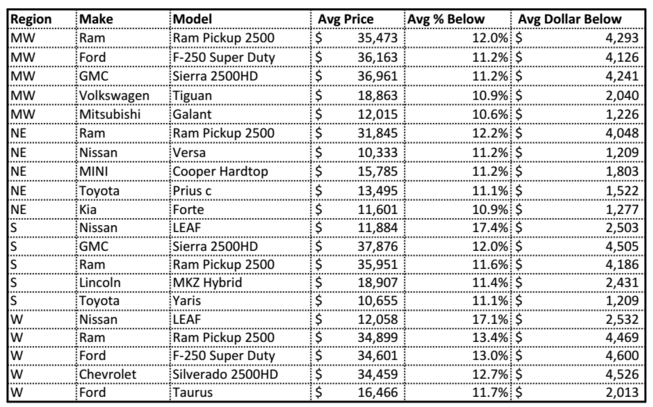 Best Metropolitan Deals
Looking at major metropolitan areas around the nation, we see some fun figures. Nearly every market has a Nissan Altima selling for $1,200 or more below market value, for a
savings of roughly 11 percent. The Altima is a popular midsize sedan and Nissan recently announced plans for a newly revamped model. That often means owners begin to sell their old models with the idea of upgrading. Add in the fact that the all-new Nissan Maxima just entered the market and is being heavily advertised and we might begin to understand why deals for the Altima are ubiquitous.
Also not surprising, our city-by-city list contains a lot of Volkswagen models, mostly the popular Jetta and Passat sedans. With their ongoing "#dieselgate" saga of pollution woes and the bad publicity it's bringing, no one should be surprised to see some VW owners looking to get rid of their cars.
More interesting, and a bit dumbfounding, is the data from the San Francisco-Oakland-San Jose area in California. Three of the five vehicles on our best deals list are BMW models. We have no explanation for why that is, but if you're looking for a used German luxury vehicle, that's the place to find it at around 10 percent below expected value, for average savings between $1,205 and $3,667.
Top 3 Used Car Deals in the Top 10 Metros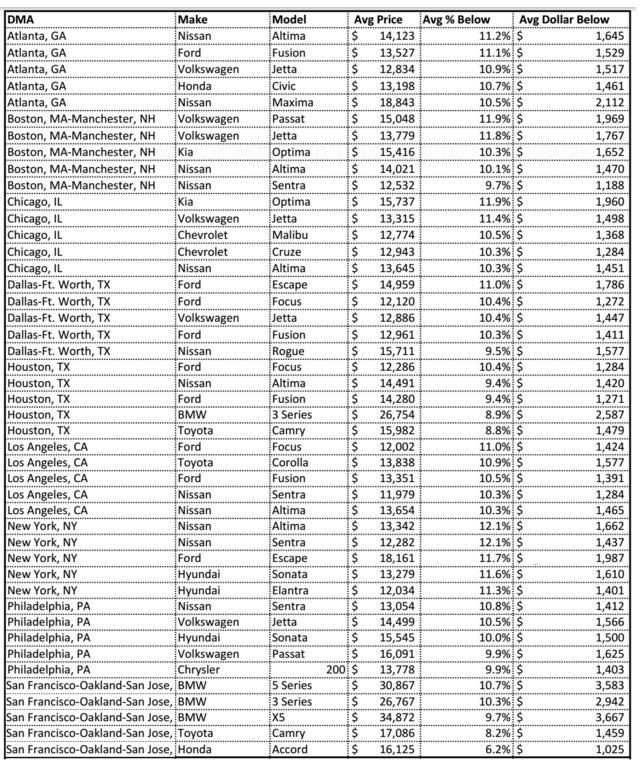 November is always an interesting month. We cannot wait for December, though, which is when deals often heat up even more in the precursor to the new year.
Search used cars for sale and find the best deals near you at iSeeCars.com.
To get a FREE iSeeCars VIN Report for a car, click here.