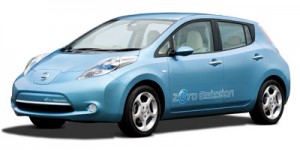 For October 2015, iSeeCars dove into the data for used cars to find the best deals this month. We found 18 vehicles selling at prices at least ten percent below their market value. These include a lot of vehicle types, of course, but those in the market for a 2012 model year heavy-duty pickup truck or electric car will be particularly interested in what we've found.
We've also got data for regional and localized metro area car deals this month. Our extensive analysis revealed a lot of vehicle models that are selling at far below their market value, some averaging $4,000 or more below market value.
Top 25 Used Cars Deals in the U.S. for October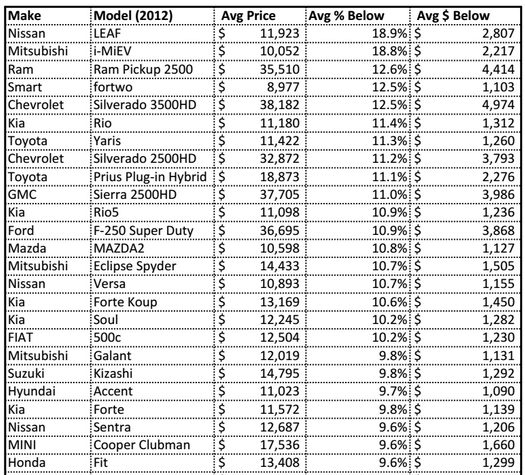 Heavy Duty Trucks
We found five heavy-duty pickup trucks from the 2012 model year in the top 12 buys in our list. The 2012 Ram 2500 pickup truck is averaging around $35,500 nationally, which is 12.6 percent below expected value for a savings of $4,400. Not far from that is the 2012 Chevrolet Silverado 3500HD at about a $38,000 average selling price, or 12.5 percent below expected market for a savings of almost $5,000. Other HD trucks on our list include the Silverado 2500HD, the GMC Sierra 2500HD, and the Ford F-250 Super Duty.
The market for used heavy pickup trucks is usually getting hot about this time of year as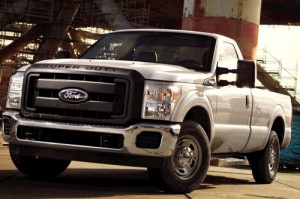 businesses and fleet managers begin pushing used trucks into used sales at their three year mark, when resale value is highest. This is in order to make way for new replacement purchases before the end of the fiscal year or at the beginning of the new fiscal year, depending on their accounting calendars. Most of these trucks are great buys as they have well-documented maintenance histories, are likely still under factory warranty, and are in various configurations to suit the buyers' needs.
October and November are generally hot sales months for used heavy-duty trucks and machinery.
Electrics are Back
Our analysis for September 2015 found used plug-in vehicles to be in high supply, with plenty of deals to be had. This trend continues for October 2015. Our top two used 2012 model year deals are both plug-ins: the Nissan LEAF electric car and the Mitsubishi i-MiEV electric. These both sell for nearly 19 percent below market value with savings of $2,800 and $2,200 respectively. Either can be had for under $12,000 all over the country right now.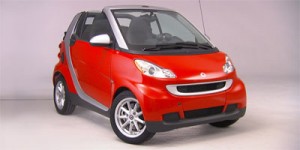 Another plug-in option on our list is the Smart fortwo, which is also available as a gasoline option. These little cars are not well-known for value retention, so they can be a big value to a commuter car buyer looking on the used market. The Prius Plug-in Hybrid is another one to watch for, currently selling for about 11 percent below expected value for its 2012 model year.
Small Car Buyers Rejoice
Small car buyers looking nationally can find a lot of good deals right now. October is showing the Kia Rio, Toyota Yaris, Mazda2, Nissan Versa, and Kia Soul all in the top 18 and at 10 percent or more under expected value. Those who like convertibles will note that #18 on that list is the Fiat 500 Cabriolet.
Regional Heavy-Dutys and Smalls
Our regional analysis shows heavy-duty pickups and small cars dominate most of the four general regions of the country. The Ram 2500 and Chevrolet Silverado 2500HD are on the list for the Midwest, Northeast, and Western regions. The Midwest also has the GMC Sierra 2500HD and Ford F-250 Super Duty. The F-250 is also on the list in the Western region.
Moving to small cars, we see the Kia Soul on the list for the Midwest and Northeast. In the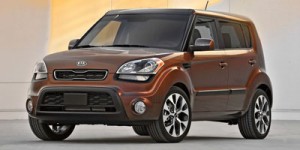 South it's the Toyota Yaris and in the West it's the Nissan LEAF.
All of the four regions have five vehicles listed with below market savings of at least 10 percent, most in the 11-12 percent range. The list topper in that category is the LEAF, saving over $$3,000 in the Western region and $2,600 in the Southern region.
Top 5 Used Car Deals By Region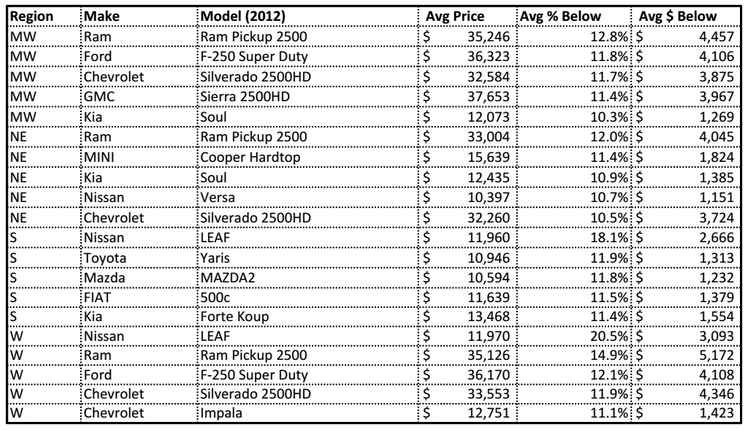 Metro Area Data
As expected, in metropolitan areas, the heavy-duty trucks all but disappear off our list. Most metro areas do not have pickup trucks as top sellers: those are usually left to outlying suburbs and towns instead. Some of the top deals are in Atlanta and Chicago, where the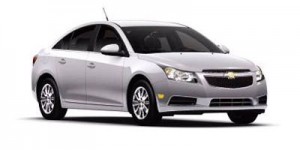 Volkswagen Jetta sells at over 11 percent below expected market value, and in Los Angeles, where the Nissan Versa sells at nearly 12 percent below. Also, in New York, the Chevrolet Cruze is now selling at almost $1,500 below market expectation.
The most money can be saved in Los Angeles by those looking for a 2012 Mercedes-Benz E-Class, which can be had at over $4,000 below expected market value.
Top 3 Used Car Deals in the Top 10 Metros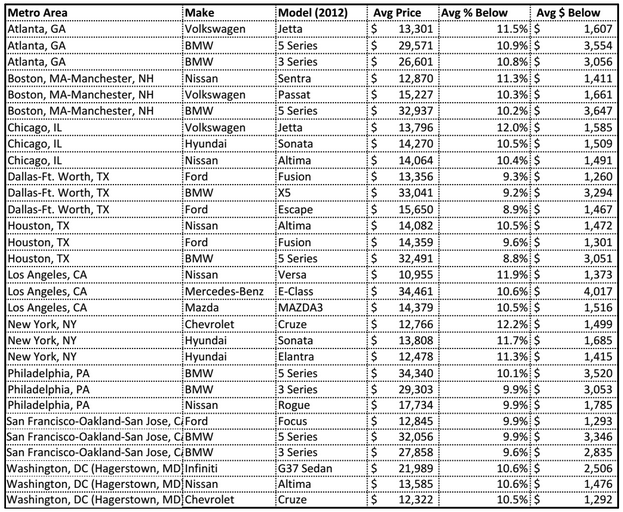 Conclusions
The used car market is always interesting and with our fingertip on a huge chunk of the used car market nationally, iSeeCars sees the bigger picture. Trends move regularly, of course, but with these monthly looks at the market's changes, we hope to help you keep pace with what's happening so you can buy or sell on the secondary market with confidence.
Search used cars for sale and find the best deals near you at iSeeCars.com.
To get a FREE iSeeCars VIN Report for a car, click here.