We had our first time with the legendarily beautiful, talented and stylish Indy 500 and NASCAR racing legend Danica Patrick. Hold on, let's rephrase that last statement. We had our first time on a motorcycle of any kind with racing legend Danica Patrick at a recent Can-Am three wheeler press event held at the annual Motorcycle Convention in Long Beach, California. And before we get letters it was actually the bike company that was referring to it as ours and Danica's first time since she herself was also a relative novice to motorcycles until Can-Am hired her as a spokesperson.
Now, to say that we were nervous beforehand is to state things mildly as not only were we in awe of being in Danica's presence but we also really didn't want to fall off the Can-Am or crash it into a row of pylons right in front of her due to our serious novice status on anything with less than four wheels. Also, she may not be very tall but she carries herself with a level of confidence befitting an enormous bodybuilder. Her handshake also is so firm that more than one of us on the iSeeCars.com team wondered if she had broken one of our fingers or our entire hand.
But honestly, Danica's awesome upper body strength is something that is key to her continuing success on the racetrack. We can't imagine that doing hours of laps in a NASCAR racer is as easy on your arm muscles as driving a Toyota Prius In the carpool lane at 55 miles an hour. No, in Danica's racing world there is not only the physical toll it takes on her body but also the constant threat of crashing. Which has allegedly happened on occasion due to Ms. Patrick's somewhat fiery temper when other driver's try to bump her car.
But during the hours that our photographer Jon Gala, video host MaryAnne Pongco Wendt and I spent in the presence of Danica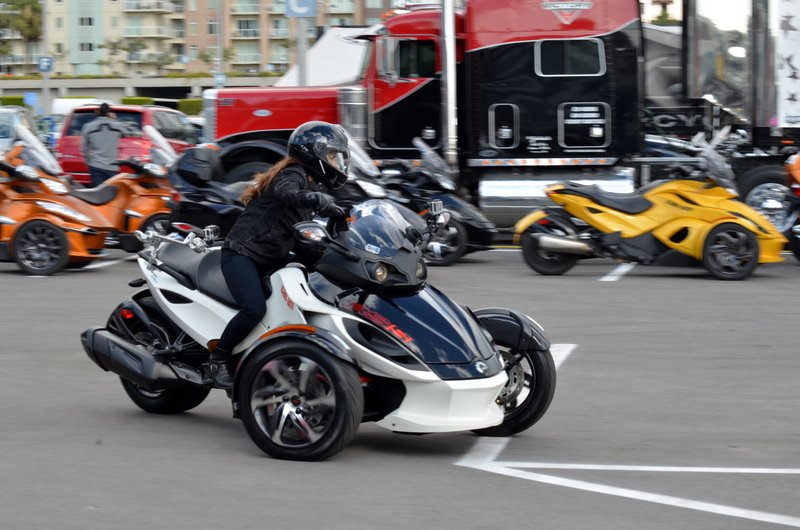 Patrick we all began to see a side of this very famous woman few people ever get to see. For instance, after demonstrating that she was still a better Can-Am rider than any of the journalists on hand by speeding through a coned autocross course at breakneck speed she came to a stop and looked over at us and as she took off her helmet she checked that she had done okay with a tentative thumbs up sent our way.
We may have looked around to see who she was gesturing to but it was in fact a pack of three common auto journalists which a woman of her social stature should not worry about pleasing. But it was cute, sincere and endearing the way she did it and showed her playful side and that, yes, indeed she does smile. And she laughed at us when we thought she was gesturing elsewhere. Sadly, mild panic soon set in among the Can-Am reps when Danica realized that when she removed her helmet she also removed one of her huge $15,000 diamond earrings.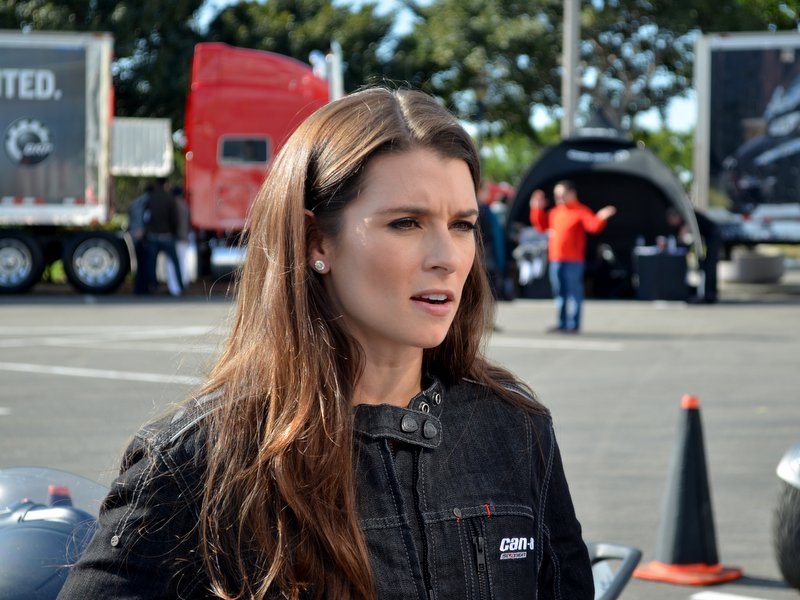 For about five minutes no one in the immediate vicinity dared to breathe even though Danica herself seemed rather unfazed by losing her very expensive ear bauble. Finally, two of the burly Can-Am riding trainers lifted up the rather heavy Spyder RS (the sportiest variant the brand makes) and shook it until the earring miraculously fell out of the wheel well. Danica picked up the diamond, thanked everyone and put it back in her ear as if it was just some $30 cubic zirconia that she bought at Kohl's.
Before Danica had to go into the Motorcycle Show for another appearance, she did make herself available for one on one interviews and our intrepid video host MaryAnne had come prepared with a list of ten questions covering the gamut of her career. Then, at the last minute she was given only two minutes with Danica as a PR rep counted down the time remaining by the second. No pressure then. But somehow, within those two minutes MaryAnne brought out the heart, spirit and humanity that clearly drives Danica Patrick to compete and win.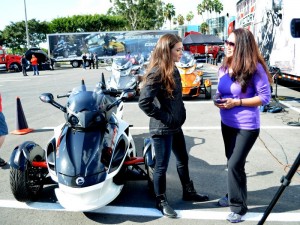 The first thing MaryAnne asked Danica was why she had set-up a special Pinterest page made up just of photos taken of her with her young female fans. Immediately her whole demeanor softened and she smiled to herself as she relayed how fulfilling it was to her that she could be a positive influence to all of these girls at such a pure age in their lives. She loved that no matter how well she did on the track that day, these girls still made her feel like what she was doing mattered. In essence, she said, these fans form the core reasoning behind why she does what she does.
Following this Danica spoke of the Hot Wheels model she designed called the "Danicar" which oddly enough has six wheels and at this point Ms. Patrick used the opportunity to turn the topic back to Can-Am by saying she must love vehicles with odd numbers of wheels. She then laughed at her own silly joke and obvious product shilling, offered to take a photo with MaryAnne and then headed off to her next engagement quietly smiling to herself. For that moment at least, Danica Patrick had truly let her guard down to show us what really makes this fascinating and talented woman such an inspiration and a success.
Our Turn to Ride the Can-Am Spyder
After a short introduction to how the Can-Am works, MaryAnne and I were allowed to take the Can-AM RT (the softer, more
upright and easier to ride Touring model) for three laps around a makeshift track. MaryAnne handled the track like a pro whereas I had some issues with using too much throttle forcing photographer Gala and MaryAnne to run for safety. Happily, the only fatality was one rubber cone which got in the way.
But what makes the Can-Am special besides the fact that it rides on three wheels and is obviously more stable than most motorcycles? Well, all Can-Am Spyder's come with standard anti-lock brakes, traction control and stability control like most new cars. It has power steering, cruise control and an easy to engage reverse gear. Optional is a thumb actuated semi-automatic transmission which you only need to press to get it to upshift as downshifts are handled by the computer which controls the Can-Am's gearbox. Quite frankly, there truly is no easier motorcycle on the market to ride than the Can-Am Spyder. And we had a blast doing it.
Photos by Jon Gala
Video Work by MaryAnne Pongco Wendt
Search used cars for sale and find the best deals near you at iSeeCars.com.
To get a FREE iSeeCars VIN Report for a car, click here.