What are consumers looking for more of currently when they purchase a new vehicle compared to pre-recession times? Flexibility, usefulness, and being resourceful. High quality and a little glamour. Monetary Worth.  All of these characteristics are what consumers crave for more of currently when purchasing a new vehicle compared to just a few years ago. Versatility and multi-functional use of a new vehicle are key; when looking at how "Extremely Important" this attribute is in the Strategic Vision New Vehicle Experience Study, the increase of importance is over 60% from the pre-recession year of 2007 to 2013.
And on a life stage level it appears that no matter where you are, whether pre-family, family, or post-family, the increases are all highly significant. Post-family folks are most concerned about versatility with a 70% increase for this attribute since 2007! Empty nesters DO cart around children; grandchildren that is. And with those kids comes "all that stuff" such as strollers, beach gear, and toys. Versatility to them could mean: Seats that lay flat to allow more cargo, seating for all the relatives, and when you're juggling a great deal of items, remote keyless entry certainly comes in handy while falling into the versatility category.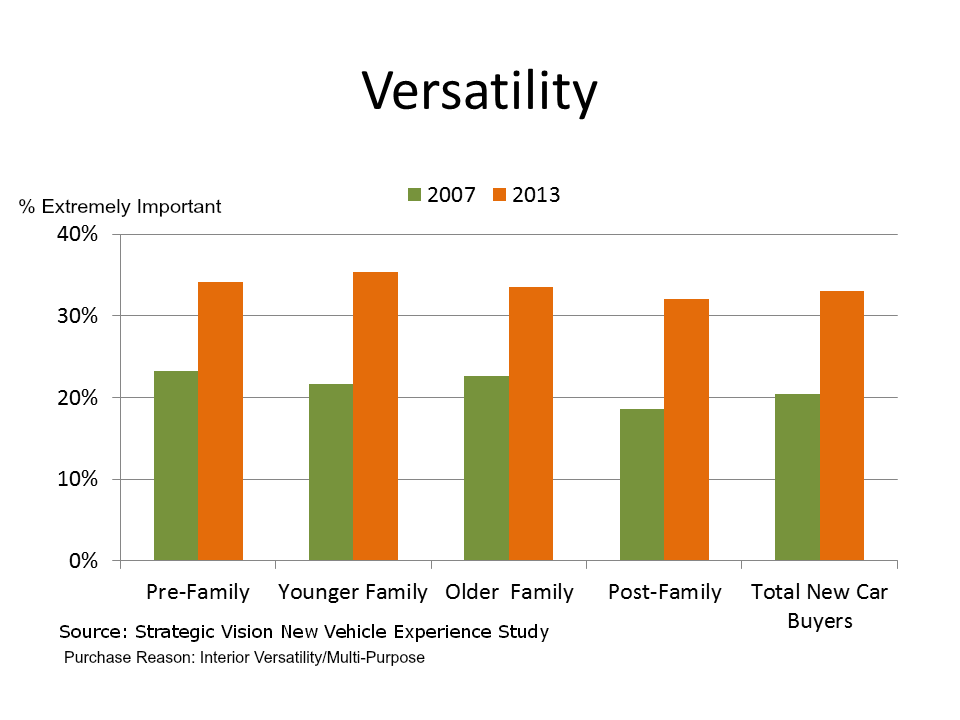 Much has changed in our economy since 2007. Job losses, tightening of belts and, for many of us, a rearranging of our priorities. New vehicle purchases delayed: We can squeak another year, maybe two, out of old Betsy; can't we? As the U.S. gets slowly back to firing on all pistons, the change in consumer attitudes because of a slumped economy affects the growth. Our needs and wants are not the same as they were prior to recession; the way we look at spending, especially in regards to larger purchases like automobiles, is not the same. There's less money and what we do have is more precious to us and harder to hang on to.
As a whole, the new car buying population shares some traits in total when it comes to behavioral shifts. Since 2007, while some reasons for purchasing a new vehicle have remained about the same in importance to the new buyers, others have taken a sharp tick upward. Surprisingly, the quest for prestige in a new vehicle has grown in importance for all new car buyers by more than one-third since 2007. Could it be that the definition of prestige has changed in the eyes of a consumer as well since the purchase of luxury vehicles is still a fraction of what's purchased at large? Interestingly enough, prestige bears the most prominence for those who are in a post-family life stage. Perhaps it's time to bite the bullet and buy that car you've always dreamed about?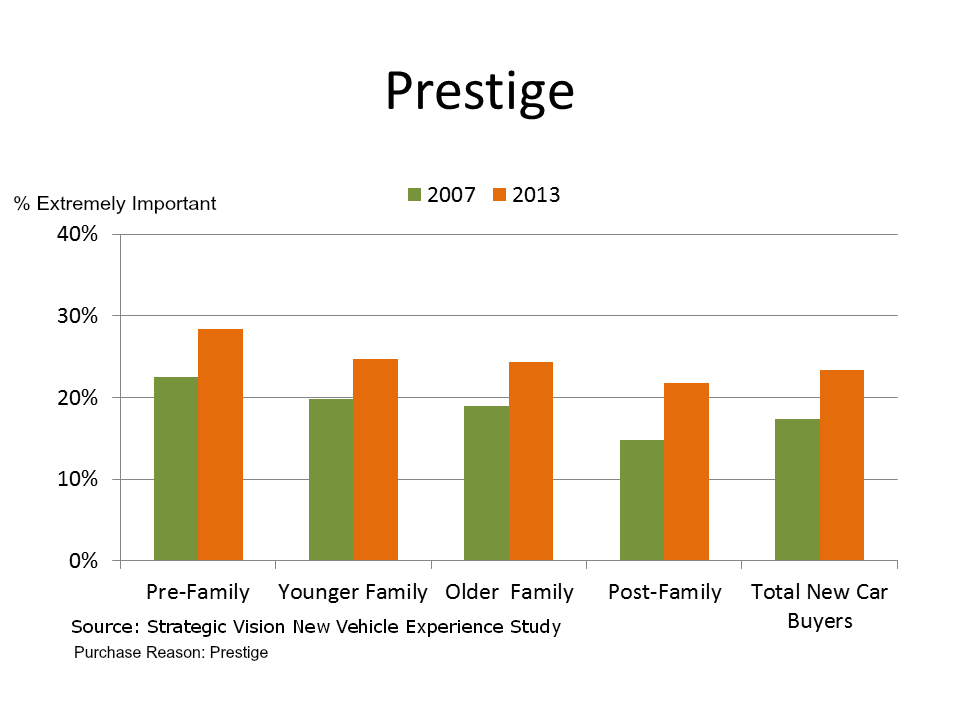 Two other purchase reasons worth mentioning because of the significant upward tick in prominence are Value for the Money and Vehicle's Image; both show increases as being "Extremely Important" that are close to 30% since 2007. Value was coveted most strongly for those buyers with younger families. In regards to a vehicle's image, again, it was those with younger children that weighted this attribute more heavily.  (see prestige chart above)
Now, presumably, something has to be of LESS importance, right? In these not-so-frivolous times, fewer buyers are placing emphasis on "Fun to Drive". Oh, don't worry; overall it's down only 9% since 2007. And it's an attribute that will surely bounce back once there's more Ben Franklins in people's pockets.
One point that needs to be made is that obvious one that you've likely wondered why it hasn't been mentioned. Consumers will always put a high amount of importance on all things related to pricing. We all know that it's been harder and harder to get a loan for anything due to the slumping economy over the past few years. In fact, buyers cited the attribute relating to interest rates and credits terms as 40% more important currently compared to 2007. This is a trend that hopefully we won't see continue unless the banks retain their stingy ways while the economy continues to pick up.
Today's consumers changed their purchasing behavior due to tougher times. In addition, they've made their new attitudes known; Versatility, Value and Prestige can all be tied up in a neat package that signifies a desire for further stretching the dollar and getting more quality and functionality in their new vehicles. Will the auto brands meet the continuing challenge?
Search used cars for sale and find the best deals near you at iSeeCars.com.
To get a FREE iSeeCars VIN Report for a car, click here.