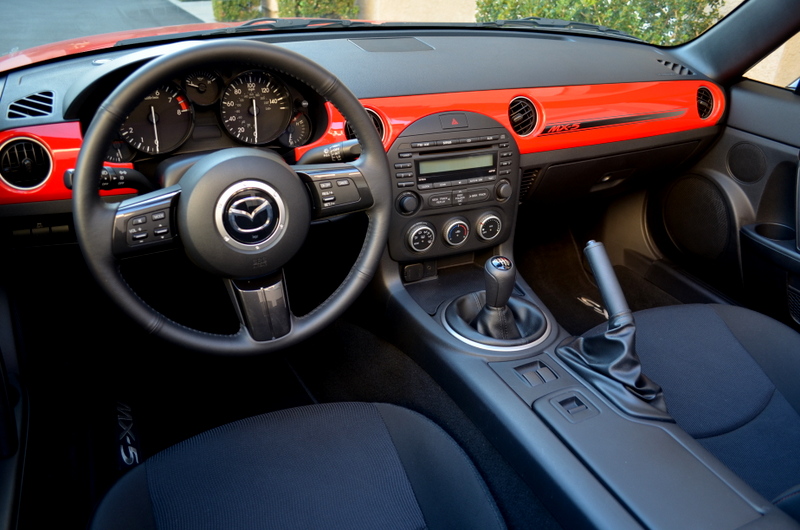 Which car would you like to be driving right now as you gaze out your front window at the Snowpocalypse as it dumps 10 more feet of snow on your front porch? And what car would you want to be driving if it was a balmy 78 degrees out, not too hot and not too cold, but just right. You know, kind of like the weather in Southern California during the months you refer to as winter. This time is primo weather for the 2014 Audi TT 2.0T Convertible and the 2014 Mazda Miata Club Ragtop. They are, in truth, four wheeled open air freedom.
Neither or these two vehicles are particularly well suited to overly long commutes, their practicality is questionable and their usefulness as a purchase is somewhat limited. But we are not really sure we could ever question why a person would buy either a 2014 Mazda Miata or a 2014 Audi TT Roadster because both cars are unequivocally solid investments in your happiness and good health. These cars will force you to smile and be happy.
The only thing is that you can get an admittedly slower but possibly more entertaining Miata for about a whole lot less than the Audi TT which in and of itself is the next level up when it comes to fun to drive, two seat soft top roadster sports cars. Sure, there are base versions of the Mercedes SLK and Z3 but we like to have a bit of trunk space left when to top is down. And we just think convertibles look better with soft-tops—call us traditionalists.
Okay, so everyone by now must know about the Mazda Miata's near perfect manual transmission shift action that practically forces the short5 throw lever magnetically along its pathway from gear to gear to gear. It falls perfectly into your hand when you fall into the car which itself which is set so low as to make you think you must have been born in the 1970's or possibly earlier. You might even remember the vehicles that inspired the Miata like the Lotus Elan or the Alfa Romeo Spider. Or perhaps not. You may have even driven a first generation Miata when it first came out.
As for heritage, the current TT convertible is held by some to be a less revolutionary design than the original Bauhaus inspired variant which admittedly was not this
much fun to drive or as fast. To our eyes, we thought that our black on black TT soft-top made us better looking to others because the car itself was so pretty to look at. The one issue that will always separate the Miata from all comers is that our Club trim tester stickered for only a smidge over $27,000 with base models starting just over $23,000 making this Mazda eminently affordable. Whereas our option-less Audi ragtop 2.0T with the standard Quattro all-wheel drive stickered a little above $42,290. That's a lot to pay for a roadster you can drive even in the snow. Hey, we know that can be handy.
Exterior Design, Interior Styling and Roominess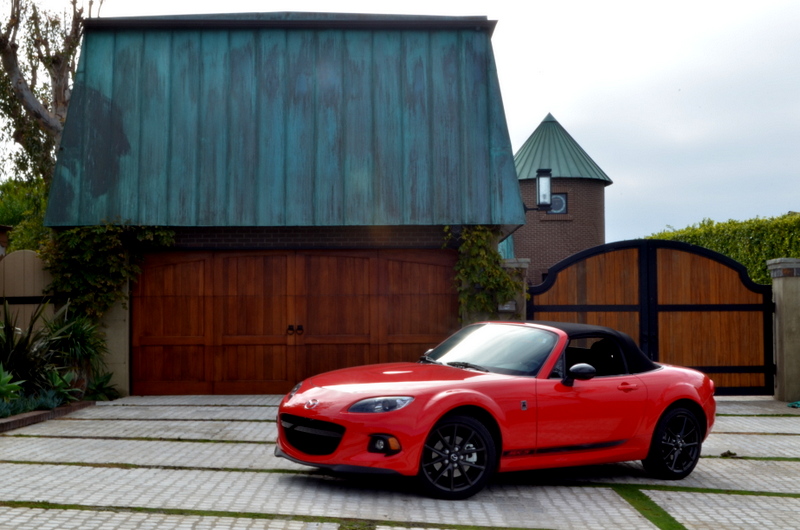 The current Miata's sheetmetal may lack the joie de vivre cuteness of the original's pop up front headlamps but what it has traded for external maturity it has gained in precious inches of cabin space which make the 2014 variant just comfortable enough for two average sized adults on a long pleasure cruise. Should you partake too often at the all you can eat tables at the Hometown Buffet then perhaps you may struggle to squeeze into the current Miata all that comfortably.
But then might we recommend something a bit wider like a Camaro Convertible. That things feels downright spacious inside and has back seats to boot but essentially what it means is that you have to give up your dream of driving a two seat roadster. So if you have kids or occasional cargo, we found a lot to like with the Camaro convertible when we road tested one earlier.
The 2014 Audi TT felt higher off the ground than the Miata although with any roadster part of the experience is a low ride height. Both the Miata and TT offered center locking consoles where you can stow valuables even if you leave your car parked with the top down. As for exterior styling, when it comes to buying a roadster our preferences are irrelevant—buy the one that makes your heart skip a beat every time you see it. And if you can't afford it yet, keep saving.
Admittedly, the Miata's cabin is a totally straightforward and traditional layout made from more traditional materials than the Audi. Yes, the TT's climate control system knobs use actual metal chrome surroundings. Actually, for the price the Mazda does one hell of a great job at everything except designing a usable cupholder. The Audi TT had two. Stupid, yes, but what is a weekend road trip without a place to put your refreshments? (Advantage: 2014 Audi TT Roadster)
Value and Pricing
Okay, we mentioned the sticker prices of our two testers and the only things that the TT had that the Miata lacked were full-time all-wheel drive, a double-clutch 6-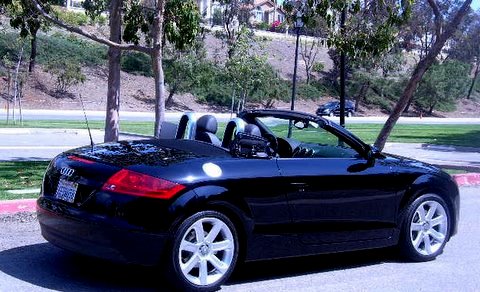 speed automatic transmission, a power folding top (the Miata doesn't need one it's so light and simple), some very classy leather/suede alcantara sport seats, 18-inch as opposed to 17-inch alloy wheels (the Miata's alloys were cooler looking), auto headlamps and windshield wipers and Bluetooth (buy yourself a headset!). Oddly, both the TT and Miata lacked USB/iPod connectivity with the Mazda at least offering a handy aux-input jack and cable.
Although some of the luxuries like Bluetooth and USB connectivity should be on Mazda's "to-do" list, never once did we feel short changed by what this car offered up for the price—essentially in the essential "smiles per mile" ratio. In that aspect, the 2014 Mazda Miata can't be beat. Ever. Also, if the Club doesn't quite offer enough luxury you can still opt for the Grand Touring model which had heated front leather seats, a Bose audio system (an option on the TT), cruise control and audio system control on the leather wrapped steering wheel all with an upgraded black or mocha colored higher quality fabric top. Granted, the Audi's top has three layers but for that much motor it out to be able to whistle Dixie and give you a back massage on command.  (Advantage: 2014 Mazda Miata)
Fuel Economy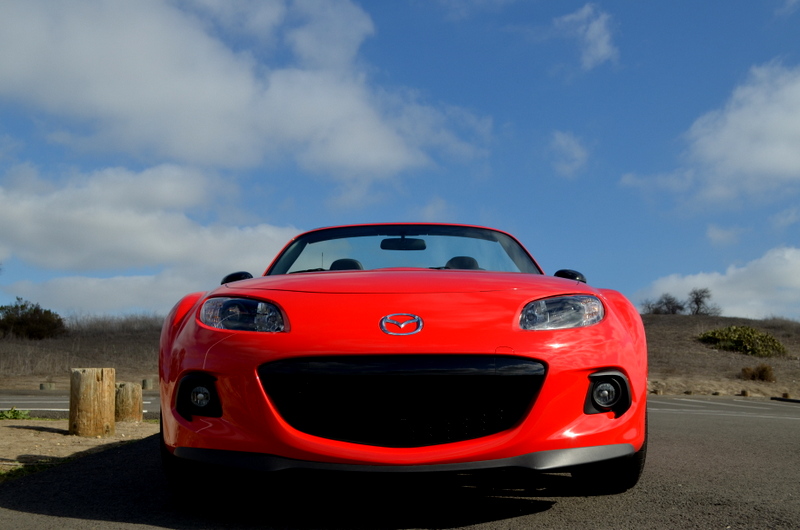 During its week with us our 2014 Mazda Miata Club averaged 26.4 miles per gallon which is excellent given its EPA ratings of 21 city/28 highway and the manner in which we drove it. But it seems the harder you push a Mazda engine, the better the fuel economy it gets. The 2014 Audi TT didn't quite deliver on the promise of its EPA estimates of 22 city/31 highway by returning 21.4 over our week but perhaps we took too much advantage of the copious amounts of low RPM power available from the standard 2.0 liter turbocharged 211 horsepower/258 lb. feet of torque 4-cylinder. Keep in mind both models run on premium unleaded gasoline. (Advantage: 2014 Mazda Miata)
Safety Ratings and Trunk Sizes
Oddly, neither the NHTSA or IIHS did any front impact crash tests on the Audi TT but the car did get full five star rankings in side impacts as well as in rollovers thanks to its standard rollover safety system which activates when the car senses it is going to be upside down shortly. The current body style Miata has been tested by neither vehicular safety resource, with the Miata only showing up in one IIHS study that stated the obvious fact that small convertibles like these don't do well when giant gas guzzling 8,000 pound SUVs rollover on top of them. Talk about stating the obvious.
Now onto something we can actually report to you that will matter on the weekend road trips you will want to take in these two roadsters. The TT roadster may sound like a loser with just 8.83 cubic feet of cargo room but it still top the Miata's gym bag and one overnight duffel bag holding 5.3 cubic foot trunk. With the TT roadster, the size is also wisely shaped meaning two medium sized suitcases and an extra soft duffel bag can fit inside—trust us, we tested it. (Advantage: 2014 Audi TT Ragtop)
Driving Impressions
This is where purity clashes with modern technology that thinks it can create a more rewarding driving experience for its owner than they can. It's quite easy to see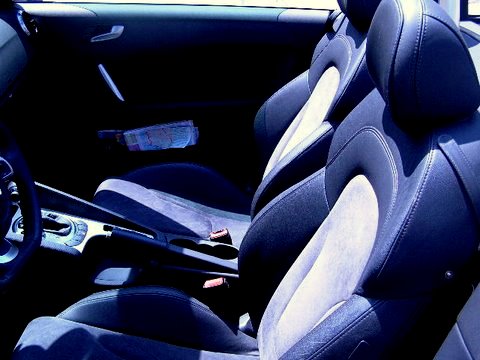 here, then, that these two roadsters take very different approaches to how involved they make the driver in the whole experience of wind in your hair motoring. Or lack of hair as the case may be for those among us who have become challenged in regard to the number of functioning follicles on top of our heads.
The 2014 Audi TT Quattro convertible comes standard with full-time all-wheel drive which gives it a planted and predictable feel in most any driving condition but does limit how out of control and wild the driver can get behind the wheel. Thankfully, the 2.0 liter 211 horsepower/258 lb. feet of torque turbocharged 4-cylinder is a potent motor which emits a rorty snap, crackle and pop as the 6-speed double clutch automatic changes gears for you. No manual transmission option is available with the Audi.
Taken on its own, steering feel transmitted from the Audi's flat bottomed steering wheel was light yet communicative but in comparison to the decisive and connected feel you get from the Miata's helm it becomes clear that the Audi is much more the grand tourer. The TT's suspension may have been a bit better at absorbing bumps in the road but the joy of the Miata is being connected to the road—warts and all.
The 2014 Mazda Miata Club we tested sported a somewhat raucous yet sporty sounding 2.0 liter 167 horsepower engine that offered up just enough power to ensure the driver got plenty of opportunities to row through the precision gates of the 6-speed manual gearbox. In the Miata, the steering and suspension and engine and transmission all feel like they are working in a perfectly delicate dance meant to enhance driving enjoyment. This is a car as serotonin enhancer and smile inducer. They just don't make sports cars as pure and honest as the Miata anymore.
The 2014 Mazda Miata has perfect 50/50 weight distribution which affords this little roadster the ability to tackle corners with the aggressive playfulness of a naughty puppy mixed with the precision of a Navy Seal sniper. The Miata is also rear wheel drive which for any driving enthusiast is synonymous with sporty handling dynamics. It also allows the driver more adjustability in regards to get the tail to come out wide around corners but we advise no such hooliganism unless you have studied the art of driving in this manner.
Our favorite part about the 2014 Mazda Miata was the fact that it offered up plenty of driver rewarding sportiness as part of the experience but to enjoy that one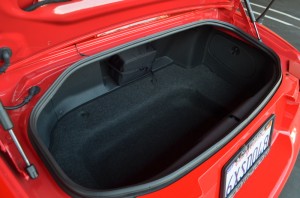 never had to feel the need to be travelling at 120 miles per hour. Sure the Miata was a bit noisier than the TT convertible but it's the easiest to have fun driving any time at any speed.  And that folks is really all you need in a roadster. And that feeling of freedom you only get when driving anywhere with the top down, the music playing loud and riding with a special someone. Lord knows all those things are hard to come by in this life. (Advantage: 2014 Mazda Miata)
And the Winner Is…
If you want a roadster that will keep the wind in your hair and make you feel connected to the road then you can never go wrong with the 2014 Mazda Miata. We love the simplicity of its soft-top design, straightforward cabin layout and easy to access driving thrills. It may not overwhelm you with power but the Miata doesn't have to because the steering, gearbox and suspension are so playful that you really won't ever care that a BMW Z3 turbo 6-cylinder outran you from a stoplight once. Probably because the owner was racing home to sell a kidney so he or she could afford the exorbitant monthly payments. Roadsters are fun, they shouldn't add to the stress and worry of your daily life. The Miata never adds to your stress, it is purpose built to make people enjoy driving again.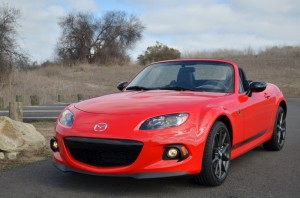 Plus, that you can rest easy knowing that pretty much every other roadster owner on earth paid way more than you did for your Miata. So clearly the Miata is the people's roadster winner but if you have an extra $50,000 lying around so you can upgrade to Audi's top of the line TT Roadster trim that includes lovelier Audi exclusive leather styles for the seats, a Bose premium audio system, an in-dash navigation system and seat heaters then by all means go for it! Owning that car, you really don't lose much but a larger portion of your savings. But in our worlds, a $15,000 price difference between two cars that essentially deliver the same fun to drive goods is a price difference way too far.  (Winner: 2014 Mazda Miata Soft-Top Convertible)
All Photos of the 2014 Mazda Miata Club were provided by Jonathan Gala Automotive Photography.
Search used cars for sale and find the best deals near you at iSeeCars.com.
To get a FREE iSeeCars VIN Report for a car, click here.