*Go straight to the FULL REVIEW.
Overview (Final Score: B-)
The late sixties and early seventies were a golden age for US automakers and drivers who love performance. American Motors, Chrysler, Ford and General Motors were producing muscle cars at a fast rate to one-up another and fulfill a growing demand from buyers. From small pony cars to large luxury coupes, there was a muscle car to fit your needs. But the advent of emission standards and gas crisis in the mid-seventies caused sales of muscle cars to drop and automakers to scrap future plans. It seemed this era would never return.
But the mid-2000's saw a resurrection of muscle cars with Chevrolet bringing back the Camaro, Dodge reintroducing the Challenger, and Ford adding a bit of retro styling to the Mustang. It wouldn't be too long before the arms race would crank back up with the three brands introducing faster and powerful versions of their muscle cars. But they made sure the base models equipped with V6 engines offered excellent performance while meeting stricter emission regulations.
Last year, Dodge introduced a new V6 and eight-speed automatic for the Challenger that promised improved performance and fuel economy.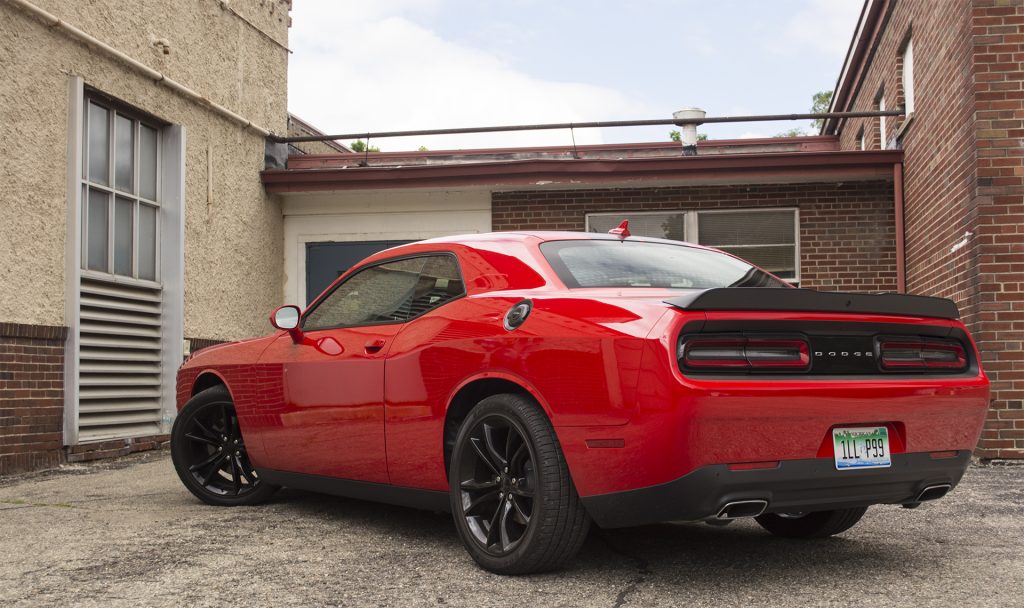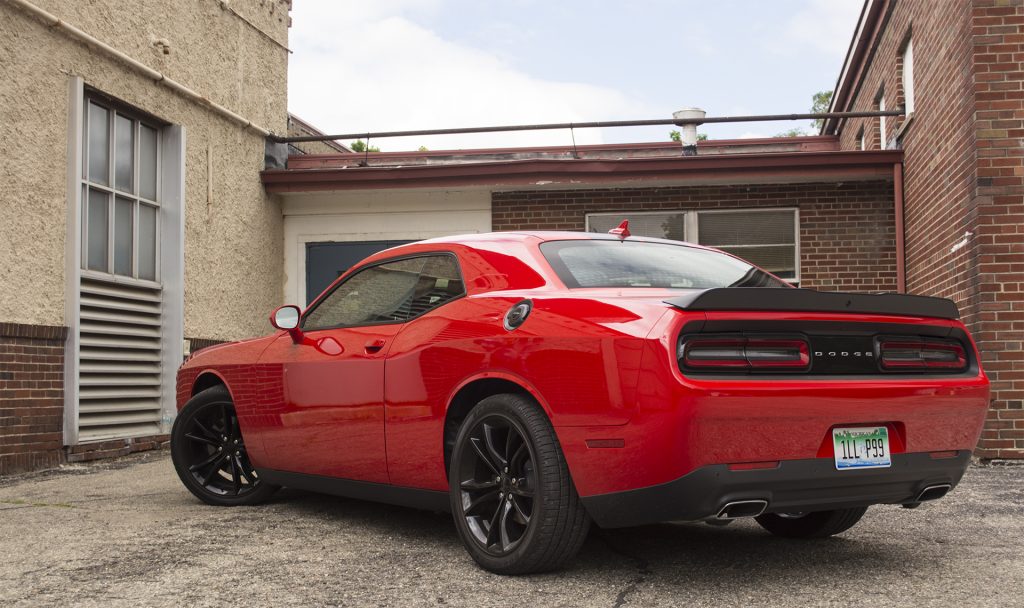 What We Love About the 2016 Dodge Challenger:
Exterior design looks like the original model
V6 engine and automatic delivers decent performance
Excellent long-distance cruiser
What We Don't Love About the 2016 Dodge Challenger:
If you opt for the V6, you'll be wishing you went with one of the V8s
Exterior design limits overall visibility
Compared to competitors, not the most nimble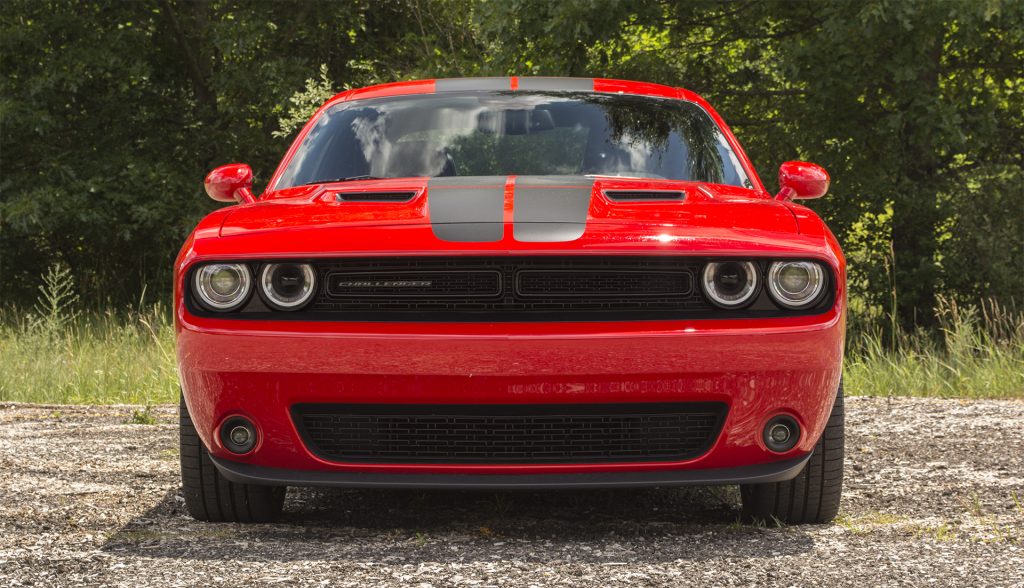 Interior Comfort, Quality and Ease of Use (9/10)
One area Dodge fell a bit short with the Challenger was the interior. A lackluster design, questionable materials, and some odd decisions spoiled an interior that offered more space than its rivals. Last year, Dodge addressed this head on with a new interior.
The design is driver-focused with the center stack angled towards the driver and a configurable screen in the instrument cluster to provide key data. Material quality has seen a noticeable improvement with more soft-touch plastics and metallic trim pieces used throughout. Dodge also replaced the tractor-sized steering wheel for one with a small diameter. This change makes the Challenger a bit more fun to hustle around corners.
Coupes, in general, are not known for being spacious, but the Challenger is the exception. The front bucket seats provide excellent levels of comfort and support. Power adjustments on our tester made finding a comfortable position very easy. The back seat is somewhat hard to get in due to a narrow opening when you slide the front seat. But once back there, there is a surprising amount of head and legroom for an average-sized adult. Trunk space is also large with 16.2 cubic feet.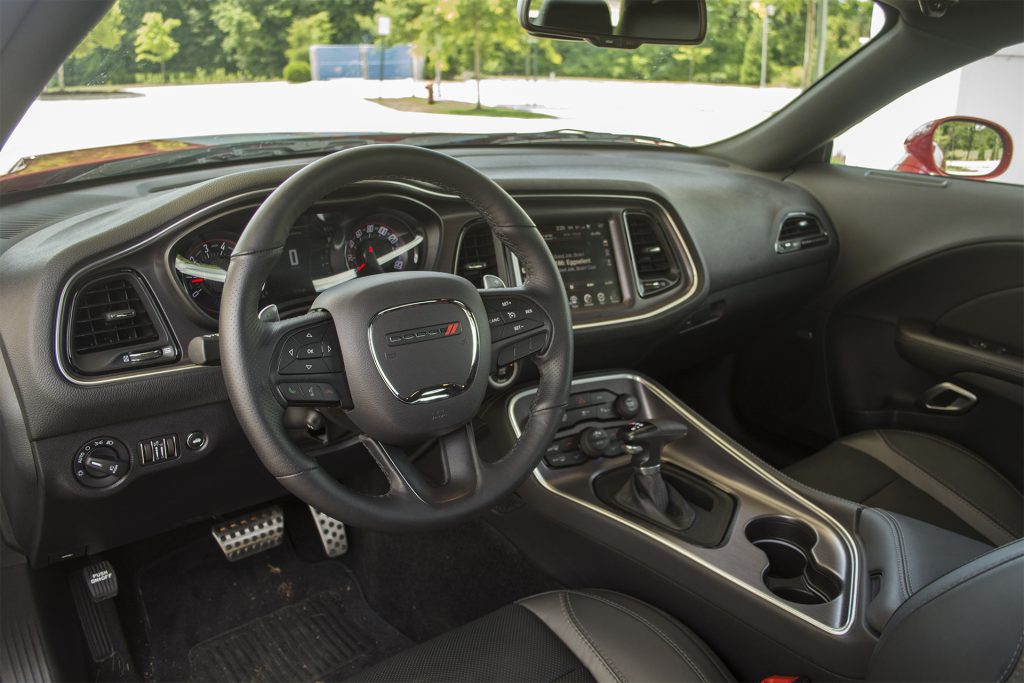 Technology (9/10)
The Challenger SXT, R/T, and R/T Shaker feature a five-inch touchscreen, while a larger eight-inch screen is standard on the rest of the lineup. No matter the screen size, it will feature FCA's UConnect infotainment system. This system is one of the easiest to wrap your head around thanks to an intuitive interface, large buttons on the screen, and quick response times.
It doesn't hurt there are a set of redundant controls for the infotainment system and climate control. One item we hope FCA adds in the future is compatibility with Apple CarPlay and Android Auto.
Fuel Economy (8/10)
The EPA rates the Dodge Challenger with the V6 and eight-speed automatic at 19 City/30 Highway/23 Combined. Our week saw an average of 23.4 MPG.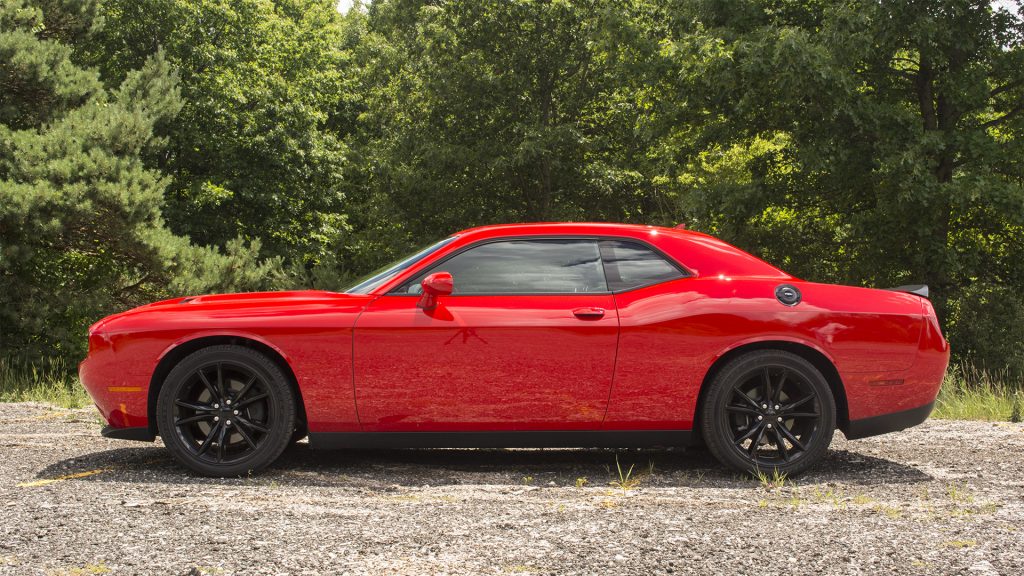 Performance (8/10)
Our Challenger tester featured the base 3.6L V6 with 305 horsepower and 268 pound-feet of torque. Those who want a bit more power will want to check out the three V8 engines on offer. First is a 5.7L HEMI V8 with 375 horsepower and 410 pound-feet of torque. Next is a 6.4L HEMI V8 with 485 horsepower and 475 pound-feet of torque. Finally, there is the monster; a supercharged 6.2L HEMI V8 known as Hellcat. This engine produces 707 horsepower and 650 pound-feet of torque. The V6 is only available with an eight-speed automatic. The V8s have the choice of the automatic or a six-speed manual.
If you believe a V6 in a muscle car is best reserved for those sitting in the rental car lot, then the Challenger will change your mind. The 3.6L V6 moves the Challenger as surprising rate. No matter where you are the rev range, step on the accelerator and the engine delivers that punch of power. What might disappoint some is the V6's engine note. It doesn't sound like it belongs in a muscle car and will likely make you wish that you went for the V8. The eight-speed automatic snaps off gear changes very fast.
A key trait that Dodge hasn't messed with the Challenger is the ride. Unlike most coupes, the Challenger's suspension is tuned for comfort. Drive it over some rough roads and the Challenger makes it feel like you're driving on a sheet of glass.
Along with low levels of wind and road noise, the Challenger becomes an excellent road-trip vehicle. But this comfort does mean the Challenger does roll a bit in the corners. This can be fixed by optioning the Super Track Pak which adds a revised suspension, retuned steering, performance brakes, new tires, and a three-model stability control system. Our tester featured this package and it shows a noticeable improvement with better body control and improved grip. But the package cannot solve the Challenger's biggest problem; weight. Around curves, you notice how heavy this vehicle is. Compared to the Chevrolet Camaro and Ford Mustang, the Challenger doesn't have the same levels of agility.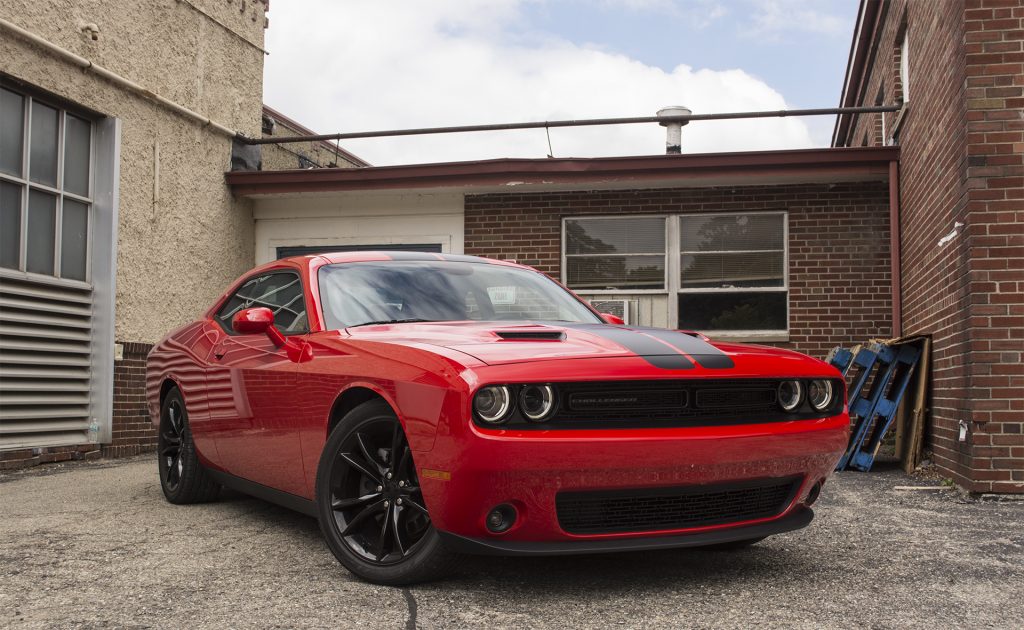 Total Score and Competitive Comparison (65/80, 82%)
The Chevrolet Camaro and Ford Mustang have recently been redesigned and are considerably better than the Challenger in corners. Plus, the Camaro and Mustang are available as a convertible. The Dodge Charger, which is essentially a four-door Challenger, provides an extra two doors if you're planning to carry passengers in the back seat on a regular basis. You can also get it with the same engines as the Challenger.
The Dodge Challenger is an old-school muscle car reincarnated for the current century. The exterior has many of traits found on the original, and there is a wide range of engines to suit your need for speed. It might not handle as well as competitors, but then none of the original muscle cars were deemed for their handling characteristics. No matter which engine you choose, you'll have one of the most distinctive vehicles on the road.
Read the FULL REVIEW Now to get more expert tips on the 2016 Dodge Challenger's safety, reliability, pricing, exterior and technology.
Search used cars for sale and find the best deals near you at iSeeCars.com.
To get a FREE iSeeCars VIN Report for a car, click here.