Overview (Letter Grade after 8 Categories: B Minus)
Last year, we road tested the high performance 2015 Ford Focus ST five door hatchback with its aggressive spoilers, powerful brakes and thunderously potent 2.0 liter 252 horsepower/270 lb. feet of torque turbocharged 4-cylinder EcoBoost motor all coming together to create a very special automobile. One that could seriously imperil your license given its power output and ability to bring out anyone's inner hooligan on a wet, curvy road. Frankly we think the upcoming, more powerful Focus RS with 300 horsepower plus may be a bit of overkill but if you want a road legal rally car it may be the closest you may come to owning one in your lifetime.
But the Focus ST and RS are the performance halo models built out of a line of five door hatchbacks and sedans engineered and designed to sell globally as fuel efficient and affordable transport for the masses. And this being Ford, they managed to bake in a bit of driving fun as well with this latest 2016 Focus thanks to its highly refined and quiet interior that also manages to be where you can easily access the most communicative steering and chassis in its class. That's not easy to do, not by a long shot.
What we loved about the 2016 Ford Focus
The affordable, fun to drive Focus would make a perfect first car
The manual transmission is enjoyable and truly idiot proof
The refinement and lack of vibration from the 3-cylinder was truly mind blowing.
What we didn't love about the 2016 Ford Focus
Not much happens when if you try to get the car past 75 mph
While the Focus Ecoboost comes well equipped, we wish Ford would offer more options
Just because we want efficiency doesn't mean we won't pay for leather, Sony audio or nav
To read the full review, visit 2016 Ford Focus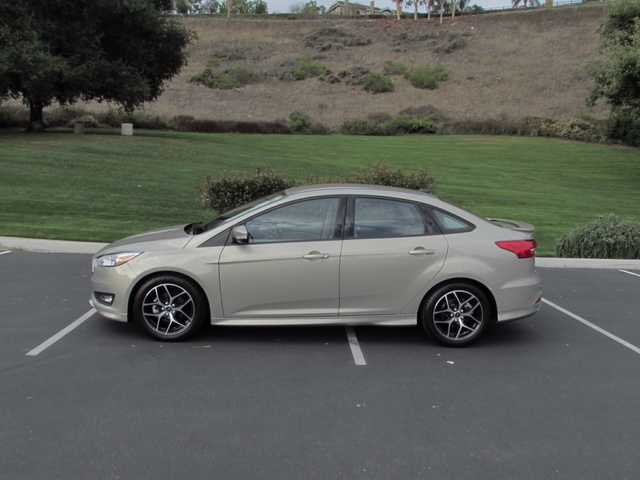 Search used cars for sale and find the best deals near you at iSeeCars.com.
To get a FREE iSeeCars VIN Report for a car, click here.