*Go straight to the FULL REVIEW.
Overview (Final Score: C+)
For the 2016 model year, the Nissan Altima has undergone a redesign to keep the car fresh. Most importantly, the front of the Altima was strengthened and redesigned to help it perform better in crashes. Now the four-door Nissan boasts all of the latest active safety tech on option, with everything from forward collision warning, rear cross traffic alert, blind spot warning and a predictive forward collision system that can actively start braking the car if the Altima detects you're about to have a collision. (Yeah, so it kind of drives itself.)
We appreciated our tester's new SR trim level, which alludes to an overall sporty temperament and feel. While the tighter sport suspension meant we could tell the 2016 Altima was more agile, as well as feels and sounds more refined inside the cockpit. SR models also gain a sportier leather wrapped steering wheel with shift knobs that almost let you hold onto gears until redline, as well as a subtle rear spoiler, and smoked lenses front and rear.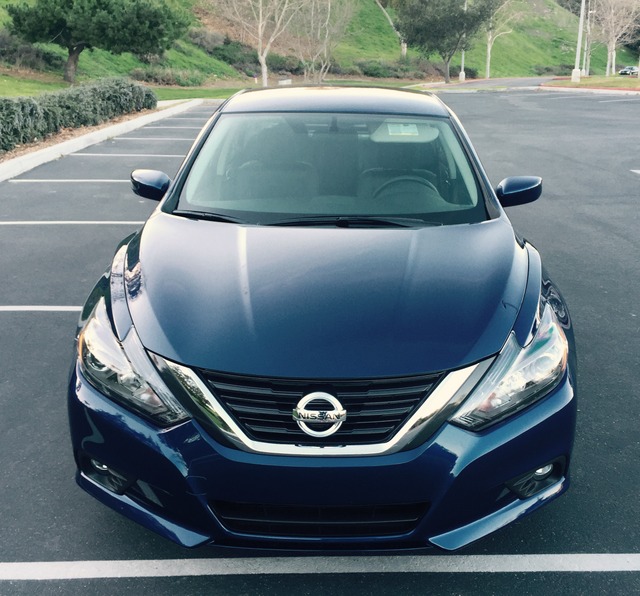 What We Love About the 2016 Nissan Altima SR:
SR trim level's sport suspension set-up is a nice improvement in body control and ride quality compared to a regular Altima model.
Low pricing for the SR, which is nicely equipped.
The dashboard controls are simple and easy for anyone to use.
What We Don't Love About the 2016 Nissan Altima SR:
Maybe we watched too many episodes of Nip/Tuck but is it us or do the front headlamps look like an eye life surgery gone horribly awry? We think it makes the Altima look like it can't blink.
The base level 4-cylinder/CVT automatic powertrain is mostly carryover and uninspiring.
Optional premium Bose audio system with eight speakers sounds cheap, tinny and suffers from horrible reverberation even at mid volume.
No Carplay or Android Auto?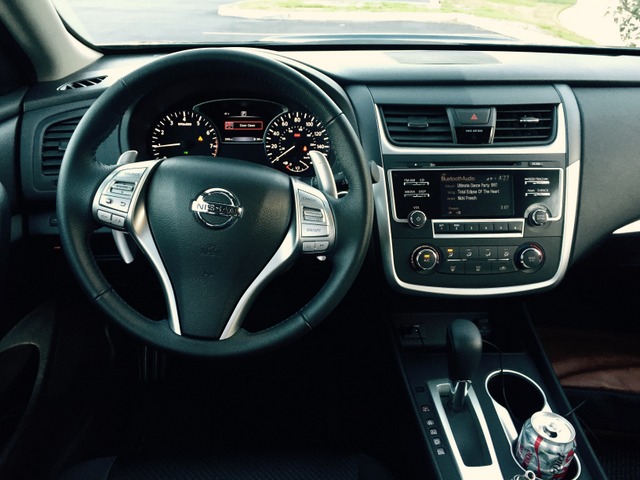 Pricing and Value (8/10)
Our 2016 Nissan Altima SR started out with a $24,470 base price to which our tester added the optional $600 LED headlamps. Along with floormats and destination it brought our out the door cost to just over $26,000. Not bad for a family sedan with special 18-inch alloys, power driver's seat, leather wrapped steering wheel, rear spoiler, a back-up monitor, Bluetooth, A/C, power windows, locks and keyless Intelligent entry, a semi-decent AM/FM/CD/USB six-speaker audio system and the Nissan Connect system that allows you to access Smartphone apps via the center-mounted screen. It's no Carplay, but if you are on a budget this works.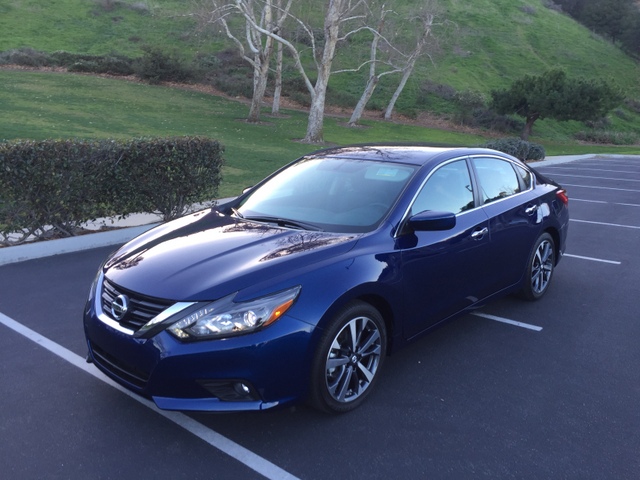 Total Score and Competitive Comparison (62/80, 78%)
Soon after driving the 2016 Nissan Altima SR, we drove a brand new 2016 Nissan Maxima SR that irreparably ruined every expectation we have for models from this Japanese automaker. We simply love the new Maxima with its velvety smooth and agile maneuverability, stylish and sexy exterior, gorgeous interior and effortless pace. If we were at a Nissan dealer and test drove the Maxima right after the Altima, there is no way we could go home with the smaller sibling and not feel total buyer's remorse.
We realize this is an apples to oranges perspective somewhat, but the Maxima showed us what Nissan can really do with a four-door sedan. And we want them to do that with the Altima.
The 2016 Nissan Altima SR four door is definitely a competent family sedan, but with none of the Maxima's four-door sports car genetic matrix to be found. We are just afraid that with so many more entertaining to drive options, people may no longer continue to look at the Altima as a sporty choice. And if you're tempted to pay extra for the 3.5-liter V6 engine, check some of the lower Maxima trim levels, which have that engine along with better looks, interiors and more driving enjoyment.
You can learn a lot more about the 2016 Nissan Altima now in the FULL REVIEW.
Search used cars for sale and find the best deals near you at iSeeCars.com.
To get a FREE iSeeCars VIN Report for a car, click here.