*Go straight to the FULL REVIEW.
Overview (Final Score: C)
Trying to make a name for yourself in full-size trucks is a seemingly impossible task. The likes of Chevrolet, Ford, GMC, and Ram dominate it and try to one up each other every year with improvements or new models. That doesn't automakers don't give it a shot. Nissan and Toyota have trying to make inroads into this class for more than a decade.
Out of the two, Toyota has been the successful one as they have improved their contender, the Tundra over the years. The same cannot be said for the Nissan Titan. Unlike most truck manufacturers that offer a wide range of cabs, bed lengths and engines, the Titan only offered a small range of cab and bed sizes, and one V8 engine. The lack of configurations and Nissan not doing anything major for the eleven years the Titan was on sale built meant it was well behind the pack.
But Nissan isn't giving up. For 2016, the Japanese automaker is launching a two-prong attack. First is a redesigned half-ton Titan that will offer a variety of cabs, bed lengths, and engines. Second is a new model that fits between a half-ton and three-quarter ton truck called the Titan XD. This five-eighth ton truck is said to offer more hauling capability than a half-ton, while getting better fuel economy and a smoother ride than three-quarter ton trucks.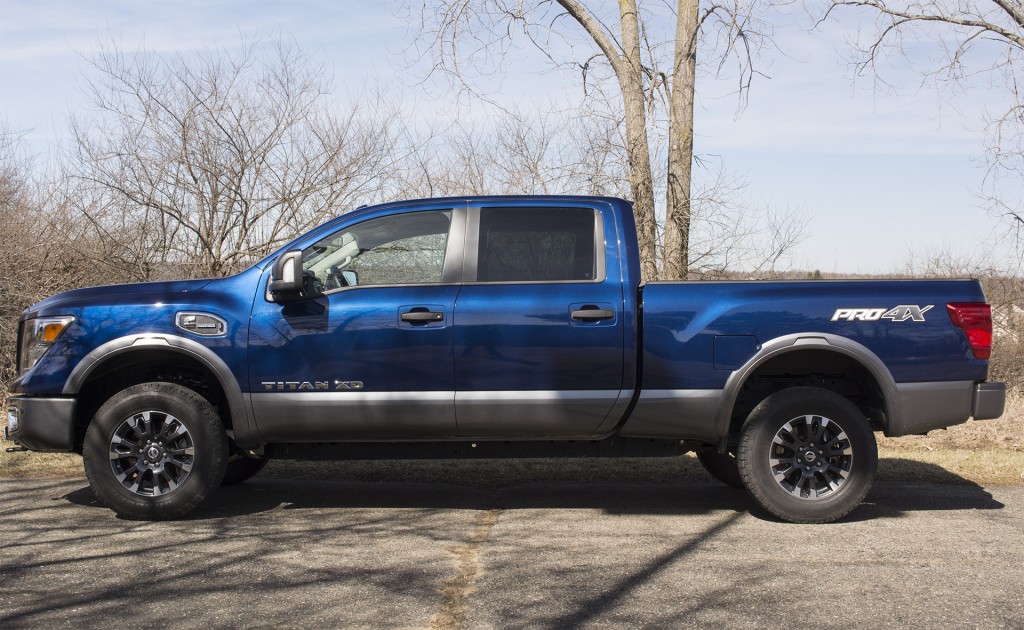 What We Love About the 2016 Nissan Titan XD:
Option of a V8 Diesel Engine
Roomy Interior
Cushy Ride
What We Don't Love About the 2016 Nissan Titan XD:
Steering Doesn't Inspire Confidence
Diesel Engine Is Noisy
Only Available In One Body Configuration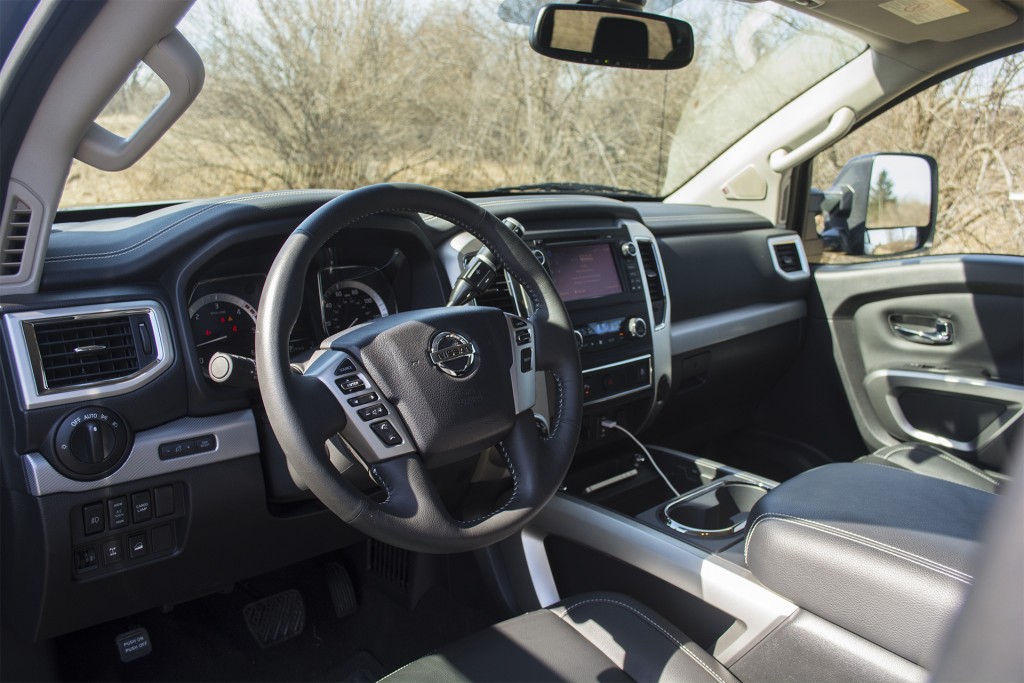 Interior Comfort, Quality and Ease of Use (9/10)
The Titan XD's interior isn't anything special when it comes to design. But in terms of material choices and overall build quality, the Titan XD shines. Many surfaces are covered with soft-touch materials that add a premium feel. There's also a fair amount of trim pieces finished in silver to provide some contrast from a black interior in our tester. Build quality on this pre-production truck was excellent with no loose trim pieces or rattles coming from the dash.
Depending on the trim, the Titan XD offers seating for five or six people. The front seats offer excellent comfort and support thanks to large seat cushions. Power adjustments for the front seats and steering wheel means anyone will be able to find a position that works for them. In the back, there is a large amount of head and legroom. If you are considering a Titan XD, be sure to get the optional step rails. Without them, it is a pain to get in and out of the truck due to high Titan XD sits off the ground.
When it comes to storage, the Titan XD offers a lot. The front features large door pockets and a massive center console. Under the rear seats is a lockable storage bin where you can stash important items such as tools or towing straps. The top of the storage bins can flip out and provide a flat floor for carrying cargo in the back. Very clever idea Nissan.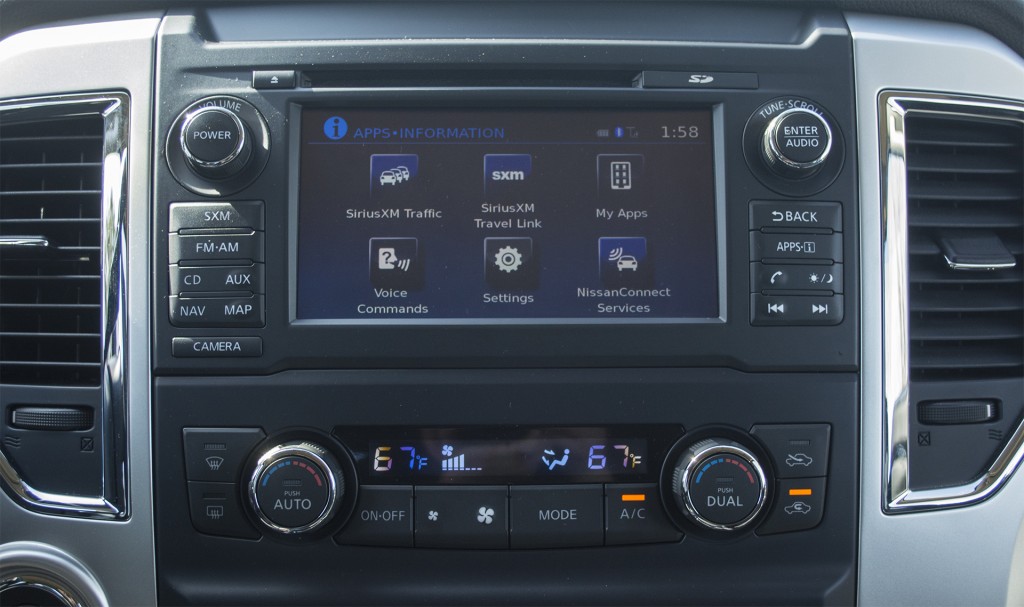 Technology (7/10)
All Titan models except the base S trim get the 'Advanced Drive-Assist display'. A color screen in the instrument cluster provides key information to the driver such as trip computer, audio information, fuel economy numbers, and engine readings. The screen is vibrant and easy to read at a quick glance.
Optional in higher trims is a seven-inch touchscreen with the NissanConnect infotainment system. Despite being one of the newer systems in the marketplace, the interface for NissanConnect looks like it is from a vehicle in the mid-2000s. This is apparent when you load up the navigation system and it looks unchanged from the previous system Nissan used. That's a shame since Nissan has some really impressive features. The system offers SiriusXM TravelLink that provides weather forecasts, fuel prices, stock quotes, scores from various sports, and local movie listings. There's also the ability to use Google search and update your status on Facebook and Twitter. But to use these services, you'll need to have your phone plugged in for the system to use the phone's data connection.
The big thing with this new system is the introduction of NissanConnect Services. The basic level of services includes automatic crash notification, ability to call for emergency services, tracking your vehicle if it's stolen, and roadside assistance. Above that, Nissan offers two additional packages that include such services as remote start and locking from your smartphone; be alerted if someone is speeding in your vehicle, and send directions from Google maps to your the vehicle. Nissan will give you a six-month trial of the full suite of NissanConnect Services when you buy a Titan XD. After that, plans start at $11.99 per month.
Using NissanConnect is very easy. There's a set of buttons on either side of the screen to take you to various parts of the system such as the radio, navigation, or settings. The touchscreen is very responsive and reading the text is easy thanks to a bright and clear screen. We do wish the voice recognition system was better at understanding what we were saying. Also, it would be nice if there was a pause button whenever you're listening to something via the USB input. The only way you can pause something is to turn the volume all the way down.
Fuel Economy (8/10)
No fuel economy numbers are provided for the 2016 Nissan Titan XD since its gross vehicle weight is above 8,500 pounds, making it exempt from EPA fuel economy testing. Our average for the week landed around 17.6 MPG.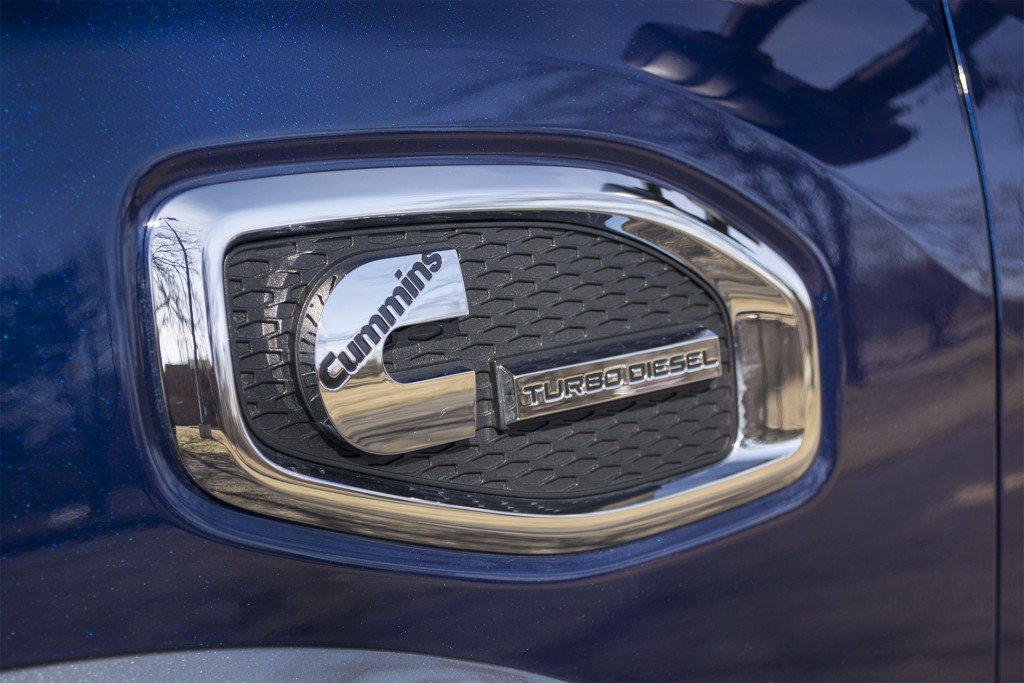 Performance (7/10)
The Titan XD is only available at the time of this writing with a 5.0L Cummins Turbodiesel V8 with 310 horsepower and 555 pound-feet of torque. This comes paired with a six-speed automatic and the choice of either of rear-wheel or four-wheel drive. Coming soon will be a 5.6L Endurance V8 with 390 horsepower and 401 pound-feet of torque.
Despite what the numbers suggest, the Titan XD isn't fast. Thanks to a curb weight of around 7,257 pounds, a lot of the engine's power is used to overcome the weight. Those who have timed the Titan XD's run to 60 mph say it lands around nine seconds. On the plus side, the six-speed automatic transmission delivers crisp and smooth shifts.
Of course, performance isn't the big thing about the Titan XD, it is how much it can tow. Nissan quotes a maximum tow rating of 10,608 to 12,314 pounds (depending on how the Titan XD is configured). But many light-duty trucks from GM, Ford, and Ram can tow that much when properly equipped. Nissan would argue the Titan XD offers a more secure feeling when towing. We can give them that. But why not go for a heavy duty truck which offers that secure feeling when towing? Plus, heavy duty trucks have higher tow ratings than the XD.
One thing that is very apparent is how noisy the V8 diesel is. Outside, it sounds like a school bus at idle. Competitors when equipped with their diesel engines, are much quieter. At least, Nissan tried to do its best with noise isolation inside with double pane glass and sound deadening material. But again, competitors do a better job. There is one upside to all of the diesel racket, it masks the road and wind noise. If the diesel clatter does get annoying, you can turn up the optional Rockford Fosgate sound system which can drown it out.
Ride and handling are quite impressive for a truck. Over various road surfaces, the Titan XD delivered a smooth and cushy ride. Bumps and road imperfections did nothing to upset the Titan XD's ride. Now part of this is because of the trim we were driving. The Titan XD Pro-4X comes with a set of Bilstein off-road shocks and wider off-road tires. Steering is the weak link in the Titan XD. First, we found there was a lot of play when the steering wheel was dead center. Basically, we could freely move the wheel a few degrees in either direction and the wheels wouldn't turn. Not something you want in a pickup. We also found the steering to be very light and not have any road feel. This made the Titan XD not feel as maneuverable as other trucks or give us the confidence that we were in control.
Now our Titan XD was a pre-production model which means certain things and issues on this truck may not be existent on others. So we decided to talk with a couple of people who drove some production models to get their impressions. They told us some of the issues we experienced appeared in the production models. We're hoping Nissan can get these issues ironed out quickly.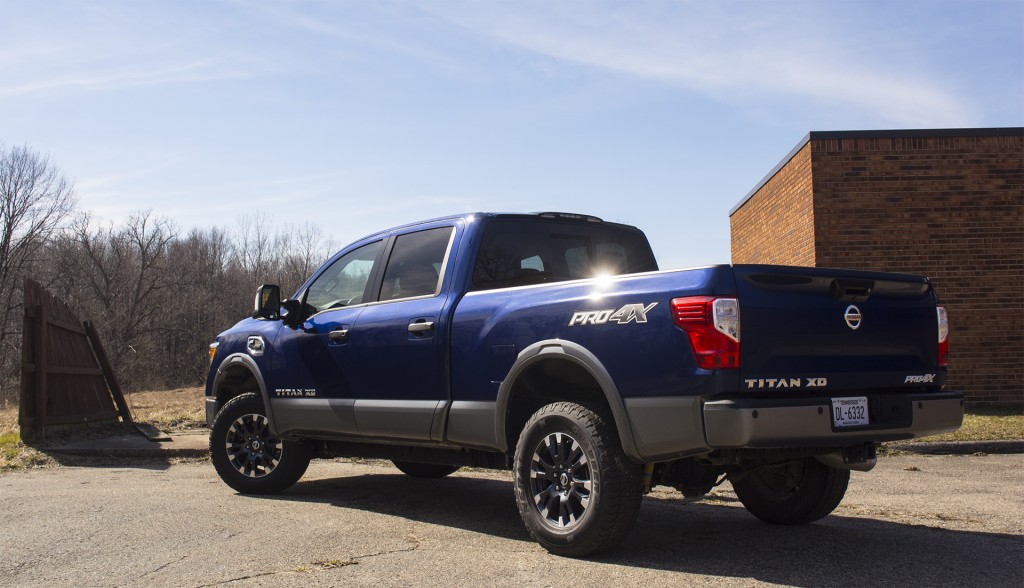 Total Score and Competitive Comparison (46/60, 77%)
Trying to find direct competitors to the 2016 Nissan Titan XD is difficult. This is because the Titan XD exists in the white space between light-duty and heavy-duty trucks. Light-duty trucks are more maneuverable and can tow about the same as the XD. Heavy-duty trucks provide that secure feeling when towing and are able to tow more than the XD. Plus, a decently equipped heavy-duty truck with a diesel engine costs around the same as the mid to high range Titan XD trims.
Therein lies the biggest problem Nissan faces with the Titan XD. How do you convince someone that the Titan XD is the right truck for them? On paper the Titan XD seems like something that provides the towing of a heavy duty while retaining some of the maneuverability of a light duty. But in the real world, it just doesn't pan out.
The Nissan Titan XD is the answer to a question. The problem is no one knows what the question was.
Read the FULL REVIEW Now to get more expert tips on the 2016 Titan XD's safety, reliability, pricing, exterior and technology.
Search used cars for sale and find the best deals near you at iSeeCars.com.
To get a FREE iSeeCars VIN Report for a car, click here.