*Go straight to the FULL REVIEW.
Overview (Final Score: B+)
The minivan as a tool for toting large numbers of people around efficiently has been around for a long time and while many may believe that the segment is dying, sales numbers show that it's a steady market full of well-heeled buyers. Competition in this segment is fierce, though small. Among the competitors, though, the Sienna remains a favorite for its balance of economy and solidity while offering some of the best ergonomics and convenience to be found.
The 2016 model year sees little in the way of change for the Sienna, with last year's significant refresh continuing forward. A couple of convenience features in the upper trims and packages as well as the addition of Siri Eyes Free to all trim levels are the only major changes for 2016.
To be fair, not much needed changing on this latest Sienna. A solid performer in the market, the 2016 Sienna offers comfort, convenience, and class-exclusive all-wheel drive to go with its well-considered ergonomics. The Sienna remains the minivan to beat.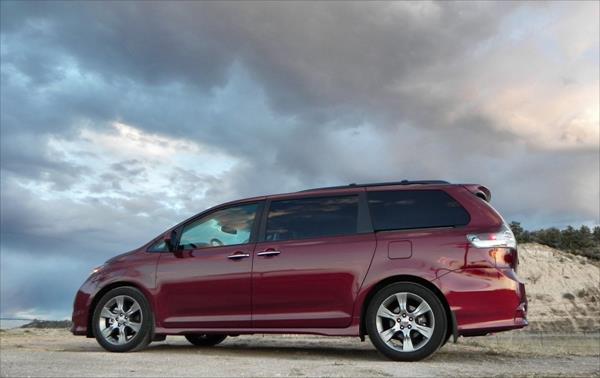 What We Love About the 2016 Toyota Sienna:
Top shelf interior ergonomics and spaciousness.
Excellent materials quality at all trim points.
Great storage and convenience options.
What We Don't Love About the 2016 Toyota Sienna:
Fuel economy lower than some similar-sized crossovers.
Removal of middle row for maximum cargo is difficult.
Sluggish to drive when under a load of passengers or cargo.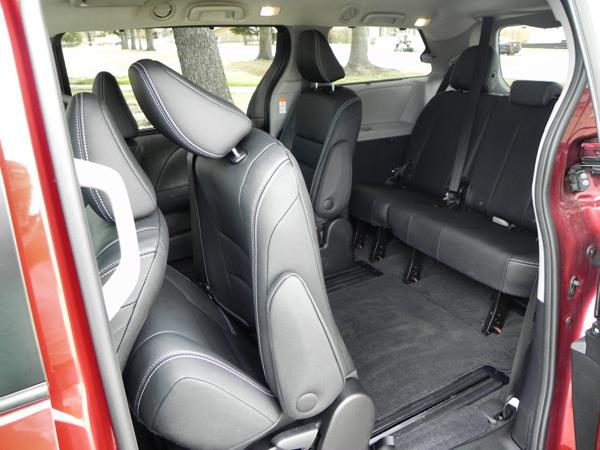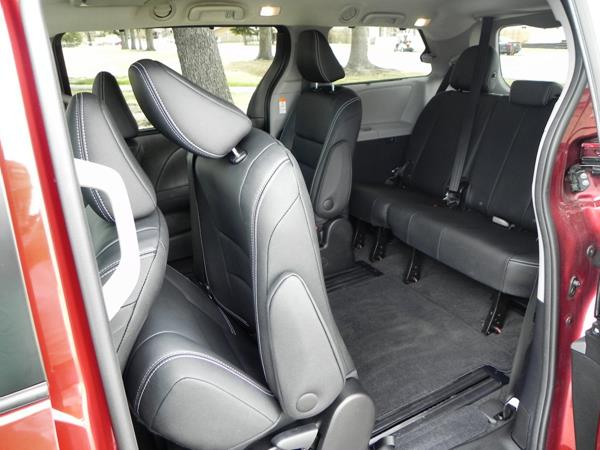 Interior Comfort, Quality, Ergonomics (10/10)
At all trim levels, the 2016 Toyota Sienna features an upscale, quality interior set on a foundation of well-considered ergonomics. The fabric upholstery found in the lower trims is well-done and moisture and stain resistant (a must in a minivan) while the upper trims with their simulated and true leather are beautifully done. Outside of convenience details, trim levels also raise the bar for added bling as faux wood and metal accents add some interest to the cabin. Finally, storage is found everywhere and is entirely useful for the family on the go; whether it be across town for a movie or across the state to see grandma. Drink holders are abundant and easily accessed from all seating positions.
Spaciousness defines the minivan category and the Sienna has that in spades. Several seating options are available, ranging from an eight-passenger middle bench to a seven-passenger arrangement with pilot seats and a pass-through to the third row. The third row is comfortable enough for children to sit in on long journeys and large enough for adults to use it on shorter trips. Head and shoulder room are good in the third row, but knee and leg room can be limiting. The second row has no such limitations, having more potential space than even the driver and front passenger can enjoy. This is especially true of the pilot seat options, which can upgrade to become lounge chairs and more.
In the front, the driver is treated to a well-done cockpit with good ergonomics for the class. The shifter and some infotainment controls might be a stretch sometimes, but this is made up for with spaciousness and an abundance of knee and elbow room.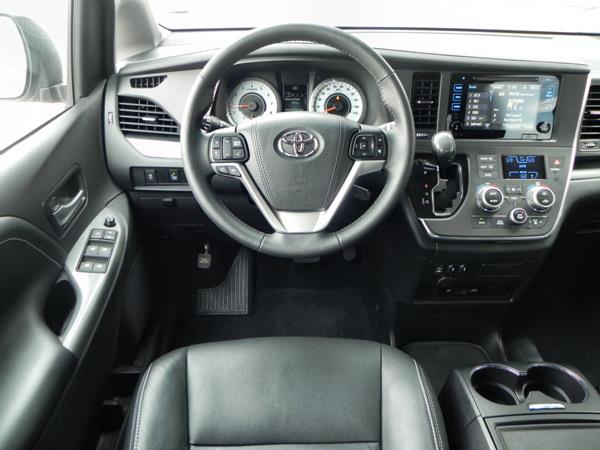 The center bench seat is a 40/20/40 split row and the center section can slide all the way up to the front console to give easy access to a child safety seat when installed. It can be removed and stowed in a specially-made compartment in the rear cargo area (on the left wall, tucked away) to create a walk-through for the third row when needed. With captain's chairs in the second row, you lose the center seat, but gain much more comfortable seating and a pop-up food and drink tray between the seats. The captain's chairs also slide further forward and back as well as side-to-side to expand space in all directions.
Total cargo space in the Sienna, with all seats stowed/removed, is 150 cubic feet. To get this, you'll have to remove the second row seating, which is no easy task, but most will rarely (ief ever) have to do this unless the van is to be used as a makeshift pickup truck. The deep well created when the third row is up is large enough for two checked bags with room for much more on top, however, making for some serious stowage capacity in the Sienna even when all seats are taken.
Technology (10/10)
All models of the 2016 Toyota Sienna include a touchscreen interface for basic infotainment. Using Toyota's Entune interface, these screens feature large virtual buttons and relatively easy navigation for most basic tasks. Added hard buttons to either side of the screen make it easier to jump from one task to another quickly. The higher trim levels or upgraded packages add smartphone-connected services and integration with Entune Apps. This year, the Scout GPS Link service is added, which allows the smartphone's navigation to take over the infotainment screen, overriding the built-in navigation in the van. Siri Eyes Free is standard in all Siennas.
In the back seats, an optional entertainment system can be added with a huge split-screen display that folds down from the ceiling. This display interferes with the driver's rearview somewhat, but comes with four wireless headphones and added plugs for devices so that a tablet, smartphone, gaming system, etc. can be easily plugged in and use on either side of the big screen or at its center. A DVD player is mounted up front below the climate controls in the front dash as well. The driver or front passenger can control screen output and the screen can be mirrored on the front infotainment screen when the vehicle is parked and the brake is set.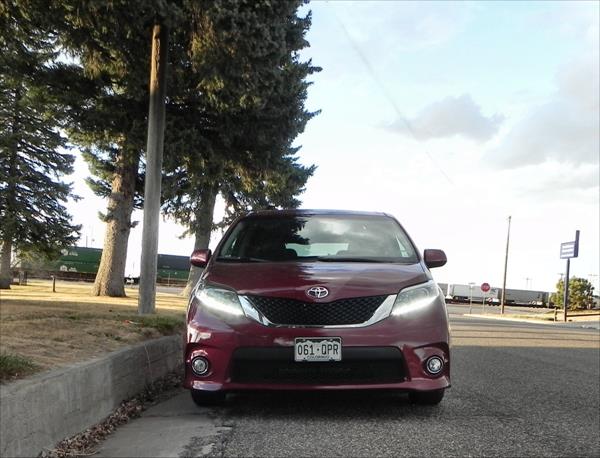 Fuel Economy (8/10)
The 2016 Sienna is rated at 21 mpg combined, with 18 mpg in the city and 25 mpg on the highway in front-wheel drive models. In all-wheel drive models, this drops to 19 mpg combined (16 city, 23 highway). These are average numbers for the segment.
Performance (8/10)
Powering the 2016 Toyota Sienna is a 3.5-liter V6 that produces 266 horsepower and 245 pound-feet of torque. Front-wheel drive is standard and all-wheel drive is an option in many trim levels. A six-speed automatic transmission powers both drivetrain options.
This engine produces adequate power for the van and seeks to balance fuel efficiency with output. In daily driving with only one or two passengers, it's a good drive with solid output. When weighed down with passengers and/or gear, however, the Sienna can seem a bit sluggish on the uptake and the transmission will seek gears often when traversing hilly landscapes. For most, though, the V6 is more than enough for the van's needs most of the time.
Driving around town or on the highway, the 2016 Sienna has a good feel and is a confident ride. It's more robust in feel and better-tuned than its predecessors have been, but is definitely not a sports car. It gives a good feel for the driver, however, and absorbs the road and turns well without being mushy. For those who want a more driver-centric feel, the SE trim has firmer steering and a slightly tighter suspension, giving up some comfort in favor of added fun.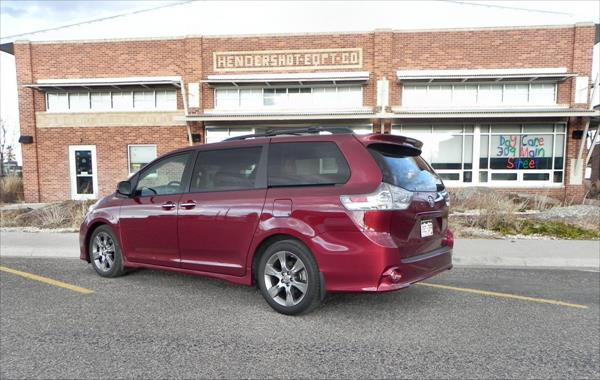 Total Score and Competitive Comparison (70/80, 88%)
Competition in the minivan segment for 2016 is slim, but strong. The Nissan Quest is more upscale than the Sienna and its price point will attest to that, but it offers higher-end comforts and appeal along with very strong (even polarizing) exterior design. The Dodge and Chrysler options in the Caravan and Town & Country are seeing their last year as models from that line and will likely show some heavy price competition as they fade out, but their reputation for reliability problems may dog them as they complete their terms. Replacing them next year will be the new Chrysler Pacifica, which will be offered in both all-wheel drive and, surprisingly, a plug-in hybrid option.
The chief competition for the Sienna comes from the Honda Odyssey, which offers a similar blend of excellence, and the value-oriented Kia Sedona, which has raised its personal bar for excellence with its latest redesign.
All told, the 2016 Toyota Sienna is a great buy and solid choice in the minivan segment. Being the only all-wheel drive option on the market, it also helps bridge the line between a minivan and a crossover, offering the assurance of AWD with the spaciousness and utility of a minivan. Its excellent comfort levels and smart convenience ergonomics are icing on that cake.
Read the FULL REVIEW Now to get more expert tips on the 2016 Toyota Sienna's safety, reliability, pricing, exterior and technology.
Search used cars for sale and find the best deals near you at iSeeCars.com.
To get a FREE iSeeCars VIN Report for a car, click here.