*Go straight to our full review HERE.
Overview (Final Score: B+)
The all-new 2017 Ford Super Duty F-250 truck leads the way for Ford's new series of heavy-duty pickups. Newly redesigned with a larger body, more interior room, updated metals in framing and bodywork, and some familiar and powerful engine options mark the new F-250.
The Supercab (extended cab) and Supercrew (crew cab) F-250 models have a huge amount of interior space added, mostly in rear legroom. The bodywork of the new F-250 is now made of aluminum. It takes on a design very similar to the F-150, which started the aluminum-bodied changes a few years ago. However, the Super Duty pickups have 20 percent thicker aluminum to withstand tougher workloads expected of trucks of this caliber.
Underneath, the framing of the F-250 has also been extensively redesigned. It now features near-total use of high-strength steels, which make up 95 percent of the truck's under frame and crossmembers. Thicker, stiffer crossmembers also mean better lateral support and less trailer sway when towing. These updates work to both lighten the truck and lower its center of gravity, which improve capability and towing dynamics.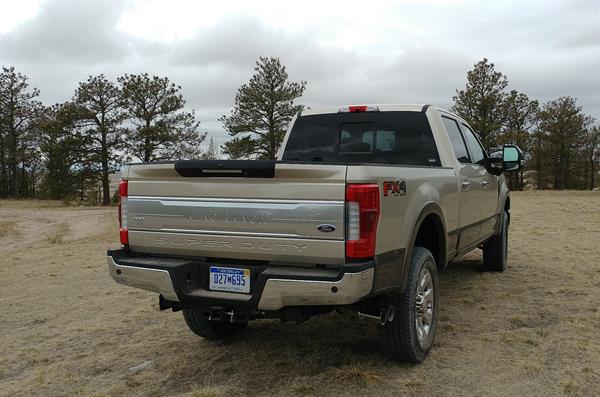 Inside, a host of new technologies and seven total external cameras are now available through the large infotainment screen. This includes Ford's trailer backup assistant, debuted in the F-150 last year, and the truck maker's latest in extended trailer control options, as well as new driver-assist and safety features.
There's a lot of improvement in the new 2017 F-250, proving that Ford wants to stay on top of the American truck sales game.
What We Love About the 2017 Ford F-250:
An offering and package for just about any buyer
Two very capable engine options with a lot of power available
Strong new framing aids towing and sway control immensely
What We Don't Love About the 2017 Ford F-250:
Pricing gets expensive very quickly as the trim and package options add up
Base model has little to offer outside of very basic needs
New trailer backing system requires extensive setup and is trailer-specific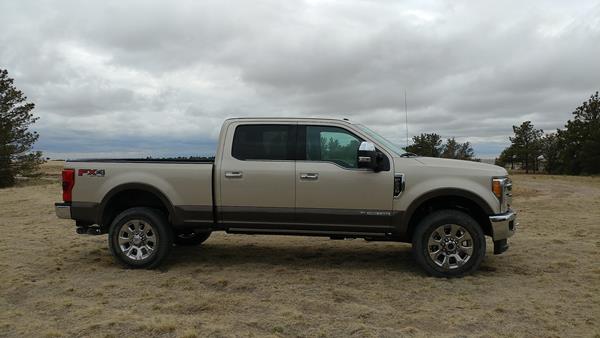 Pricing and Value (8/10)
In a heavy-duty work truck, value can be subjective according to what's expected from the pickup. The low base price of the F-250 is for the extreme base model XL, which has almost nothing added to its basic two doors and steering wheel design. Most consumers will be in the Lariat and King Ranch models, which are more expensive.
Most Lariat buyers can expect to spend in the neighborhood of $45k for a new 2017 Ford F-250 with a Supercrew cab and standard bed. This truck will come nicely outfitted with most of the comfort and working items a HD truck owner will expect. Additional money may be spent to add a fifth wheel or gooseneck to the bed, and some creature comforts or a larger cabin may be opted for as well. All are worth the money spent. Priciness comes when more gadgets, such as the trailer backing systems, camera packages and so forth are added. These can be worth having, but weigh your spending carefully.
Resale values for the F-Series is good and trade-in values for Super Duty pickups are especially high. The diesel engine option is most sought after, resulting in the highest resale and trade-in value retention.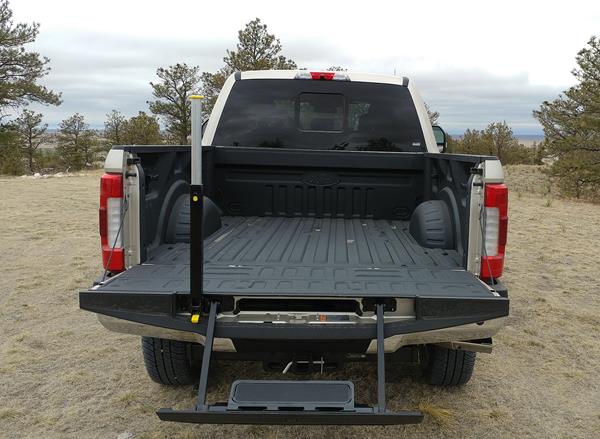 Total Score and Competitive Comparison (70/80, 88%)
The heavy-duty pickup truck market has some stiff competition from domestic brands like Chevrolet and GMC, with the Chevrolet Silverado and GMC Sierra 2500HD models being close competitors to the F-250. The Dodge Ram 2500 is also a tough competitor for the Ford. The chief advantage that the 2017 Ford F-250 has is its newness and extreme class-leading technology options.
The 2017 Ford F-250 Super Duty is all new and it definitely shows. Ford has long led the pack in terms of sales and has kept that lead primarily by offering a wide range of purchase options, ranging from stripped-down base models to ultra-lux top-end trims. Forward-thinking (and now trailer-backing) technologies are another front on which Ford is leading the way for pickup truck buyers. Trailering is the main concern of most heavy-duty truck buyers and the F-250 definitely has that task down to a science.
You can learn more about the 2017 Ford F-250 now in the FULL REVIEW.
Search used cars for sale and find the best deals near you at iSeeCars.com.
To get a FREE iSeeCars VIN Report for a car, click here.