*Go straight to our full review HERE.
Overview (Final Score: B)
The 2017 Infiniti QX80 is a big, bold machine that doesn't make any bones about its size or luxury. It's remained largely unchanged for some time now, but has needed much to keep it relevant.
For 2017, changes are minimal and include the addition of in-car WiFi as part of the popular Theater Package upgrade. Trailer sway control is now standard in the QX80, going along with the now-standard tow kit. A huge array of standard equipment follows those additions. That's not to say that the QX80 is without its problems. Fuel economy and a relatively small fuel tank plague it, but our time in the QX80 also proved its bad-weather credibility to be high as well.
The QX80's bold exterior is matched with its luxurious interior. Excellent comfort-level luxury is matched with high-end technology and smart ergonomics throughout the inside. Match that with unexpectedly great off-road capability and some serious towing muscle and you get a great luxury SUV. It's easy to see why the QX80 is a top contender in this market.
What We Love About the 2017 Infiniti QX80:
Bold, robust styling matched by capability
Interior is as top shelf as it can get in this category
Option packages are smartly done with good value
What We Don't Love About the 2017 Infiniti QX80:
Third row is not as large as some competitors
Low fuel economy and small fuel tank are a bad mix
Bold styling can be off-putting for some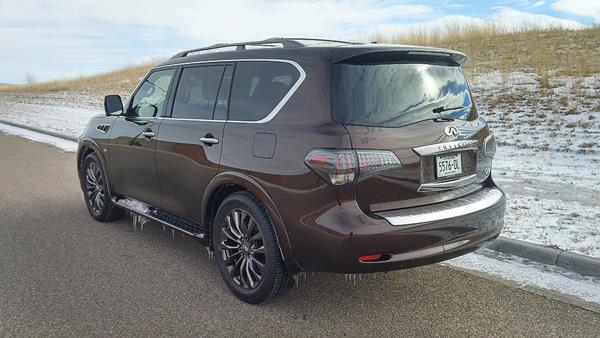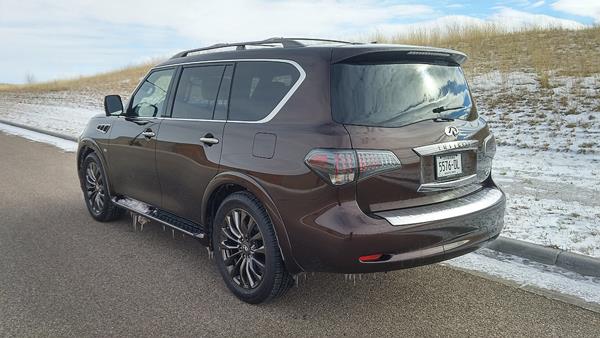 Pricing and Value (9/10)
The 2017 QX80 is expensive, there's no doubt about that. But it's packed with a lot of capability and value to go with that price. Competitors that are truly competition for the QX80 are few and are priced in the same ballpark. Most buyers can expect to get their QX80 in the $80k to $85k range, and it will be well-equipped at that price.
With a true 3-row, large-sized SUV like this, the value is measured in versatility, capability and longevity. Value is also found in the standout styling and large amount of bells and whistles that are included on the window sticker's list. The 2017 Infiniti QX80 is a winner on that front.
Total Score and Competitive Comparison (69/80, 86%)
There are a lot of full-size SUVs to choose from, but only a few in the luxury category match the extreme capability of the 2017 Infiniti QX80. Its closest competitors are the Lexus LX 570, which is also very capable both on and off the road, and the Mercedes-Benz GLS Series. The Cadillac Escalade and Lincoln Navigator are also worth cross-shopping if your off-road needs are not as demanding. Against these, the QX80 competes most squarely with the Lexus and the toe-to-toe would be a close call to make. The Infiniti is more luxurious, whereas the Lexus may have a bit more off-road credibility. Against the Mercedes, the QX80 is a better all-around offering.
Your style preference question is key to deciding which one to buy. If you favor big, bold, no-holds-barred styling, you'll like the 2017 Infiniti QX80 as it backs that up with solid performance and capability.
You can learn more about the 2017 QX80 now in the FULL REVIEW.
Search used cars for sale and find the best deals near you at iSeeCars.com.
To get a FREE iSeeCars VIN Report for a car, click here.