Overview (Final Score: A-)
The 2017 Mercedes-Benz GLS-Class is a beautiful, big luxury SUV with three full rows of adult-friendly seating and an excellent drive dynamic in four levels of engine option appeal.
Taking over from the GL-Class, the GLS is a mid-cycle refresh of that SUV. It adds the S to its name to denote its uber-luxury on par with the S-Class sedans in Mercedes' line, getting a bit of a facial change and a new transmission. Inside, a few changes to the infotainment are found as well.
Finding a direct competitor for the 2017 Mercedes-Benz GLS-Class is difficult. The closest options are the Audi Q7, which is really a class down from the GLS, and the Infiniti QX80. The QX80 is likely the closest you'll find to the big Mercedes, but it doesn't offer the engine choices or extremes of luxury that the GLS has. In its favor, the Infiniti does have a more Americanized appeal to its interior comfort and overbearing presence.
This big luxury SUV is a fun drive, but there are a few things that some Americans might find lacking here. For the most part, those who love German luxury will adore the big 2017 GLS.
What We Love About the 2017 Mercedes-Benz GLS:
Strong engine offerings and great road dynamics
Muscular presence with towing to back that up across the board
Wonderful interior with adult-friendly seating in all three rows
What We Don't Love About the 2017 Mercedes-Benz GLS:
Questionable placement of controls in some places
Low fuel economy in all but the diesel option
No reliability or crash test results to draw from
You can learn more about the 2017 GLS now, in the FULL REVIEW HERE.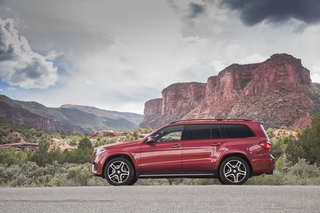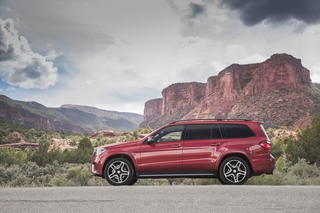 Search used cars for sale and find the best deals near you at iSeeCars.com.
To get a FREE iSeeCars VIN Report for a car, click here.