*Go straight to the FULL REVIEW.
Overview (Final Score: B-)
The 2017 Mercedes-Benz Metris continues where the Metris was introduced two years ago. It's a North American version of the Spanish Vito, differing from that model mainly in engine and drivetrain. The Metris replaced the Sprinter van formerly sold under the Mercedes-Benz banner.
The 2017 Metris comes in four basic variants, all of which are based on the same midsize commercial van design. The Metris Cargo is focused on – you guessed it – cargo hauling. The Passenger adds two rows of bench seating in the rear. For those focused entirely on utilizing the no-frills get-the-job-done mentality of commercial vehicles, the Metris Worker Cargo and Worker Passenger offer fewer options in exchange for a lower price.
The 2017 Metris is a surprisingly good van, fitting somewhere in between the compact and large vans offered by most competitors. The Metris maximizes interior room and daily workability with excellent feature sets and a solid list of standard features, including a safety feature that aids stability in high winds. That's important in a van this tall.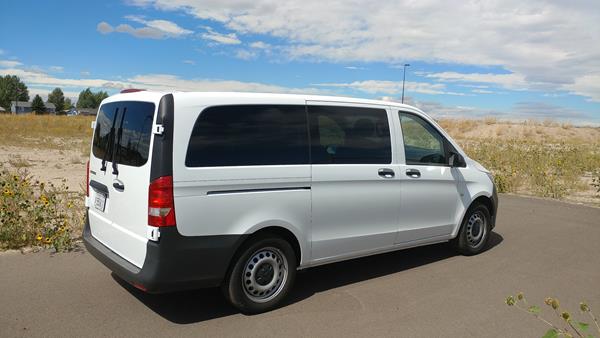 The 2017 Mercedes-Benz Metris is a good workhorse with a smart package design that allows buyers to customize or strip down the van to their specific needs and budget. The Metris might cost more than the rivals it's usually compared to, but most of them are either smaller or not as feature rich.
What We Love About the 2017 Mercedes-Benz Metris:
Great drive with a lot of driver visibility and maneuverability
Smart engine with a well-matched transmission
Good interior design with lots of useful ergonomics
What We Don't Love About the 2017 Mercedes-Benz Metris:
Engine can be underpowered with heavier loads
Rear doors on passenger models do not hinge all the way back
Infotainment is less than stellar, even in the most high-end option
Performance (9/10)
The engine powering the 2017 Metris is a small 2.0-liter four-cylinder that has been turbocharged to produce 208 horsepower and an impressive 258 pound-feet of torque. A seven-speed automatic transmission and rear-wheel drive are standard.
The 2017 Mercedes-Benz Metris drives very well for a commercial van. It's maneuverable, visibility for the driver is good, and the van feels confident in most situations. Acceleration around town is very good. Getting up to speed and holding speed on the freeway is pretty good as well.
Under a heavy load, the four-cylinder will sometimes struggle to get and maintain high speeds, but the transmission goes a long way toward maximizing that torque in most driving situations.
Pricing and Value (8/10)
The 2017 Mercedes-Benz Metris is priced a bit higher than most in its segment, but has a better drive and some improved interior elements, including more cargo space, that are not found in the others. Most buyers are likely to add a few amenities for this commercial van, putting the price tag in the $35,000 range at the lower-mid level and closer to $40,000 in the upper level, especially with the Passenger model.
The Metris will pay off well with superior comfort and ergonomics for most needs. Especially in situations where longer distances or passenger hauling are the intended use for this van.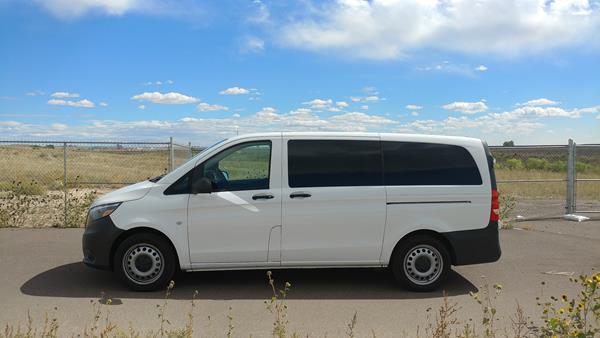 Total Score and Competitive Comparison (64/80, 80%)
There aren't many rivals in the midsize commercial van segment for the Mercedes-Benz Metris to compete with. Most doing shopping comparisons are more likely to consider a slightly smaller city-style van or a larger full-size van.
The Ram ProMaster Cargo series, both in its smaller City and full-size models, is a close competitor with a lot to offer. The Metris offers a better drive over both Ram models and more interior space than the ProMaster City. The same can be said of the Nissan NV200 and the Ford Transit Connect.
The 2017 Mercedes-Benz Metris is one of the best and likely most overlooked commercial vans on offer today. It checks off a lot of important boxes for commercial buyers, for cargo hauling and passenger carrying.
Read the FULL REVIEW Now to get expert tips on the 2017 Mercedes-Benz Metris' safety, reliability, fuel economy, interior, exterior, technology and more.
Search used cars for sale and find the best deals near you at iSeeCars.com.
To get a FREE iSeeCars VIN Report for a car, click here.