*Go straight to the FULL REVIEW. 
Overview (Final Score: A-)
The world of luxury has its own classes. These segments are topped by the ultra- and uber-lux categories of vehicles that are as beautiful as they are exclusive. Playing in that field are some very high-end models, including the Mercedes-Benz SL-Class. With a starting price hovering in the neighborhood of some rural housing and top-end models whose sticker might sound like a suburban home purchase, the SL-Class manages to deliver on the expectations that kind of 6-figure tag implies.
The 2017 Mercedes-Benz SL-Class has four models, each of which with a different powertrain: the SL450, SL550, AMG SL and the AMG SL63. All four are as luxurious as you can imagine, with a drive dynamic and road presence that has no comparison.
The lost art of the ultra-luxurious touring roadster is kept alive through the Mercedes-Benz SL. Exterior styling updates, a new transmission for the SL450 and SL550, and some power upticks are the main upgrades seen for 2017.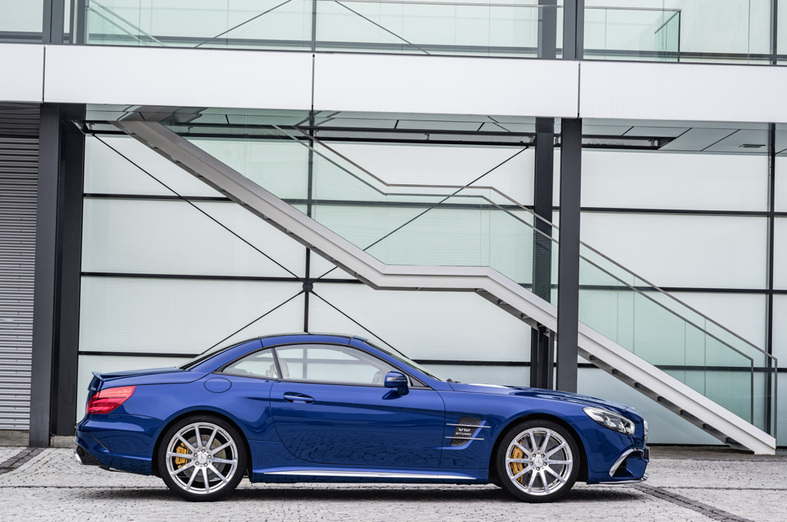 What We Love About the 2017 Mercedes-Benz SL-Class:
Extremely well refined and nicely rounded out for any expectation
Comfortable driving at its finest with more adjustment than any two-seater we've tried
Models with performance to match any owner's expectation
What We Don't Love About the 2017 Mercedes-Benz SL-Class:
Safety is a difficult thing to measure here
Performance numbers returned for the upper-end prices are not impressive
Some options, such as all-wheel drive, are not available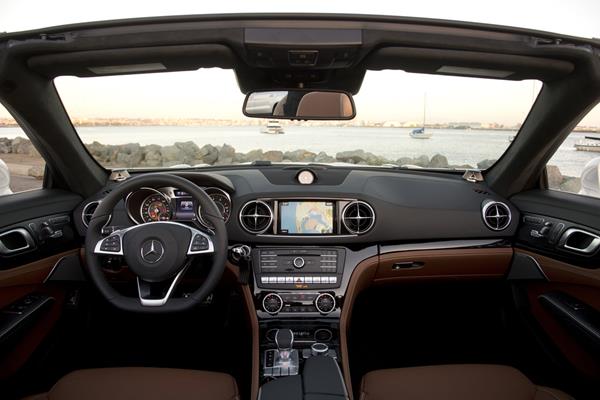 Performance (10/10)
There are three engines and two transmissions for the 2017 Mercedes-Benz SL-Class. Each of the four models of the SL designates which engine/transmission option is used.
The base model SL450 we drove uses a 3.0-liter V6 turbocharged to 362 horsepower and 369 pound-feet of torque. A 9-speed automatic transmission is attached and includes manual shift control through either the shifter or paddles on the wheel. Rear-wheel drive is standard. The 0 to 60 mph time for this variant is fast at 4.9 seconds and we saw 5 second times easily, leading us to believe that Mercedes' estimates are real-world rather than track.
The SL550 model uses the same 9-speed automatic, but paired to a 4.7-liter V8 that outputs 449 hp and 516 lb-ft. This is rated for 0 to 60 times of 4.3 seconds.
The AMG SL uses a 5.5L V8 that outputs 577 horses and 664 lb-ft of torque thanks to a turbocharger. A 7-speed high-performance transmission is used here and the whole shebang is 0 to 60 mph rated at 4 seconds flat.
The AMG SL65 is the most souped-up of the Mercedes SL-Class, with a huge 6.0-liter turbocharged V12 (yes, 12) that outputs 621 horsepower and 738 foot pounds of torque. The 0 to 60 time for this monster is 3.9 seconds.
On the road the 2017 Mercedes-Benz SL450 is a beautiful drive with a well-mannered demeanor and more than enough power to get frisky when the time is right. It's smooth in the corners, fast on the straights and generally happy to be moving at any time. This is a purely enjoyable car and by far the best Mercedes model we've driven to date. We can only imagine the other models kick that enjoyment up by notches with each performance increase.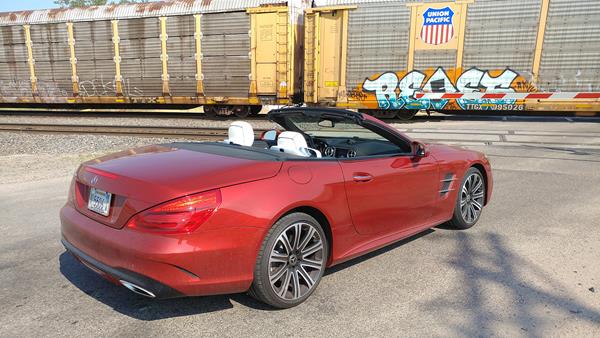 Pricing and Value (10/10)
In this class of vehicle, value is highly subjective. Most metrics regarding base price versus accouterments and resale values don't apply to the average buyer in the ultra-lux convertible market. With the base model selling for about the price of the average Midwestern home, it's difficult to use that as a starting point.
What's valuable about the 2017 Mercedes-Benz SL-Class is its extremely well-matched refinement and beauty that combines well with the car's ability to accommodate almost any drivers and their expectations. The base model is probably good for the majority of buyers, as the SL450 has everything that could be asked for by anyone who's not a pure performance driver. Only the pleasant growl of a well-tuned V8 is missing, and that can be had with the upgrade to the SL550.
The other two AMG models are purely about performance in a highly luxurious package. Those buyers are in a different league and will enjoy having the AMG SL and SL65 in their stable.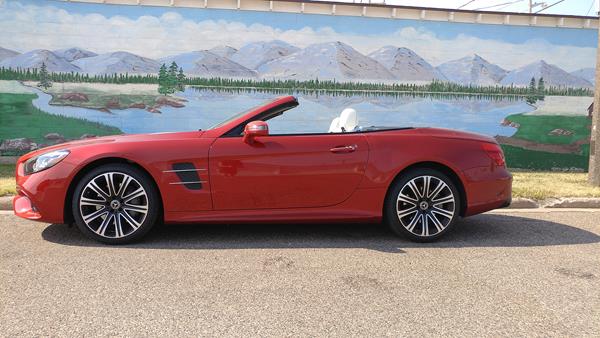 Total Score and Competitive Comparison (74/80, 93%)
The art of the touring car is often lost in the push toward more and more performance versus luxury.
The closest competitor to the 2017 SL-Class is the British Jaguar F-Type. Comparatively, others like the Porsche 911 and Audi R8 are much more sport than they are refinement for luxurious touring. At the higher end, the Mercedes-Benz AMG models may be compared to some uber-luxury makes like Bentley or Aston Martin.
When it comes down to it, the 2017 Mercedes-Benz SL-Class is in a league all its own. We love it for that and are impressed by its well-rounded design with luxury touring and comfortable (rather than sport-tuned) driving as its core intent. Powertrain choices in the SL-Class are very well-spread, allowing any expectation to be met if your wallet is large enough.
Read the FULL REVIEW Now to get expert tips on the 2017 Mercedes-Benz SL-Class' safety, reliability, fuel economy, interior, exterior, technology and more.
Search used cars for sale and find the best deals near you at iSeeCars.com.
To get a FREE iSeeCars VIN Report for a car, click here.