Overview (Final Score: A)
The 2017 Toyota Avalon is a top-shelf sedan for the full-sized segment that is generally the bar against which others are compared. Although the Avalon hasn't seen a significant upgrade since 2013, it's held its own very well against newer rivals thanks to its basic tenets of excellence.
The Avalon is roomy, made with quality, quiet to ride in and ergonomic. The Avalon is equally at home around town and on long highway trips, even when all five seats are filled. The Hybrid model is even more useful, with its segment-topping fuel economy and excellent drive dynamics.
For the 2017 model year, the Avalon now has driver assistance and safety features such as adaptive cruise control, lane departure warning and more as standard equipment. Safety features once optional, such as forward collision warning, pre-collision braking and lane departure intervention are also now standard issue.
What We Love About the 2017 Toyota Avalon:
Very appealing interior with a decidedly upscale feel
Great fuel economy plus a wonderful hybrid option
Roomy interior with plenty of cargo room
What We Don't Love About the 2017 Toyota Avalon:
Firm ride may turn off some buyers used to more body roll in their sedan
Below par technology options in the dash
Front-wheel drive is the only drivetrain option
You can learn more about the 2017 Avalon now by reading the full review HERE.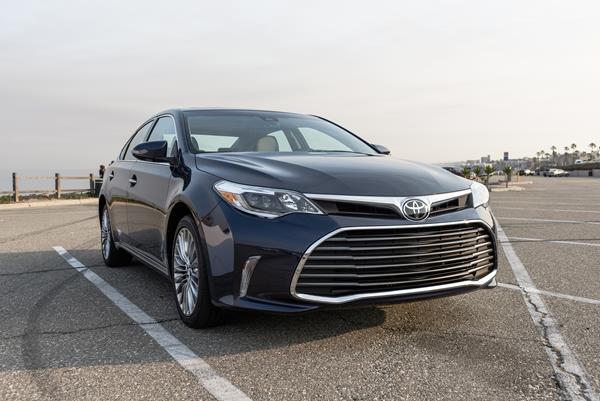 Total Score and Competitive Comparison (74/80, 93%)
The large sedan segment has several good contenders, but the 2017 Avalon sets the benchmark on most fronts. The most competitive with the Avalon in terms of all-around excellence is the Kia Cadenza, which has a solid look and excellent interior but lacks a competing hybrid model. The Chevrolet Impala is likewise a big sedan with an executive appeal, but a bit lackluster in its value proposition at the lower trims. The Chrysler 300 is a big, beautiful vehicle with a lot of style, but may not appeal to all buyers.
The 2017 Toyota Avalon and Avalon Hybrid are excellent options for the full-sized sedan market. They should be at the top of most buyers' lists and should make the benchmark against which others are compared to. The Avalon is that good.
Get more expert advice on the 2017 Avalon in the full review HERE.
Search used cars for sale and find the best deals near you at iSeeCars.com.
To get a FREE iSeeCars VIN Report for a car, click here.