*Go straight to the FULL REVIEW. 
Overview (Final Score: C)
The Hot Hatch car category is a vaguely defined arena in which some manufactures compete and others merely dabble. For most, the Volkswagen Golf GTI is the benchmark against which all other hot hatch cars are weighed. For 2017, VW kept the winning formula that the Golf GTI has had and added a few standard features to some trim points. It's otherwise unchanged from the 2016 model year.
Most who loosely define what constitutes a hot hatch versus other compact hatchbacks will point to performance metrics and handling characteristics. These items are also what differentiate the Volkswagen Golf from the Golf GTI. The GTI model has a larger displacement engine, better running gear for superior handling, and several performance-enhancing and visually engaging exterior elements.
The 2017 VW Golf GTI otherwise retains all of the sensibilities and versatile usefulness of the Golf upon which it's based. Which is a good thing. This is a Volkswagen that performs well, has plenty of driving fun, gets reasonable fuel economy and remains practical for everyday use, including parking in tight spaces and maneuvering in urban environs.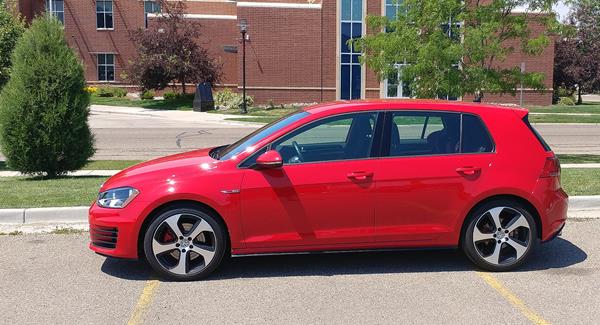 One disappointing change to some is the discontinuation of the two-door models for all of the 2017 Golf lineup, including the Golf GTI.
What We Love About the 2017 Volkswagen Golf GTI:
Fun to drive without a bank-breaking price tag
Retains the excellent versatility and daily usability of the standard Golf models
Standard features are plentiful and may be enough for many buyers at the base level
What We Don't Love About the 2017 Volkswagen Golf GTI:
The more compact two-door Golf GTI is no longer available
Not quite as roomy as some competitors
Some reliability concerns may dissuade buyers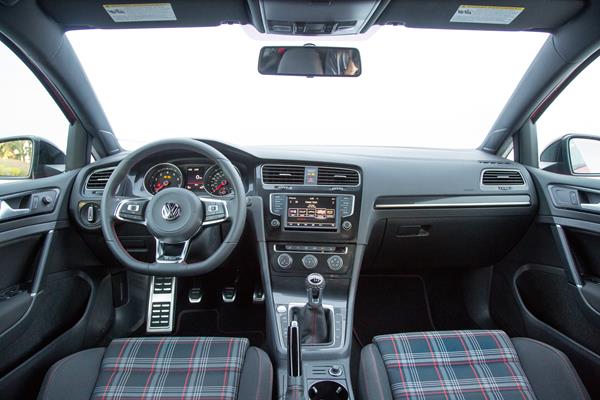 Performance (9/10)
The 2017 Volkswagen Golf GTI has a 2.0-liter 4-cylinder engine that's turbocharged to 210 horsepower at its base level and 220 horses at all other trim points. A 6-speed manual transmission and front-wheel drive are standard. A 6-speed dual-clutch automatic transmission is available and highly recommended.
The manual transmission is a great choice for serious performance hounds, but those buyers are most likely going to be looking at the even more performance-oriented Volkswagen Golf R rather than at the Golf GTI. The GTI is more for those who love to drive but don't need to beat everyone out of the light and don't generally hit the track on weekends. With that, the more daily usable and very well-done dual-clutch automatic is probably more fitting.
That transmission does shift very well and isn't afraid to drop down a gear to push the 2017 Golf GTI towards RPM limits when asked to. Manual shifting via paddles or the gear knob are also possible when desired. This can make downshifts even more dynamic.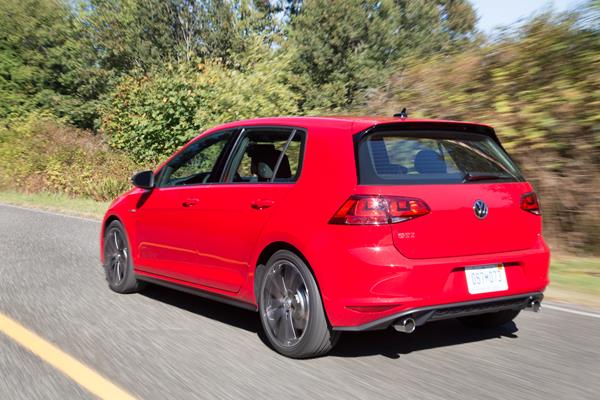 Where the GTI really sells itself is on a twisting road or stretch of highway. At speed, the Golf GTI corners wonderfully and has a lot of presence about its chassis that translates into a confident feel when pushing speed limits and turns. It's a thoroughly enjoyable car to drive, whether alone or with friends and family in tow.
Pricing and Value (8/10)
The 2017 Volkswagen Golf GTI has a relatively high price point when compared to other compacts at the entry level, but that is commensurate with the sport-oriented compacts against which it should be compared. Sales for the GTI are steady and have been for some time, though the Golf upon which it's based often sees fluctuation. Because of those steady sales, finding a lot of cash on the hood for a good upfront deal is not as likely with the GTI.
Offsetting these factors is the desirability of the VW Golf GTI, which means resale is generally higher than would otherwise be found in the compact segments.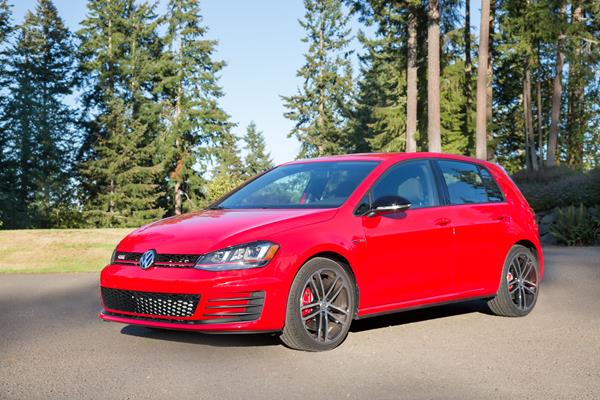 Total Score and Competitive Comparison (61/80, 76%)
The hot hatch category has grown since the GTI defined it years ago. The most competitive options against the 2017 Volkswagen Golf GTI are the Subaru WRX, Ford Focus ST and BMW MINI Hatchback.
The WRX is more performance-centric with standard all-wheel drive and a less forgiving ride, but has less practicality than the GTI. The Focus ST is more wagon-like in its design and carries a similar bearing in sportiness overall. The MINI is a bit heavier to drive but has a lot of British appeal in its style and fun.
In the end, the 2017 VW Golf GTI still defines the hot hatch category and continues to offer the best balance of everyday use and sport driving. Outside of those who need serious performance, the GTI fits most fun-oriented drivers who want to add a bit of zing to their everyday commute and aren't afraid to occasionally push the limits through a curve or when passing. We like the Golf GTI for its fun-filled nature that doesn't impede its daily-use practicality.
You can learn more about the 2017 Volkswagen Golf GTI and Read the FULL REVIEW Now.
Search used cars for sale and find the best deals near you at iSeeCars.com.
To get a FREE iSeeCars VIN Report for a car, click here.