*Go straight to the FULL REVIEW. 
Overview (Final Score: B)
The 2017 Volkswagen Tiguan is the last of the current-generation Tiguan models before the all-new 2018 model takes over. Despite its age compared to most of the compact crossover competition, the 2017 Tiguan holds its own and is as desirable as ever.
The Tiguan combines a fun drive dynamic with a sporty nature and less cargo-focused design. Its wide-spaced wheelbase, excellent interior headroom, fun drive and sliding-reclining rear seat are all high points.
Not much has changed for the Tiguan for 2017, but one key upgrade is with the crossover's infotainment. It's now top-shelf and worthy of heaps of praise. Its 6.3-inch touchscreen is standard equipment on all Tiguan models, as are Car-Net apps and satellite radio. Also changing are the dropped SE and R-Line trims, which are now called the Wolfsburg and Sport models instead.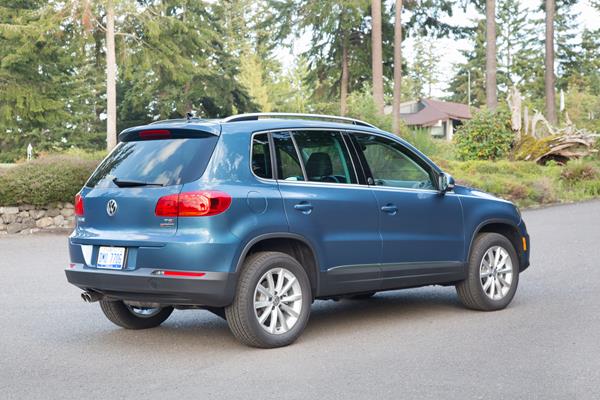 2017 sees the final year of this Tiguan generation going out in style.
What We Love About the 2017 Volkswagen Tiguan:
Sporty and fun drive dynamic with a peppy little turbocharged four
Excellent front seating with plenty of roominess and a commanding view
Top shelf infotainment that allows two phones to Bluetooth simultaneously
What We Don't Love About the 2017 Volkswagen Tiguan:
Limited cargo space more on par with a subcompact
Safety ratings are low compared to some segment leaders
Back seat roominess is sub-par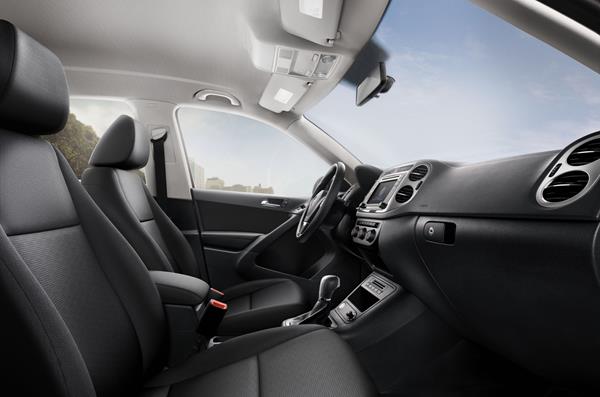 Pricing and Value (9/10)
The 2017 Volkswagen Tiguan is higher priced than many competitors – at least at its base level – but offers more in terms of performance and interior quality when compared to base-level competitors. Most buyers fall in the mid-range for pricing, and there the Tiguan is more competitive.
Slow sales for the 2017 model year and soon-to-come incentives from dealerships eager to clear inventory to make way for the all-new 2018 Tiguan will mean a lot of cash on the hood for buyers looking between now and the new year.
Resale values for the Tiguan are about par for the segment, but the Tiguan is traded in less often than other vehicles, as it is often kept longer or sold on the used market where value is higher.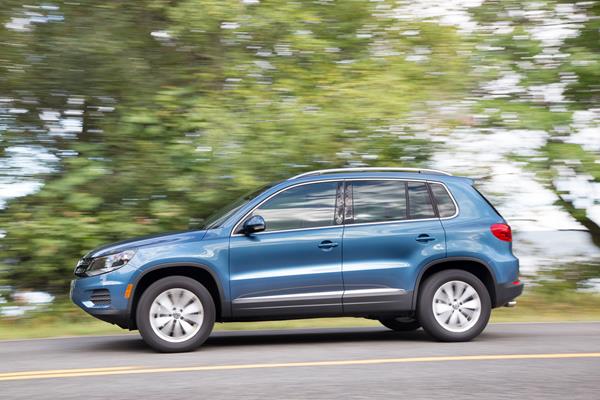 Total Score and Competitive Comparison (68/80, 85%)
The fast-growing compact crossover segment is really heating up and there are a lot of choices to consider. The 2017 Volkswagen Tiguan is a slow-selling option compared to most others being offered.
Top sellers in the compact crossover segment are the Toyota RAV4, which is comparable to the Tiguan in most respects with the exception of its inferior drive dynamic by comparison – the VW definitely wins out there. The Mazda CX-5 has been newly redesigned and outperforms the Tiguan in almost every way. It also has the best interior we've seen in this segment thus far. Definitely worth comparing. Finally, the Honda CR-V is the segment's best-seller for a reason and has superior roominess and better fuel economy, along with a ride quality that's nearly as good for sportiness.
In the end, the value proposition and fun driving experience that the Tiguan offers are reasons to consider buying it. The 2017 Tiguan will be the last of this current generation of the crossover, and outside of some concerns over cargo and back seat room, this current Tiguan is a very dynamic little vehicle with no need for an upgrade.
You can learn more about the 2017 VW Tiguan and Read the FULL REVIEW Now.
Search used cars for sale and find the best deals near you at iSeeCars.com.
To get a FREE iSeeCars VIN Report for a car, click here.