*Go straight to the FULL REVIEW.
Overview (Final Score: B)
Buick has fully redesigned the 2018 Regal for the new model year, adding more length and body options. The 2018 Buick Regal is now offered as a "Sportback" sedan-styled hatchback and "TourX" station wagon. Each body style has progressively more cargo space. All are great-looking vehicles that exemplify how good Buick's design team can be.
The two added body styles make the sedan proposition seem less compelling, especially when that sedan is compared to others on the market. The 2018 Buick Regal Sportback and TourX models are relatively unique to the segment and offer a lot of reasons to consider them.
The 2018 Buick Regal is offered in several trim levels, depending on the body style chosen. All seat a driver and up to four passengers in a four-door design. Most models are offered in front-wheel and all-wheel drive. The standard engine is a well-done turbocharged four-cylinder, while a sport model is offered with a beefier V6.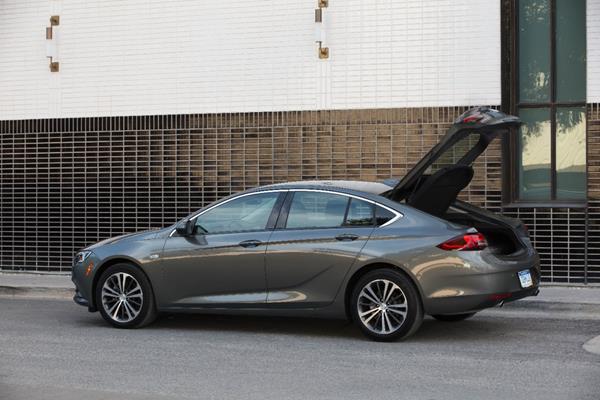 What We Love About the 2018 Buick Regal:
Great looks in both its Sportback and TourX models
Excellent infotainment with ease of use and good equipment
Comfortable seating and sporty drive quality
What We Don't Love About the 2018 Buick Regal:
Interior is hit-and-miss for premium appeal
Unknown safety and reliability in this all-new model
Fuel economy is only about par for the segment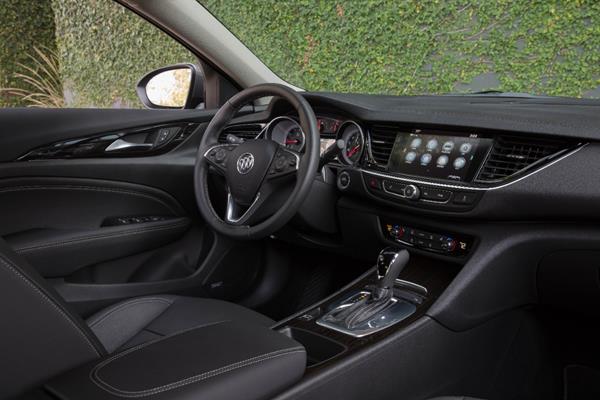 Interior Comfort, Quality, Ergonomics (8/10)
The 2018 Regal's interior is a bit hit-and-miss. The overall design is nicely done with a comfortable feel and spacious appeal. Some elements are a bit dated or out of place, such as the cheaper plastics on the dashboard and the clearly fake stitching. The instrument cluster on lower trim levels also look outdated.
The Regal does well in terms of overall comfort, with tall and wide door openings, especially in the TourX model. The Sportback suffers from the fast-paced roof, with less rear entry space than might be expected. Once in the car, seating is very comfortable and roomy.
The front seating in the 2018 Buick Regal is good with plenty of legroom, headroom and shoulder room. Storage is also good, with lots of places for phones, gadgets, glasses and so on. In the rear, outboard seating is very comfortable with plenty of room for a midsize vehicle. The rear center position is useful for kids, but otherwise not very spacious. Parents will like the easy-access LATCH anchors in the outboard rear seats, but overhead tethers can be a chore since getting into the trunk to fasten them requires climbing in.
The 2018 Buick Regal's overall design is generally up to par for the price point. We'd like to see fewer cheap plastics, but give Buick props for meeting their nameplate's expectation with low road noise and nicely done trim contrasts.
Technology (9/10)
Through its parent company, General Motors, Buick has upped its technology game on several fronts. The 2018 Buick Regal benefits from this, with excellent infotainment and the unusually high-end standard of a WiFi hotspot in the vehicle. We were disappointed that some tech options require an upgrade, but many are standard in the mid- and upper-level trim points.
Android Auto and Apple CarPlay are options, not standard. The standard media interface in the Regal is very good, with intelligent menus and fast responses. The screen is good and three USB plugs are also standard, as is wireless phone charging. A rearview camera, rear parking sensors, blind-spot monitoring and rear cross-traffic alert are also standard, but adaptive cruise control is an upgrade.
Voice controls and audio are also very well done in the 2018 Regal. Voice controls have the unusual ability to tune satellite radio by station number, which is a boon once you get used to using it.
Fuel Economy (8/10)
The 2018 Buick Regal is good on fuel economy, but its returns aren't stellar for the segment. The mpg results aren't terrible, just middling. The base engine in front-wheel drive is EPA-rated at 22 mpg city/32 mpg highway. Adding AWD drops that to 21 city/29 highway. Our time in the Regal TourX model with AWD was close to those numbers, with an average of 27 mpg combined after a week of driving.
The upgraded V6 in the Regal GS model is EPA rated at 19 mpg city/27 mpg highway.
Safety (8/10)
The 2018 Buick Regal has not yet received crash test ratings from either the National Highway Traffic Safety Administration or the Insurance Institute for Highway Safety. Given the model's stellar performance in previous generations and the importance of crash test results as safety ratings for buyers in the midsize segment, we expect that Buick made sure the vehicle would receive high scores when it does get rated by the NHTSA and IIHS.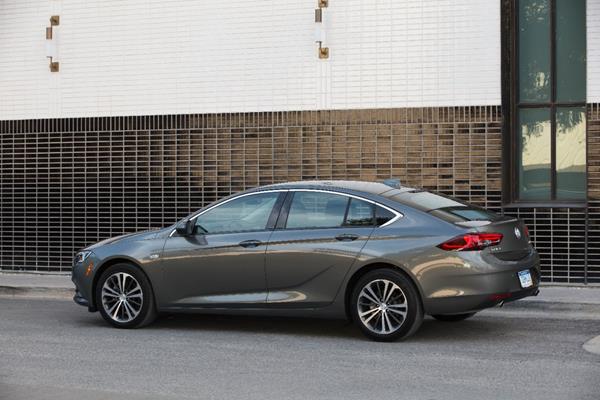 Performance (9/10)
Performance in the 2018 Buick Regal is very good. Iin recent years, Buick has put a lot of effort into making themselves a more performance-tuned brand, getting away from the "rolling, grandma's car" image of yesteryear. That's paid off with great drive appeal all the way around the brand's offerings, including this new Regal.
The base engine in the 2018 Regal is a beautiful little 2.0-liter turbocharged four-cylinder that outputs 250 hp to a nine-speed automatic transmission. The transmission shifts very well and isn't afraid to downshift to add more power to the get-go. Both front-wheel drive and all-wheel drive are available with this engine/transmission combination.
Also available on the Regal GS model is a 3.6-liter V6 that outputs 310 hp in FWD. This sportier option is aimed at those who want muscle in their drive, but we feel the little 2.0 is more than enough for most drivers and is well matched to the car.
The good power delivery and fast-paced power band of the turbocharged engine is great for the Regal. The car's handling is also very good, with little steering slop and precise turns. Ride quality is mixed, being very good on the highway but more bumpy around town as the suspension struggles to absorb at lower speeds. This sportier tuning is a bit out of place in the TourX in particular, which should be more compliant as a family drive.
The 2018 Buick Regal is an engaging, though not spirited, midsize car with a lot of goodness in its everyday performance and appeal.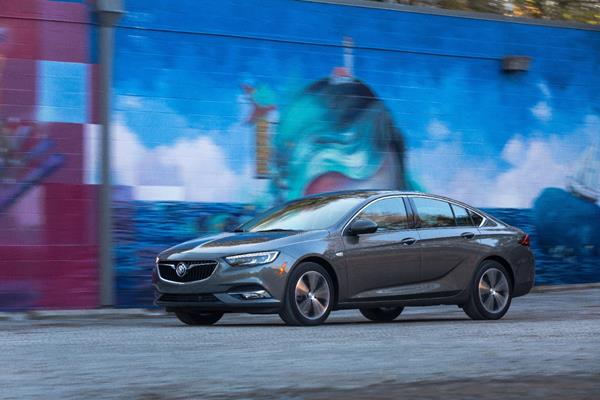 Total Score and Competitive Comparison (67/80, 84%)
There are several competitors in the midsize segment, but few are offered in a true sport-based hatchback or station wagon. Most competitors are standard sedans or, perhaps, hatchbacks.
The most popular options are the Acura TLX and the Lincoln MKZ, neither of which are often noticed since premium buyers tend to go straight to luxury models or stay in the higher-end trim points of standard vehicles. Buick suffers the same fate, but is more well known than the TLX or MKZ. We think the TourX model will have plenty of appeal as the station wagon makes its comeback, style-wise.
The 2018 Buick Regal is a beautiful car with a lot of goodness to go with its reasonable price point. There may be better options for some buyers, but most looking in the premium segment will find a lot of draw to the Regal Sportback or Regal TourX.
Read the FULL REVIEW Now to get more expert tips on the 2018 Buick Regal's exterior, reliability, pricing and value.
Search used cars for sale and find the best deals near you at iSeeCars.com.
To get a FREE iSeeCars VIN Report for a car, click here.