*Go straight to the FULL REVIEW.
Overview (Final Score: A)
Along with its arch nemesis the Toyota Camry, the Honda Accord defines the midsize family car. In terms of both sales and critical acclaim, the Accord is one of the all-time top cars and it seems to just keep getting better as the generations pass.
The 2018 Accord is all-new for Honda and the biggest departure from past models since its 2003 modernization. The new Accord brings a fresh new look inside and out, all-new drivetrains including two outstanding turbocharged engines, and standard safety that puts it at the top of the list in its own class and in every segment.
Honda gambled here, but hedged its bets. The changes are sensible and smart, and Honda made no blunders with this new Accord that might give Camry an edge. Rather, Honda made certain that in almost every regard, the Accord moves the bar higher and to a new level we feel that most automakers will have trouble reaching with their competitive models.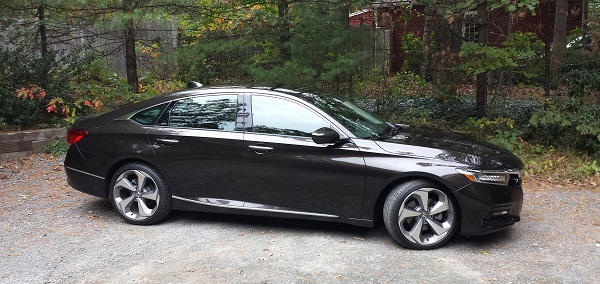 What We Love About the 2018 Honda Accord:
Great new turbocharged engines
Outstanding infotainment technology
Standard safety
What We Don't Love About the 2018 Honda Accord:
Tight knee room for tall drivers
Questionable tire choice on touring trims
Missing heated steering wheel on top trim
Pricing and Value (10/10)
No car segment offers more bang for the buck than the midsize family sedan market. Among the best values has always been the Accord. Our 2.0T Touring is the very top of the pecking order and came in at an MSRP, including delivery of just $36,675. At this low price point, Accord makes many entry-level premium cars look downright silly.
The base Accord starts at about $24,000 and there are many trims to choose from in both engine styles. That allows buyers to easily opt into the options and features that matter to them.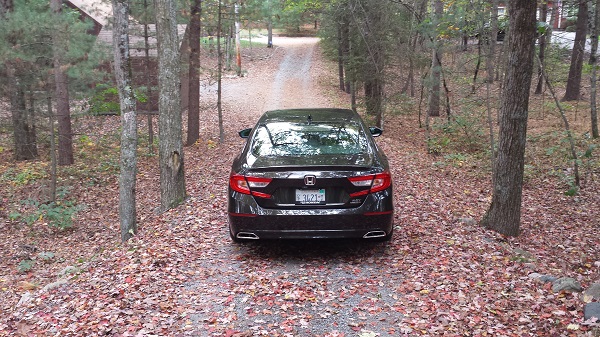 Total Score and Competitive Comparison (75/80, 94%)
"Almost everything" is the simple answer to what we love about the new 2018 Honda Accord. Particularly the changes under the skin. The Accord ups the ante in terms of technology and safety. It also has finally broken with its tradition of high-revving, normally aspirated (non-turbo) engines to provide a new, higher level of performance and fuel efficiency that owners will appreciate in real work driving.
Having tested the top trim, we feel that Honda made wise choices about how far to go with the Accord in terms of luxury and performance while keeping an eye on affordability. The new Camry is also impressive. It too has new engines and new styling for 2018. Accord tops the Camry in two key ways. First, more room. Second, by including Apple Car Play and Android Auto. (How Toyota can continue to opt out of this key technology is a mystery to us.) Subjectively, we see the Camry styling as more attractive than the new Accord's. Toyota also offers two years of included maintenance and has higher quality and reliability ratings. There are many other good cars in this segment. We would cross shop the Accord with the Hyundai Sonata and Kia Optima, two models that seem to be keeping pace with the best.
The new Accord will make its loyal customers very happy. It may also capture new buyers with its more modern technology. The Accord belongs to a market that expects greatness and Honda has delivered in every possible way.
You can learn more about the 2018 and Read the FULL REVIEW now.
Search used cars for sale and find the best deals near you at iSeeCars.com.
To get a FREE iSeeCars VIN Report for a car, click here.