*Go straight to the FULL REVIEW.
Overview (Final Score: A)
The 2018 Hyundai Santa Fe Sport is an unusual vehicle. It's a two-row crossover, but larger than compact crossovers like the Honda CR-V and Toyota RAV4. That's because Hyundai also offers the same vehicle with three rows. Think of the Santa Fe Sport as a roomier, more substantial option to the compact crowd.
Hyundai is able to offer the Santa Fe Sport at a remarkable price point. Our fully equipped Santa Fe Sport 2.0T Ultimate tester rings in at $39,875. That price is lower than some mainstream compact crossovers made today.
With its massive cargo area, roomy cabin and manageable exterior size, the Hyundai Santa Fe Sport seems to be a vehicle perfectly sized for most families looking for a roomy crossover, but who only need or want five seats. Those looking for this same vehicle, but with a different engine and a third row should check out the similarly named, Hyundai Santa Fe.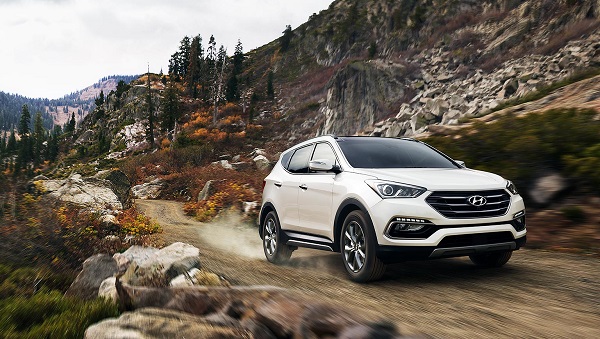 What We Love About the 2018 Santa Fe Sport 2.0T Ultimate:
Perfect size for most families
Excellent drivetrain
Outstanding infotainment system
What We Don't Love About the 2018 Santa Fe Sport 2.0T Ultimate:
Stiff ride over bumps
Highway ride is a bit nervous
Apple Car Play and Android Auto isn't standard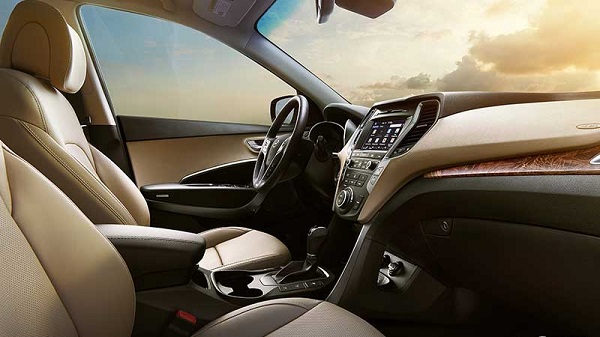 Pricing and Value (10/10)
At every level of trim, the Santa Fe Sport is a good value. The value seems even higher for the top-end trims. Hyundai somehow packs in a lot of premium content, ample power, a roomy cabin and proven quality at a lower price than competitors.
The 2018 Santa Fe Sport starts at just $23,000. Add in the Value package for $1,900, and for under $25,000 this may be the best vehicle value by the pound in the crossover segment. At just under $40,000 fully-loaded, the Hyundai Santa Fe Sport 2.0T Ultimate undercuts the smaller GMC Terrain, which passes the $42,000 mark similarly equipped. It also rings in at less than the Ford Edge Sport, which also breaks the $40,000 mark. Given its powerful engine, refined driving experience and outstanding infotainment system, the Hyundai Santa Fe Sport is an excellent value.
The Sport Base comes with a different engine than the top two trims. We have not tested the 185 hp normally aspirated engine and would caution shoppers to be sure it meets their needs. The 240 hp 2.0-liter turbocharged engine in the Sport 2.0T trims is more than enough for everyday use, and it offers added power for passing and sporty driving. At every step in its trim evolution, the Santa Fe Sport is a vehicle that packs a lot of value.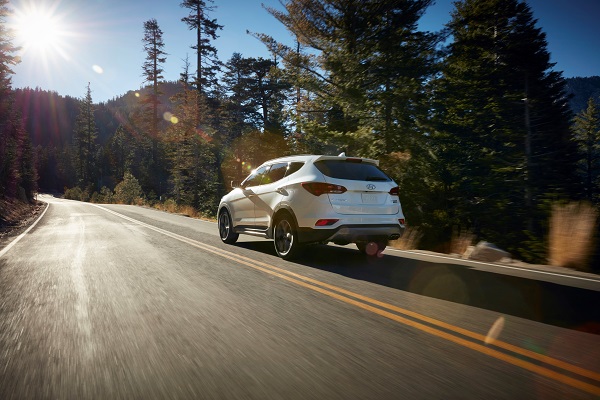 Total Score and Competitive Comparison (75/80, 94%)
The Hyundai Santa Fe Sport 2.0T Ultimate is a great vehicle and a great value. It bridges the gap between compact crossovers like the CR-V and the sometimes too-large three-row crossovers like the Honda Pilot. The Sport also lives up to its name with a great engine.
Given its price point and quality ratings, we feel the Hyundai Santa Fe Sport 2.0T Ultimate AWD is one of the best 5-seat, two-row crossovers on the market. Shoppers might also consider the Nissan Murano and Ford Edge. Out of those three, we would rate the Murano and Santa Fe Sport as the segment leaders.
You can learn more about the 2018 Santa Fe Sport in the FULL REVIEW now.
Search used cars for sale and find the best deals near you at iSeeCars.com.
To get a FREE iSeeCars VIN Report for a car, click here.