*Go straight to the FULL REVIEW.
Overview (Final Score: B)
The Mercedes-Benz C-Class sedans received a completely new design in 2015. For 2018, the coupe and convertible finally get their updates. There's a lot going on with this premier car, and Mercedes hasn't been skimpy on the trim level and engine options.
The C-Class is one of Mercedes-Benz's most prolific and well-known model lines, with body styles that include the sedan, coupe and convertible, offered in a variety of models whose names denote drivetrain choice and model trim. These start with the base C300 and run through performance-charged AMG models and subtrims. Both rear-wheel and all-wheel drive are available on most models, as are extensive lists of luxury upgrades.
In 2018, along with the introduction of the two-door C-Class coupe and Cabriolet models, the AMG C450 gets a new transmission and is renamed the AMG C43. Some content shuffling happens throughout the C-Class lineup, but it is otherwise unchanged from what was introduced two years ago. Not that it needed much change anyway.
As a flagship in the Merc-Benz showroom, the C-Class is often the go-to vehicle for shoppers looking for a well-heeled luxury vehicle with the brand chops to prove its excellence. With style, performance and svelte aplenty, the C-Class delivers.
What We Love About the 2018 Mercedes-Benz C-Class:
New Coupe and Cabriolet models are beautiful
Wonderful interior, even at the base level
Expectation of good reliability
What We Don't Love About the 2018 Mercedes-Benz C-Class:
Drop-top models can get spendy quick
Touchpad interface could use some refinement
Spotty information on the hybrid model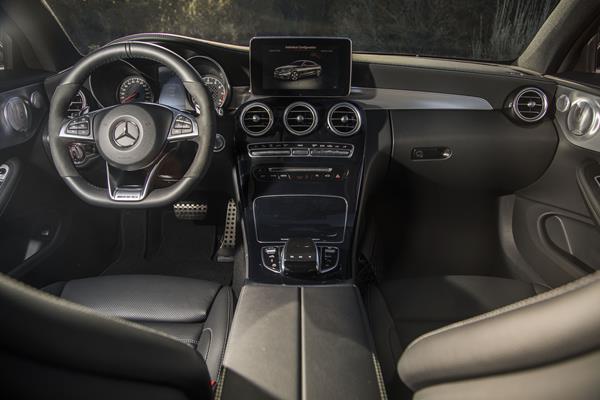 Pricing and Value (8/10)
In the luxury classes value is subjective, but the 2018 Mercedes-Benz C-Class brings good value for its price point. The base model is a good entry-level option with plenty of bang for its buck, but most buyers will add packages to that and are likely to want the 4Matic model for its better resale value and all-weather stability. Most can expect to find what they want in a C300 for about $42,000 well-equipped.
The new coupe and cabriolet models jump those prices significantly, and may not be as value-conscious as some might hope. A C300 Cabriolet can easily top $50,000, pricing it well within the better-optioned C43 4Matic Coupe and Sedan offerings. Unless a convertible is very important, it's not likely that a value-oriented bargain will be found with the drop-top.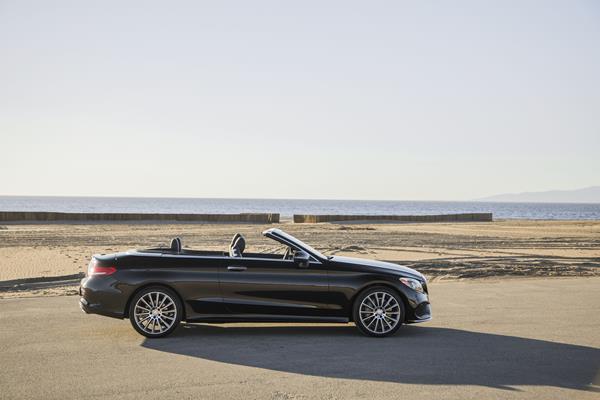 Total Score and Competitive Comparison (69/80, 86%)
There's a good reason for the C-Class' current stint on top of the luxury small car class, outselling its nearest competitor by double-digit percentages. This excellent offering has a lot going for it. Still, it's worth cross-shopping, especially within the German ranks.
The BMW 3 Series is a great little coupe with a lot of similar options to the Mercedes, but with less on-road luxury and more sporty refinements. Similarly, the BMW 4 Series sedan offers nice road presence for less money. For those looking to truly drive, the Bimmer may be a better choice at the base end. The Mercedes-Benz GLE-Class does very well against the C-Class in terms of luxury, but can't compete in value orientation. Perhaps most compelling, is the Audi A4 with its newly redesigned interior and much more upscale feel compared to previous years' offerings.
Compared to any luxury car in its class, the 2018 Mercedes-Benz C-Class is obviously at the top for a reason. This is a very well-done luxury car with a lot to offer for the price paid.
You can learn more about the 2018 and Read the FULL REVIEW now.
Search used cars for sale and find the best deals near you at iSeeCars.com.
To get a FREE iSeeCars VIN Report for a car, click here.