*Go straight to the FULL REVIEW.
Overview (Final Score: D+)
The subcompact crossover segment has been booming the past few years as more and more buyers drift away from sedans and hatchbacks. Automakers have been gearing up with introducing new and updated models. Mitsubishi is no exception as they have updated their contender, the Outlander Sport, for 2018 with a small number of changes. But can it stand up to likes of the Honda HR-V, Mazda CX-3 and others?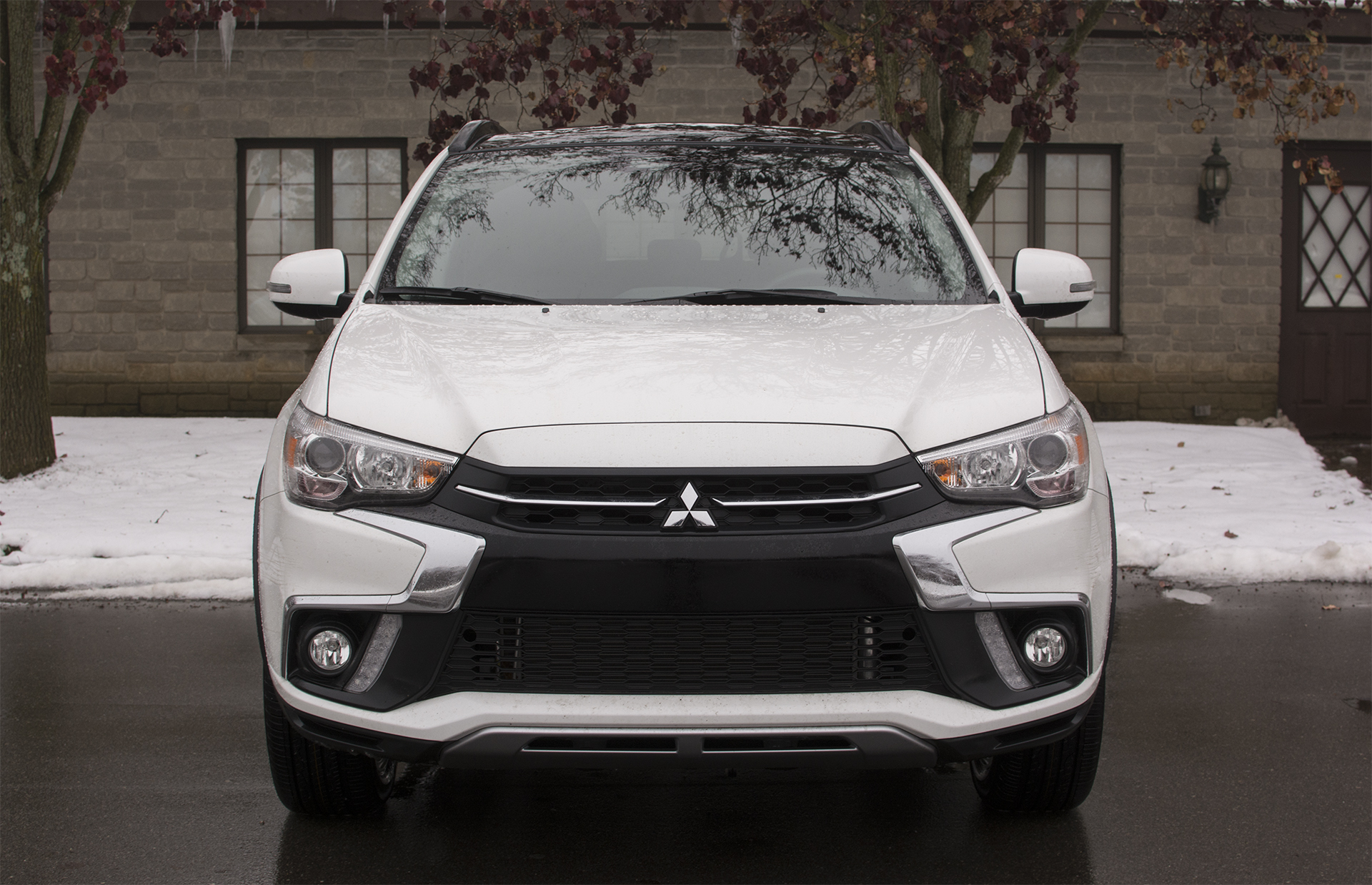 What We Love About the 2018 Mitsubishi Outlander Sport:
Excellent AWD system
Easy to use infotainment system
Spacious cargo area
What We Don't Love About the 2018 Mitsubishi Outlander Sport:
Interior materials look and feel cheap
Fuel economy is toward the bottom of the class
Powertrain is very underwhelming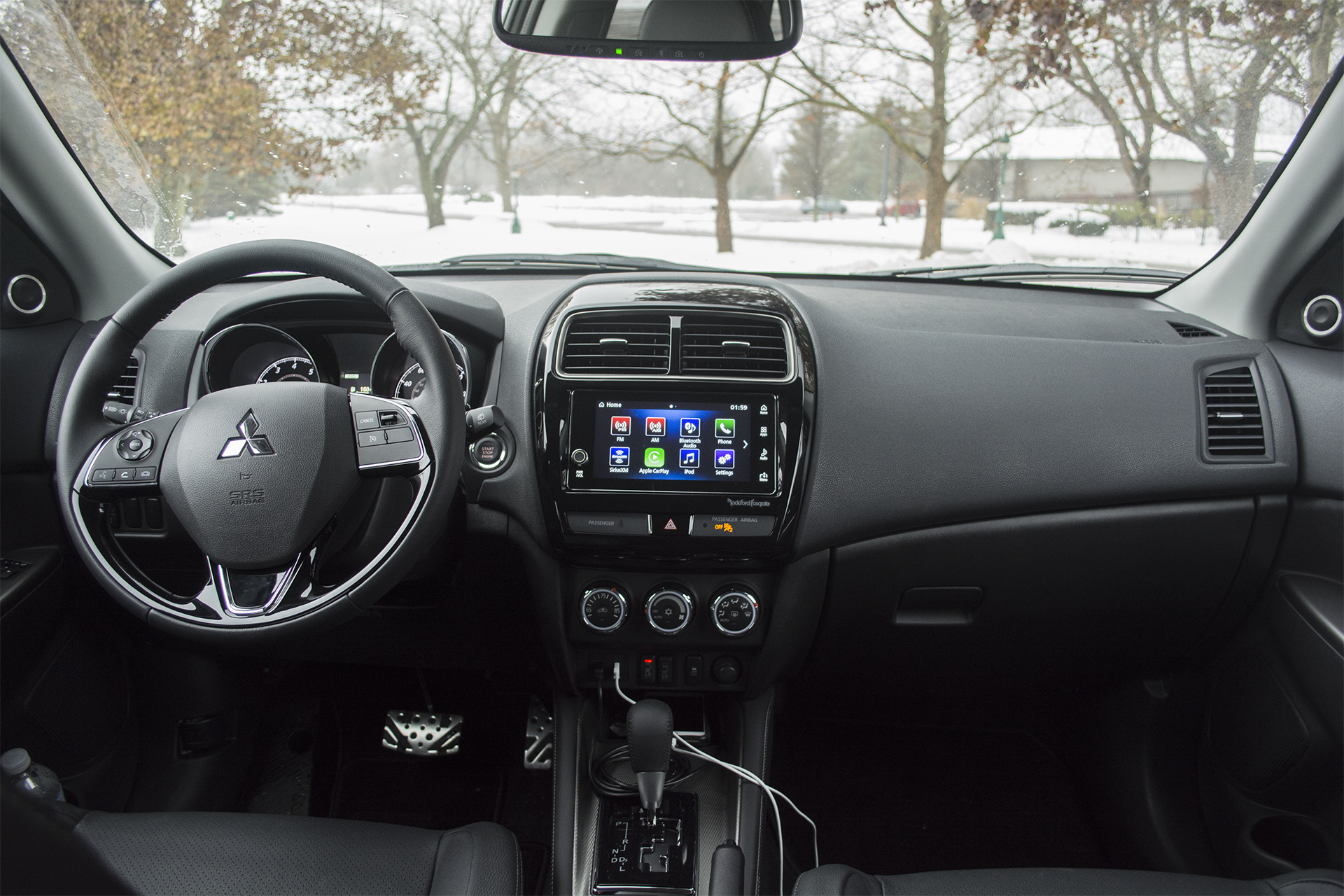 Interior Comfort, Quality and Ease of Use (5/10)
The Outlander Sport's interior hasn't changed since the current model was introduced back in 2011, and it shows. The design is uninspired, with endless acres of black plastic and little bright-work. Material quality is very disappointing when put against competitors, with cheap and brittle feeling plastics used throughout. There are some soft-touch materials on the dash, but it doesn't match up with what you can find in the likes of a Honda HR-V or Mazda CX-3. On the plus side, interior ergonomics are quite good, with controls in easy reach.
Finding a comfortable position in the Sport isn't too hard with the number of adjustments on offer and tilt-telescoping steering wheel. (My 5'8 frame was able to find a perfect driving position in no time.) Support is about average, with a decent amount of seat padding. What was slightly worrying was the driver's seat slightly rocking whenever we accelerate or braked. From talking with a few other people who have driven different 2018 Outlander Sports, this is a common issue. Hopefully Mitsubishi figures out the issue and provides a fix. Rear seat space is about average for a subcompact crossover with a decent amount of headroom. Taller passengers will find legroom to be slightly cramped.
The Outlander Sport's cargo area is impressive for the class. With the rear seats up, the vehicle offers 21.7 cubic feet of space. Fold the seats and space expands to 49.5 cubic feet. Other positive points for the Outlander Sport's cargo area include a low leftover height and completely flat floor when the rear seats are folded.
Technology (8/10)
For 2018, Mitsubishi has introduced a new 7-inch infotainment system for all Outlander Sports. Higher trims like our SEL tester feature Android Auto and Apple CarPlay. The system is very easy to use with a very simple interface, crisp graphics and snappy performance. We found Apple CarPlay intergration to be quite seamless. Just plug in your phone and system will pop up the CarPlay interface within a few seconds. The only downside to the infotainment system is the screen becoming easily glared in sunlight.
Fuel Economy (6/10)
The 2018 Mitsubishi Outlander Sport SEL AWD is rated at 22 City/27 Highway/24 Combined, putting it toward the bottom of the class. Our average for the week landed around 23.2 mpg in mostly city driving.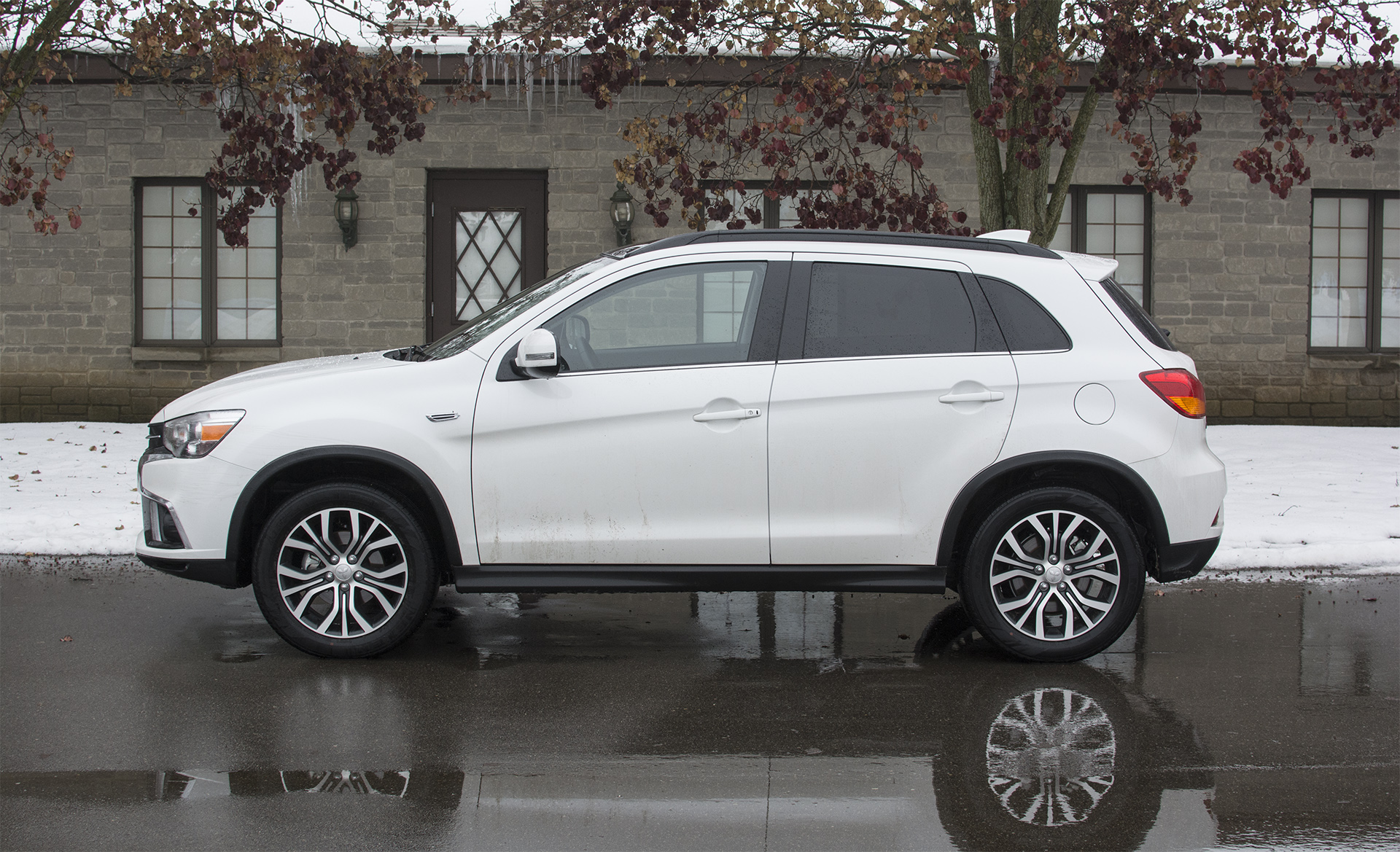 Performance (6/10)
The Outlander Sport ES and LE use a 2.0L four-cylinder producing 148 horsepower and 167 pound-feet of torque. SE and SEL models get a larger 2.4L four-cylinder with 168 horsepower and 167 pound-feet of torque. A five-speed manual is only available of the ES with front-wheel drive. Other models make do with a continuously variable transmission. There is a choice of front-wheel or Mitsubishi's All-Wheel Control (AWC) system that allows a driver to choose from three different settings: front-wheel drive, 4WD Auto and 4WD Lock. The difference between the two 4WD settings is 4WD Auto will only send power to the rear wheels if the system detects any slip. 4WD Lock means power flows to all wheels.
Our test Outlander Sport came with the 2.4 and AWC. The 2.4 engine is the one to get, as it can get the vehicle up to speed much quicker than the 2.0 when leaving a stop. Merging onto a freeway or making a pass becomes slightly tricky as the engine begins to run out of steam at higher speeds. The CVT is somewhat slow to respond to throttle inputs and sounds a bit unrefined when accelerating.
The Outlander Sport redeems itself partially with the AWC system. On the day the vehicle was dropped off, the Metro Detroit area was experiencing a massive snow storm where the forecast called for between 4 to 10 inches. Putting the vehicle into 4WD lock, the Outlander Sport was able to go through unplowed roads with no issue. We think that if you threw on a set of snow tires, you would have a real fighter in winter storm conditions.
Ride quality is quite good for a subcompact crossover as the Outlander Sport's suspension is able to iron out most bumps. Handling is a bit of a mixed bag. Driven normally, the Outlander Sport feels composed around a corner. Drive it somewhat aggressively and the Outlander Sport shows a fair amount of body roll. Steering doesn't inspire a lot of confidence with a rubbery feel and a noticeable dead zone when the wheel is centered. A fair amount of road and wind noise comes inside the cabin.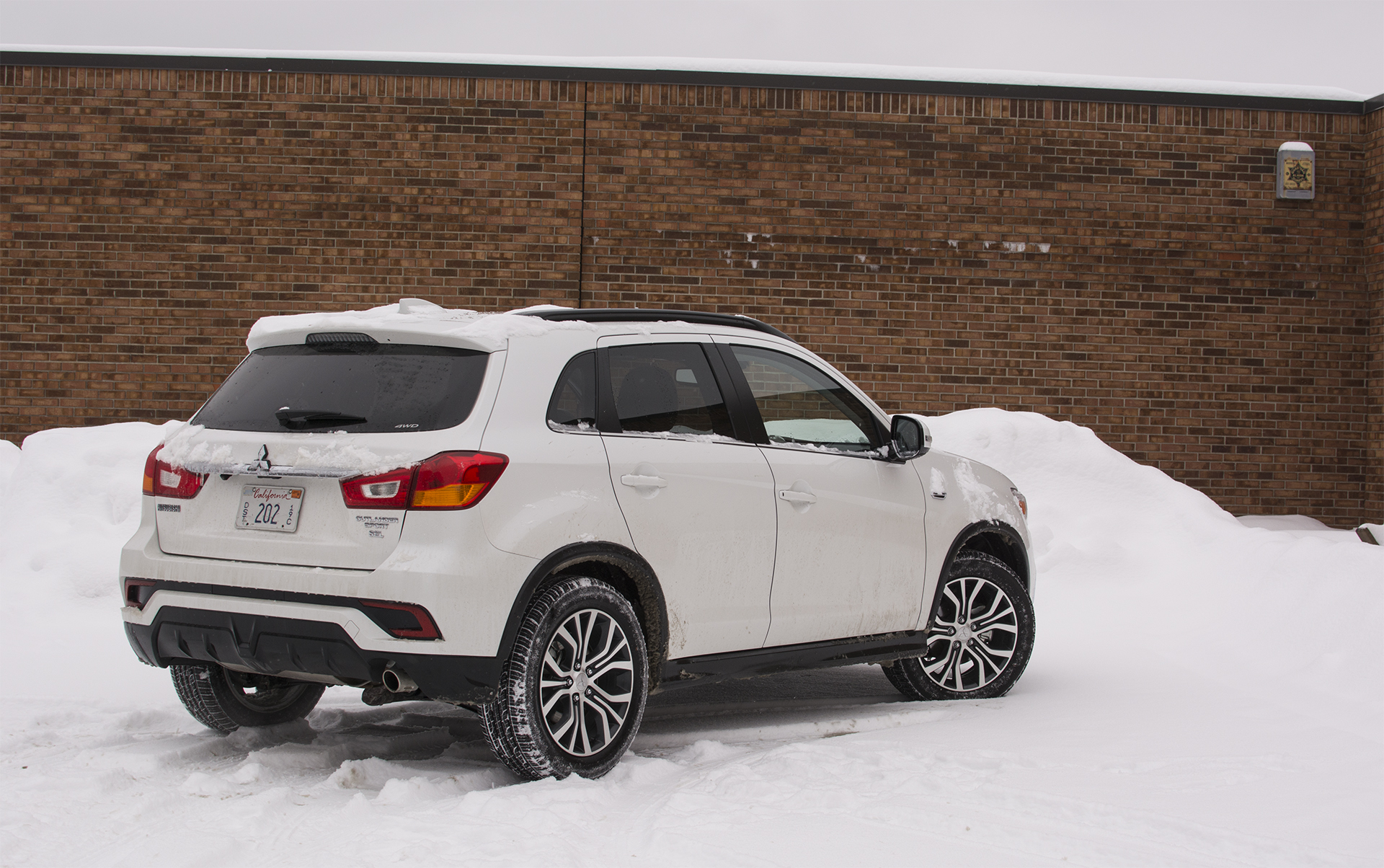 Total Score and Competitive Comparison (54/80, 68%)
The Honda HR-V is considered by many to be the subcompact crossover class leader. It offers a large amount of space for passengers and cargo, decent driving dynamics and an excellent reliability record. Like the Outlander Sport, the HR-V's powertrain struggles when trying to get to highway speeds. The Mazda CX-3 may not have as much cargo space as the Outlander Sport, but it does boast a sharp exterior design and impressive handling.
The 2018 Mitsubishi Outlander Sport may have a clever all-wheel drive system, sharp exterior styling, an impressive 10-year/100,000 mile powertrain warranty and a low price. But everywhere else, the Outlander Sport trails competitors in key areas such as interior quality, performance and overall refinement.
We can see why someone would buy an Outlander Sport because of the low price, but that doesn't make it a good value. We'd recommend checking out every other subcompact crossover before setting your sights on an Outlander Sport.
Read the FULL REVIEW Now to get expert tips on the 2018 Mitsubishi Outlander Sport's safety, reliability, fuel economy, interior, exterior, technology and more.
Search used cars for sale and find the best deals near you at iSeeCars.com.
To get a FREE iSeeCars VIN Report for a car, click here.