*Go straight to the FULL REVIEW.
Overview (Final Score: B+)
The two-row Nissan Rogue compact crossover is Nissan's top-selling family vehicle. At times it has topped the sales charts in the US for a non-truck model. Buyers have flocked to compact crossovers of every brand, but the Rogue is now the focus of much of Nissan's energy and most of its marketing budget, which is now tied to a Star Wars Rogue One theme.
For 2018 Nissan keeps the Rogue line simple with just four trims, including S, SV, Midnight Edition and SL, the trim we tested. Prices for a base front-wheel drive Rogue start at around $26,000 and a fully-equipped all-wheel drive SL trim will top $35,000. Shoppers will find that these prices are in line with popular crossovers from other brands.
The Rogue has much to offer a family crossover shopper, including solid safety credentials and good fuel economy. Having undergone a refresh in 2017, the 2018 Rogue sees two major changes buyers should know about. First, the optional compact third-row seat has been eliminated. All trims now come with two rows only, leaving the Volkswagen Tiguan and Mitsubishi Outlander as the only two vehicles in the segment with a third-row option.
Second, Nissan has upped its driver assist technology to be in line with Honda's. Nissan's ProPILOT is advanced adaptive cruise control coupled with lane keep assist. Despite the clever name, the system requires hands-on driving at all times.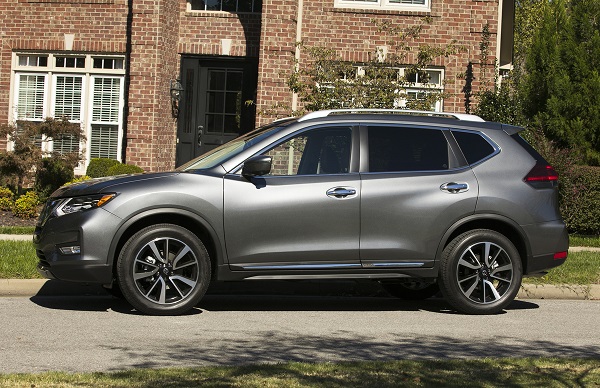 What We Love About the 2018 Nissan Rogue:
Simple trims for shoppers to select from
Apple Car Play and Android Auto are standard on all trims
Standard active safety
What We Don't Love About the 2018 Nissan Rogue:
Optional third row is now gone
Overly complex cargo area storage system
Driving experience lacks excitement compared to some peers
Interior Comfort, Quality, Ergonomics (9/10)
Nissan scores with easy-to-use infotainment and a well-designed interior cluster. Everything falls to hand naturally in the Rogue. The infotainment system uses a touchscreen with the most common menus located on the sides, actuated by real buttons – the best of both worlds. A heated steering wheel is available on top trims.
We found the seats were easy to adjust, but in our top of the line SL trim tester, we felt as if the angle of the bottom cushion could not be tilted up enough. It seemed to tip us forward in the seat, making the overall comfort marginal. Others may not have the same body shape, so we encourage you to check out the seats in person. Rear seat room is generous and good for the segment.
The Rogue employs a two-tier cargo storage system that we liked at first, but later in our test week, we gave up on it. Called Divide and Hide, it allows a floor plus a second shelf to be arranged in a few ways. Some may love this, but we found that after trying it out, we just put things in back like we always did in other vehicles.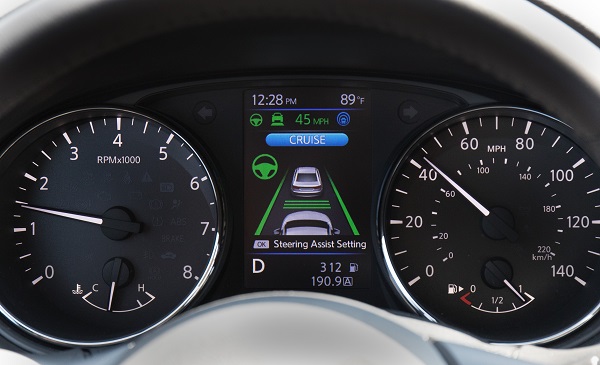 Technology (10/10)
Nissan scores three ways in terms of technology. First is standard Apple Car Play and Android Auto. We cannot stress enough how much this technology impresses us. In lower trims it is a great cost-free substitute for buying in-dash navigation.
Second, the Nissan Around View Monitor splits the screen when backing up, to make the view better for moving the vehicle in tight spaces.
Third, Nissan makes automatic emergency braking available to every Rogue buyer by including it on every trim.
Nissan's ProPILOT didn't impress us much. Adaptive cruise control with full stopping sounds good, but other brands have it and we rarely use it that way. Lane keeping assist is also helpful, but now commonplace as well. We read the instructions carefully and used ProPILOT, but would not suggest that shoppers seek it out. It is only part of a premium package on top trims.
Fuel Economy (8/10)
With an EPA-estimated 27 mpg combined, the Rogue is mid-pack regarding fuel economy. The CR-V earns a 29 mpg rating and the RAV4, a 25 mpg rating. Regular fuel is recommended, which keeps costs down.
Safety (9/10)
The Insurance Institute For Highway Safety has not yet completed all of its crash tests for the 2018 Rogue, but the crossover has scored Good on every one conducted so far. Headlights are deemed Acceptable on the SL Premium Package trim, but Poor on all others.
A Top Safety Pick, the Rogue has an overall great safety record. With a score of Superior on active safety systems and with emergency autobraking on all trims, we give the Rogue a thumbs-up for safety.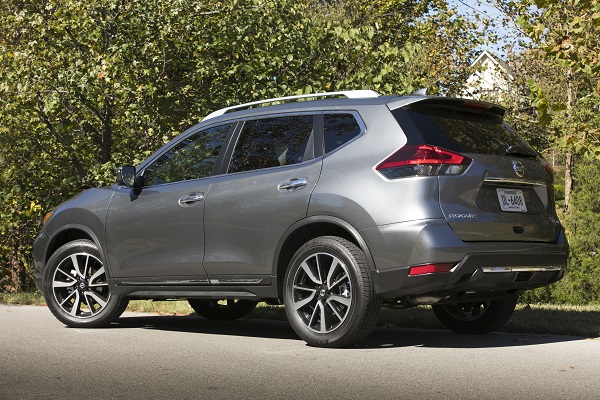 Performance (8/10)
Among its peers, the Rogue is average for driving pleasure. We like it more than the Toyota RAV4 and Mitsubishi Outlander, but the Honda CR-V, Subaru Forester and Mazda CX-5 are more fun to drive. The normally aspirated (non-turbo) engine is starting to age a bit, and the competition with small turbos like Honda and Hyundai have an edge.
Even with the top-trim's low profile tires, we felt the Rogue's steering was a little bit vague in corners. Most everyday drivers won't notice the subtle differences we look for and may not find the Rogue very different from its peers. Around town, we found the Rogue to be quiet and easy to live with in real-world traffic and commuting.
Total Score and Competitive Comparison (70/80, 88%)
The 2018 Nissan Rogue earns a B+ with good content standard and premium features available for shoppers who want them but don't want to spend thousands more on a premium brand.
With improving quality scores and a solid safety rating, the Nissan Rogue is in the mix with the Honda CR-V and Mazda CX-5, which we feel are among the top vehicles in the class.
We wish the third-row option was still available, but Nissan must have found few interested buyers in the one year it was offered. Overall, the Nissan Rogue is a solid offering and should be on every compact crossover shoppers list of considerations.
Read the FULL REVIEW Now to get more expert tips on the 2018 Nissan Rogue's exterior, reliability, pricing and value.
Search used cars for sale and find the best deals near you at iSeeCars.com.
To get a FREE iSeeCars VIN Report for a car, click here.