*Go straight to the FULL REVIEW.
Overview (Final Score: C)
The Volkswagen Tiguan is new for 2018. VW has up-sized the Tiguan to better fit the larger end of the compact crossover segment, after having occupied the small end for about six model years. This is a wise move. Although VW has been in the United States longer than Subaru, the company is just now noticing that Subaru's sales exploded when it redesigned its crossovers to fit the American market's size expectations. This is VW's attempt to give American buyers what they want, rather than a Golf on stilts – which is what the previous Tiguan was.
The Tiguan is now sized right, and it even has an optional temporary-use third row for children. The Tiguan and Mitsubishi Outlander join the top-selling Nissan Rogue in offering this handy feature. With the term "compact" being a poor word choice for this roomy segment, the Tiguan may well be the perfect size for many families.
The Tiguan is offered in trims priced from about $26,000 to about $39,000. The Tiguan is offered in both two-wheel drive and with Volkswagen's 4Motion all-wheel drive system. Unfortunately for Volkswagen, the Tiguan's 2.0-liter engine and 8-speed transmission was a disappointment. (Particularly since we recently drove the Volkswagen Golf Alltrack with its 1.8T engine and 6-speed DSG transmission.) Shoppers considering a new Tiguan should be aware that VW is still selling the old design under the name Tiguan Limited.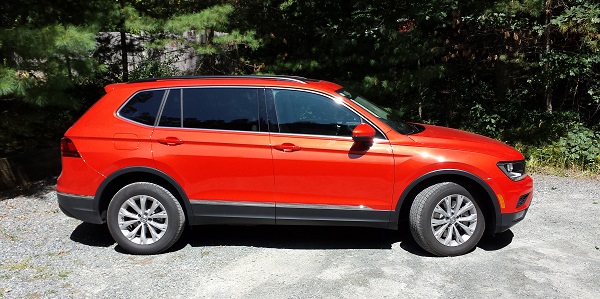 What We Love About the 2018 Volkswagen Tiguan SE 4Motion:
Perfect size for many families
Outstanding infotainment and audio technology
Mid-trim value pricing
What We Don't Love About the 2018 Volkswagen Tiguan SE 4Motion:
Poor fuel economy compared to segment leaders
Unresponsive engine and transmission
Lack of standard active safety features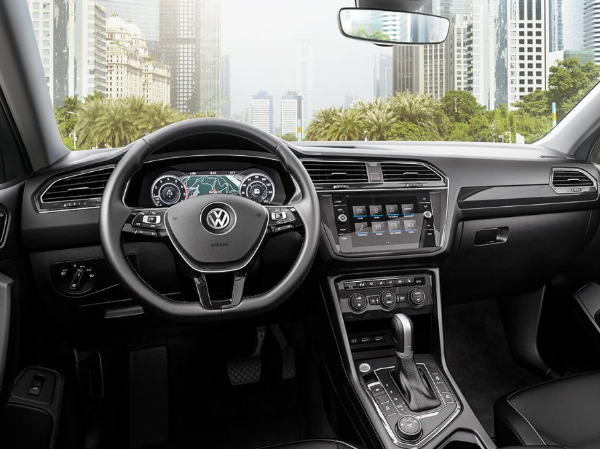 Pricing and Value (7/10)
At $32,480, our S2018 Tiguan SE 4Motion falls in the same mid-trim price point that its peers do. However, without standard active safety and with a drivetrain we can't recommend, the Tiguan is hard to call an outstanding value. The Tiguan's longer than average warranty (an impressive 6-years, 60,000 miles bumper-to-bumper) ups the value, as does the recent willingness of VW dealers to slash prices to help make up for sales lost to its now-discontinued diesel models.
With the unusual situation VW is in, a Tiguan may end up a value that isn't easy to see if just the MSRP is considered. Those who prefer to use Apple Car Play or Android Auto may also find that not needing to purchase navigation adds to the value proposition. Volkswagen vehicles have long been questionable values, but the new Tiguan is not.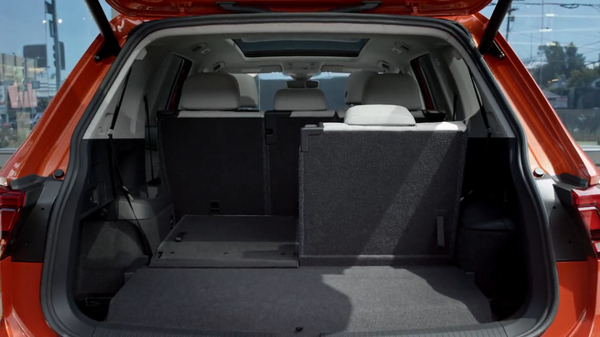 Total Score and Competitive Comparison (60/80, 75%)
The 2018 Volkswagen Tiguan is a perfectly sized compact crossover with good looks, its own style, outstanding ergonomics and high-tech infotainment options. The Tiguan's handling is on-par with the premium crossovers in this size vehicle.
An optional third-row seat is a plus, as is the bright interior when the optional sunroof is included. Shoppers should try the drivetrain and be sure to add in the cost of active safety equipment when making their decision about the new Tiguan.
You can learn more about the 2018 VW Tiguan in the FULL REVIEW now.
Search used cars for sale and find the best deals near you at iSeeCars.com.
To get a FREE iSeeCars VIN Report for a car, click here.