*Go straight to the FULL REVIEW.
Overview (Final Score: A)
For 2018, Nissan's legendary Leaf battery electric vehicle (BEV) is all new. This Leaf feels more energetic on the road, has a long list of safety upgrades and brings a very competitive list of features to the affordable compact EV segment.
The Nissan LEAF has been overshadowed by the Tesla Model 3, but the truth is they are in entirely different vehicle segments. A fully-loaded Tesla Model 3, which doesn't even offer some of the Leaf's key features, is literally twice the price of the Leaf after incentives for both cars, at the time of this writing.
Nissan's five-passenger Leaf is roomy inside, has much more cargo space than the Chevrolet Bolt EV, its closest rival, and does almost everything better than the more expensive and now dated BMW i3. The new Leaf will appeal to anyone who is willing to give it a test drive, if its range is sufficient to meet their needs.
What We Love About the 2018 Nissan Leaf:
Fun to drive
Competitively priced
Great features
What We Don't Love About the 2018 Nissan Leaf:
150 Mile max range is still an issue for some
Promised range doesn't seem to match up with actual miles covered
Some minor ergonomic oddities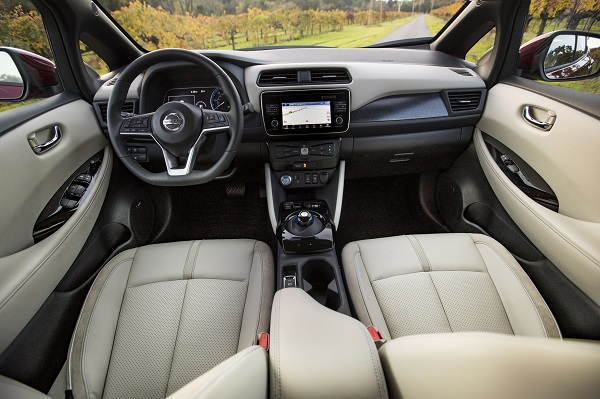 Interior Comfort, Quality, Ergonomics (9/10)
Inside, the Leaf has many premium aspects, but also has a fair amount of hard plastic on the dash facing the front passengers. Our SL trim test vehicle had a tasteful combination of gray and black trims, with a single accent panel facing the front passenger that was, thankfully, not old-fashioned wood. The overall interior look is fresh and bright.
The Leaf's center infotainment display is perfectly sized and well placed for easy touch operation. It reminds us a lot of the Kia and Hyundai displays in current vehicles, and we like it more than the system in a Nissan Rogue we recently tested. The HVAC controls are easy to find and operate, being located just under the screen. Nissan doesn't force owners to hunt and peck through menus to change the temperature and operate the HVAC system. Heated seat controls stay where you set them and there is a heated steering wheel that also stays in its setting, located to the left of the wheel on the dash. Nissan scores top points on all of these controls.
The Leaf SL has an outstanding gauge display. It's easy to navigate, and can provide EV and trip information. We love how easy it is to reset vehicle functions like lighting and locks. Nissan also displays the tire pressure at each corner. When navigating, the display shows the next turn. It's not as good as a head-up display, but surely less expensive and very workable.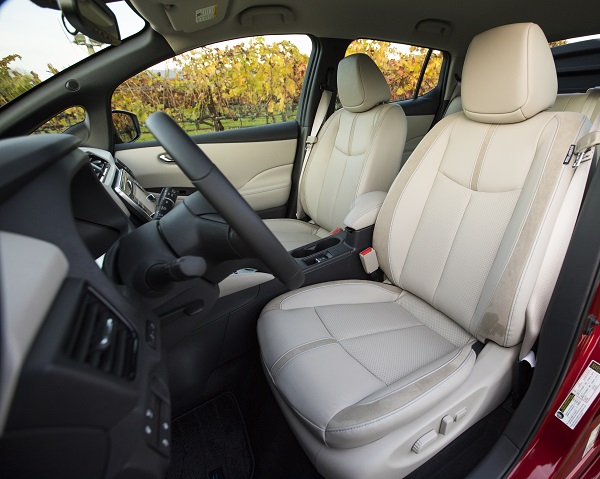 The power-adjustable seats of our Leaf SL had leather surfaces with suede microfiber trim. This added a premium feel that makes the car a little easier to accept at its price point of nearly $40,000. Seat heat was weak for both front seats, but the heater was quick to warm the cabin.
We found a comfortable seating position, but that was almost by luck. The Leaf's seats are a bit high for our taste and the bottom doesn't angle up enough. With no telescope function on the tilt-wheel, the steering position required moving forward more than we would have liked as well. Shorter drivers might not notice any of these minor issues.
The high seating may put the driver's head too close to the ceiling, making the roof feel confining. Outward visibility is only good, not great. Side and rear visibility are excellent. The rear seats are very spacious. Adults can sit in the two outboard rear seats without adults in the front needing to move their seats up.
The 2018 Leaf has 92.4 cubic feet of passenger space. By comparison, the Chevy Bolt has 95 cubic feet and the (four-passenger) Toyota Prius Prime has 91.5 cubic feet. All feel pretty roomy for a compact due to their upright designs.
The Leaf has a cargo volume of 23.6 cubic feet and the Bolt has a much lower 16.9 cubic feet – the main size difference between the two. For comparison, the Toyota Prius Prime has 19.8 cubic feet of cargo volume. From a practical standpoint, the Leaf is the largest of the three vehicles.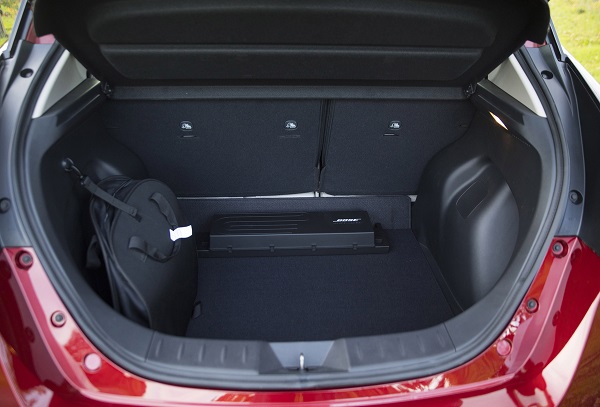 Technology (10/10)
The 2018 Nissan Leaf SL has an ideal mixture of real-world usable technology and a forward-looking vibe. The 7-inch color infotainment display has important buttons to the left and right of the screen. That leaves more room for information and keeps your screen relatively fingerprint free.
The HVAC controls are simple and intuitive, and not part of the menus. Instead, they reside underneath the infotainment display. We love that you can set the heated seats and steering wheel to "on" and have them stay in that position until you decide to change them. Most other vehicles require all those touches every time you get in the vehicle.
The center gauge display is also spot-on. All of the key info, such as individual tire pressure in each wheel and turn info when navigating, can be found here. Best of all, you can alter the vehicle settings. Many automakers leave that adjustability just for premium brands, but Nissan lets you select all aspects of the car's functionality.
The in-dash navigation system is good. However, with Android Auto and Apple CarPlay available on the top two trims, the Leaf allows a user to plug into other cell apps. We enjoyed using Google Maps and Pandora, with full integration.
The Bose Premium Audio is sub-par. It sounds as if it has just one speaker and doesn't impress, particularly since it comes at an added cost and the Bose amp in the trunk takes up important space. We'd skip this feature for sure, except that it's tied to safety systems we would want.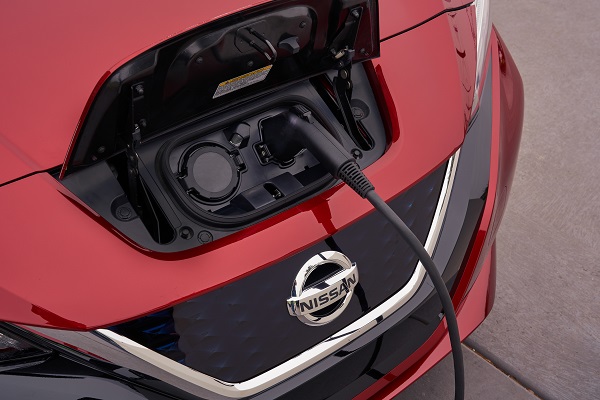 EV Range and Efficiency (9/10)
The Leaf we tested had an EPA-estimated maximum range of 150 miles. That range is substantially lower than the Chevy Bolt's 238 miles. The Toyota Prius Prime is a plug-in hybrid, so it has just 25 miles of EV range but can go over 600 miles without stopping for energy. Nissan plans a longer range and more expensive Leaf for the coming year.
In our testing, range depleted at an almost alarming rate. We made multiple trips, and recorded the range miles used and the actual miles traveled. In every scenario of in-town, mixed and highway driving, the Leaf used more range miles than miles actually traveled. On our longest drive of 64 miles, the Leaf consumed 93 miles of range. EPA range miles are just estimates, and based on our testing, we would apply a multiplier of about 0.7 to the range Nissan promises.
During our testing, the Leaf SL recorded the miles per kWh we could travel. Our result was 3.7 m/kWh. At that rate, with our electric cost at $0.23 per kWh, our cost per mile for energy was 6 cents. A Bolt would be almost the same and the Prius Prime would actually be slightly less, with gasoline at $2.50 per gallon.
In our target market of Metro West Boston, the Leaf is not a less expensive vehicle to "fuel" versus cars with a 40 mpg rating or better. Nissan does offer free charging at locations in key markets.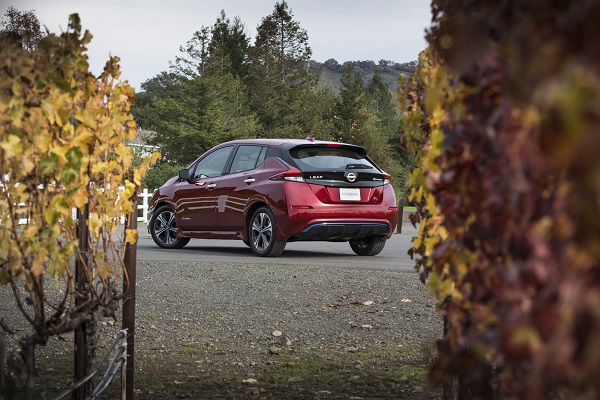 Safety (10/10)
Nissan designed its new Leaf to be a Top Safety Pick, something its outgoing generation never achieved. Although not yet tested by IIHS or NHTSA, we suspect the new Leaf will prove to have a very safe crash structure. The Leaf offers automatic emergency braking and every manner of active safety systems, such as rear cross traffic alert, blind spot monitoring, and lane departure warning and mitigation. Many of these are in a Technology Package at an added cost (along with the Bose audio).
The Leaf also has an optional system called Pro Pilot. Similar to systems found on other cars, and Honda's Sensing, in particular, this is an adaptive cruise control system with lane centering. We enjoy using such systems and would recommend Nissan's.
Performance (10/10)
We love the way the new Nissan Leaf SL drives. It's snappy off the line, quick in all scenarios and has more than ample passing power. Like all electric-drive vehicles, the Leaf has instant and linear thrust. It's addictive, and we had to be careful not get ticketed.
The 2018 Nissan Leaf is also real-world nimble. It is easy to steer and doesn't lean much in corners. We loved back roads driving in the Leaf. Brakes are also very good, and in normal mode, there is no regenerative goofiness like on early green cars.
Nissan equips the 2018 Leaf with E-Pedal, one-pedal driving. It enables drivers to use just the power pedal and forgo the brake in most driving. We loved it around town, but on the highway and on back roads we liked the standard mode better. The mode is selectable. Nissan allows the driver to select the mode once, or it can be set to remain on each time you enter the vehicle.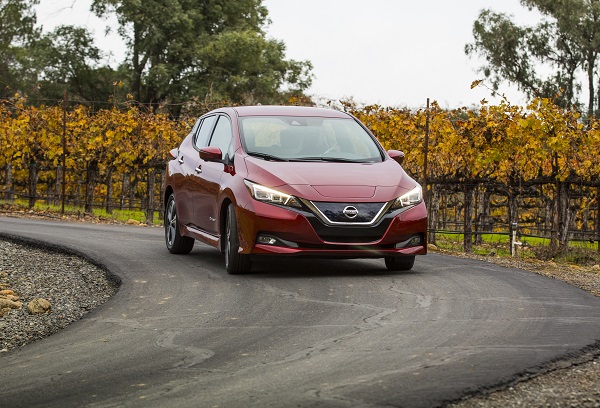 Total Score and Competitive Comparison (75/80, 94%)
All three of the top-selling vehicles in this class, the Nissan Leaf, Chevy Bolt and Toyota Prius Prime, have their pros and cons. The Leaf is the largest in terms of total space and it's our favorite in terms of total experience. However, the Bolt's added EV range and the Prius Prime's ease of use are important considerations.
The 2018 Leaf SL will impress anyone looking for a compact EV. It feels great to drive, has a perfect mix of tech and premium features, and is a terrific value if you can take advantage of all the available incentives. But shoppers should keep in mind that a longer-range version is just around the corner.
Read the FULL REVIEW Now to get more expert tips on the 2018 Nissan Leaf's exterior, reliability, pricing and value.
Search used cars for sale and find the best deals near you at iSeeCars.com.
To get a FREE iSeeCars VIN Report for a car, click here.