*Go straight to the FULL REVIEW.
Overview (Final Score: A)
The Toyota Camry is the dominant midsize sedan in America. Together with the Honda Accord, it defines the segment. For 2018, Toyota carefully messed with success, creating an all-new car, but one that is also very familiar.
The new 2018 Camry has a new platform, exterior, interior and set of drivetrains. We fully tested a Camry Hybrid XLE and also drove the 4-cylinder LE and 6-cylinder XSE to get an understanding of how the full line feels when driven.
Those looking for a V6 will be happy to hear that it returns in the Camry, unlike in the new Accord, which moved to lower power 4-cylinder engines, even in top trims. At the other end of the spectrum, the Camry's new hybrid again makes impressive fuel economy gains coupled with great off-the-line torque. Across the board, from fuel economy to power, Camry's new drivetrains top the specifications sheets in the class.
Toyota also wraps the Camry in an exciting new skin that is less likely to polarize shoppers. If sales are any indication, Camry shoppers love this new look. The new 2018 Camry starts at about $25,000 and a fully-loaded model can approach $38,000. Overall, there are 10 separate trims of the Camry. To its credit, Toyota keeps the options packages pretty simple. Shoppers should note that the SE and XSE trims have a slightly more aggressive front-end treatment. If you like the look overall but prefer a more mainstream grill, check out the other trims.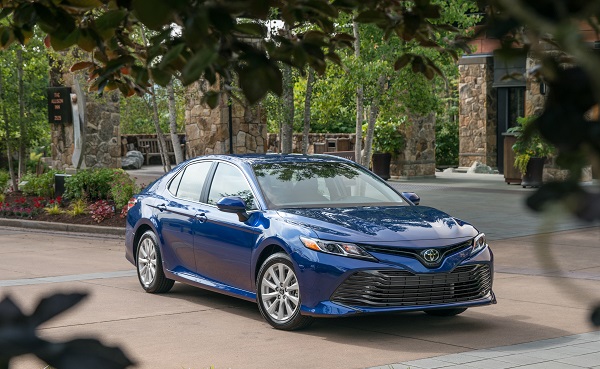 What We Love About the 2018 Toyota Camry:
Great driving dynamics
Outstanding fuel economy
Top value proposition for a midsize sedan
What We Don't Love About the 2018 Toyota Camry:
Lacks Apple Car Play, Android Auto and common infotainment features
Sub-par navigation options
Heated steering wheel missing at $35,000 price tag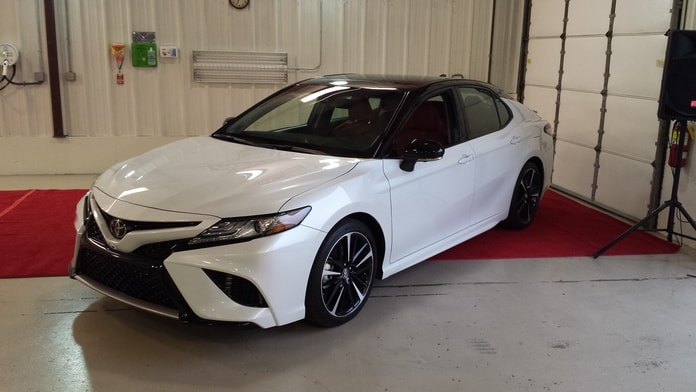 Interior Comfort, Quality, Ergonomics (10/10)
Inside, the Camry retains its familiar Toyota family look and moves in the direction the Avalon went four years ago. The Camry has a great glass area and excellent visibility. We found no blind spots. The dash is now driver-focused and has a non-uniform instrument panel area. The seats are wide and comfortable, and there is ample room in back for two adults to sit comfortably, or for three to ride on short trips.
The feeling of quality is apparent in every aspect of the interior except the infotainment system. That seems more mainstream-affordable. The gauges are excellent, and calling up things like the pressure in each individual tire is easy to do. The seats in our $34,507 tester were heated but not cooled. A heated steering wheel is not available.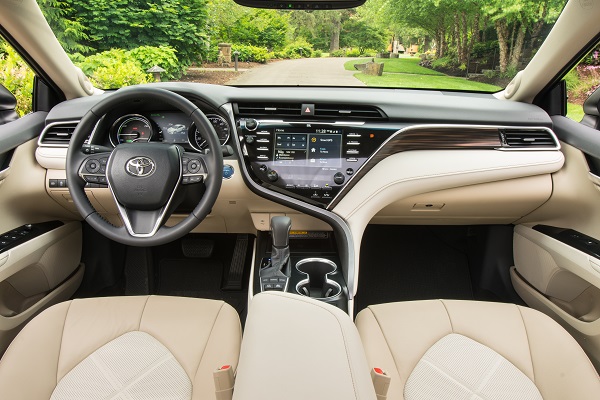 Technology (6/10)
Scan the Camry's ratings in this review and you'll see no score lower than a 9. However, in terms of infotainment Toyota has lost its way. Toyota is the only major automaker that hasn't adopted Apple Car Play and Android Auto. It is not available on any 2018 Camry trim. Toyota is moving toward that technology, but we can't say if it will be possible to add it to any of the Camrys that ship without it.
There's more bad news. Our $34,507 top-trim XLE Hybrid didn't come with navigation or SiriusXM radio. We almost can't believe it. We haven't seen a high-volume car this expensive without those common features before. Also, the screen is not a premium view. An upgrade to an 8" screen that does come with SiriusXM is available, but at almost $35,000 we feel the Camry should be fully equipped.
Toyota offers a third-party navigation app link called Scout that has moving maps and traffic info. It has less-than-stellar user ratings and the free versions have ads. In our tester, rather than have the app suite ready to go with Pandora and other common apps pre-loaded, the app suite was blank and had to be populated with Toyota-specific downloads.
In general, Toyota's technology is outstanding. When it comes to safety systems, drivetrain technology and other areas, Toyota is number one by a country mile. In terms of infotainment, the automaker still has some areas for improvement.
Our Camry did have a color head-up display and modern dash display system as good as any in this class.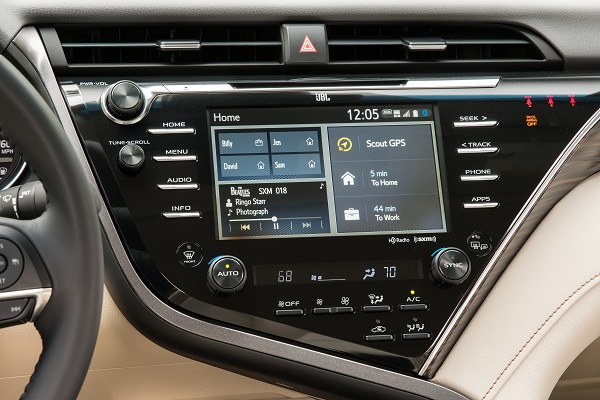 Fuel Economy (10/10)
The 2018 Camry's new base 2.5-liter four-cylinder engine has 203 hp and earns a great 32 mpg combined EPA rating. That is a huge 5 mpg jump from the 2017 Camry. The base Camry's fuel economy is 1 mpg higher than the new 2018 Accord's.
The Camry Hybrid comes two ways. There's an mpg-optimized LE trim with a crazy-high 52 mpg combined EPA rating, and the XLE/SE trims with an impressive 46 mpg combined rating. The V6-equipped Camry trims also get great mileage with a 26 mpg combined EPA rating. The V6 Camry has 301 hp. That is 49 hp more than the top 2018 Accord's horsepower. The Camry actually matches the 26 mpg combined fuel economy of the top two Accord trims.
Toyota hit a home run with the Camry's new drivetrains. Even though power is up across the board, so is fuel economy. Every Toyota Camry uses regular unleaded fuel. In many electric vehicle target markets, like Massachusetts, the Camry Hybrid LE has a lower cost per mile of gas than most electric vehicle's cost per mile of electricity (based on today's prices).
Safety (10/10)
The Toyota Camry has earned the highest possible safety scores from the Insurance Institute of Highway Safety. A Top Safety Pick Plus, Camry scored Good on every crash test and Superior on active safety systems. Even better, every Camry made for 2018 has advanced safety features like automatic emergency braking standard. Yes, every trim and at no added cost. Toyota was the first to do this. There is no safer midsize sedan at any price point.
The Camry's optional adaptive headlights found only in the XLE trim's Adaptive Headlights Package were rated Good, helping Camry earn that IIHS "Plus" rating. All other Camry trims have LED lighting and still earn an Acceptable rating. All Camry trims come with automatic high beams.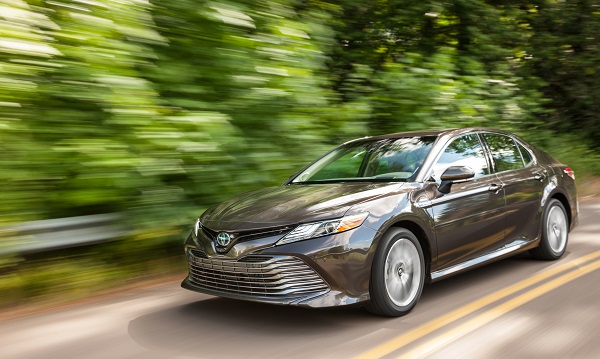 Performance (10/10)
When Toyota shifted to its new platform it took the handling up a notch. The Camry handles as well as any car in its class now, including the Mazda6 and new Accord. The 301 hp V6-equipped Camry can run from 0-60 mph in under 6 seconds. That's as fast as anyone really needs to go in a front-drive sedan. (That's faster than a 1990 Camaro Z28 and many Corvettes from the 1950s through 1980s. Are we saying a Camry is as thrilling as a sports car? Of course not, but it is far from the most mundane car in its class. Those interested in the best driver's Camry should check out the V6-equipped XSE.
However, we're not sure you really need the V6. In normal driving, the base four-cylinder is great. The Hybrid is even better. With 5 more hp, but a lot more torque at start-up, the Hybrid XLE trim is snappy. Camrys have been called boring by so many auto writers. The fact of the matter is that, at the Camry's price point it's one of the quickest cars in America and every 2018 model feels fun to drive.
The improvements to the new Camry are not just about power either. Over the winter-beaten roads in New England on which we tested the Camry Hybrid XLE, it was smooth and quiet. Even big potholes didn't jar the vehicle, and in corners with bumps, the Camry still feels planted.
We could sense the solidity of the new Global Platform that Toyota has moved the Camry to for this new generation working to help the ride quality. Our XLE Hybrid had performance-oriented, all-season, 18" tires and handled great too. Steering was sharp for the segment and brakes were excellent, with almost no hybrid weirdness due to the regeneration system. The Camry is not a sports car but is enjoyable to drive, and in its segment, just as much fun as the Accord and Sonata.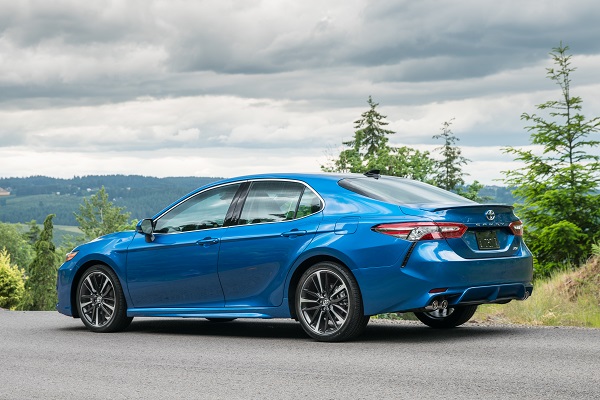 Total Score and Competitive Comparison (75/80, 94%)
Toyota has added some visual flair without adding any accents that will turn off most buyers. The new platform allows for a smoother ride and will help Toyota earn top safety scores for the full duration of this generation. The infotainment system in our $34,507 tester was a disappointment, but check back in 2019. Based on seeing the 2019 Avalon, we have a sneaking suspicion that Toyota may make some changes buyers will appreciate.
The new Accord is a great car as an alternative to the Camry and has its strong points. Based on our testing, the Hyundai Sonata and Kia Optima are well worth a look for those who want premium features like a heated steering wheel, and Apple Car Play and Android Auto. Hyundai and Kia also have excellent quality ratings.
Long the safe purchase, the new Camry has much to offer a broad range of midsize car shoppers. The looks are great, the new drivetrains are among the best in the business, and the Camry cannot be beaten for safety and value. Our research also shows that Toyota has been keeping discounts and incentives strong on the new Camry, despite this being its first year of sales.
Read the FULL REVIEW Now to get more expert tips on the 2018 Toyota Camry's exterior, reliability, pricing and value.
Search used cars for sale and find the best deals near you at iSeeCars.com.
To get a FREE iSeeCars VIN Report for a car, click here.