*Go straight to the FULL REVIEW.
Overview (Final Score: B+)
The 2016 Volvo XC90 has won several awards since its introduction late last year. These well-deserved accolades are reason enough to put eyes on this sport utility, but add in the XC90's great new exterior look and solid Volvo-inspired interior ergonomics and you have a definite must see.
The 2016 XC90 is a thoughtful and well-done redesign of this SUV. Besides it's all-new design inside and out, the XC90 also debuts Volvo's latest road safety technology to help protect passengers in a common roadway crash type. It has class-leading interior space and cargo, a top-notch new infotainment system centered on a big 9-inch vertical touchscreen, and all of the advanced safety systems Volvo has built its name on.
The luxury SUV segments are growing quickly, with a lot of excellent vehicles to choose from. Among those, the XC90 stands out as a classy, intelligent choice.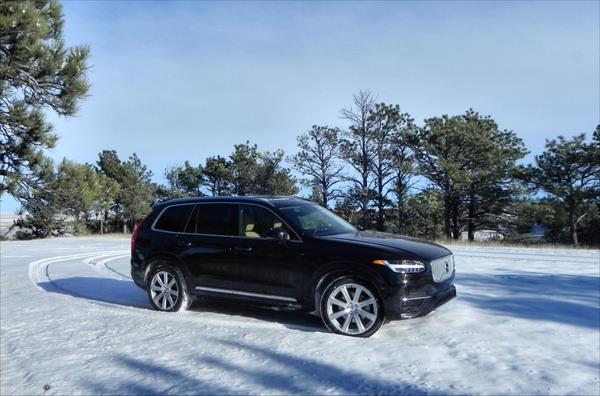 What We Love About the 2016 Volvo XC90:
Beautiful exterior design that stands out very well.
Excellent interior ergonomics and refinement.
Solid technology and value for the dollars spent.
What We Don't Love About the 2016 Volvo XC90:
Quirky stop-start system.
Tough to call its true reliability expectation.
Fuel economy and premium fuel requirement are turnoffs.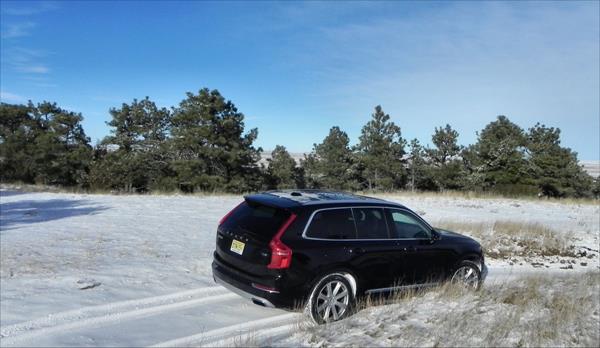 Interior Comfort, Quality, Ergonomics (10/10)
The interior of the 2016 Volvo XC90 has everything to love. Quality materials adorn the cabin and its layout is ergonomic and thoughtful. Seating is comfortable at all points, though the third row is mostly meant for occasional use or use by children and small adults. The driver and front passenger have plenty of adjustment and room to get comfortable.
The second row is comfortable for adults of all sizes, including the tall. With the front seat adjusted for a driver standing over six feet, the same six-footer can sit in the second row behind the driver and have knee space to spare. At the center of the second row is an available integrated child booster seat that moved forward independently of the outboard seating to become accessible to the front passenger.
Cargo space in the 2016 XC90 is some of the best in this segment, with close to 16 cubic feet available with the third row up and nearly 86 cubic feet with the second and third rows folded. The third row is a 50/50 split and the second row is a 40/20/40, giving a lot of options for cargo and passenger configuration.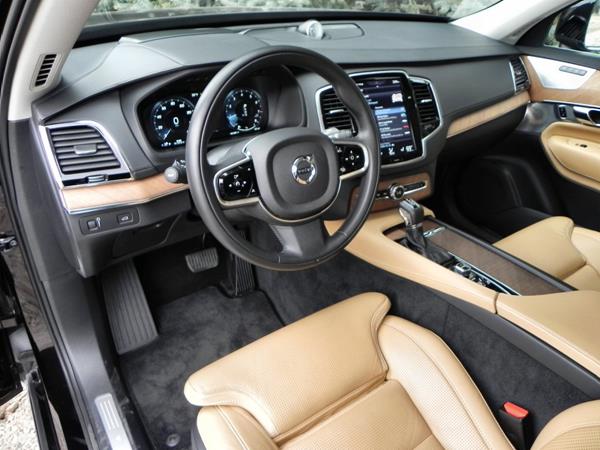 Technology (8/10)
Technology is dominated by a huge 9-inch vertical touchscreen on the center console. There is a lot ot love about this big screen and its tech offerings. Sensus Connect, which is what Volvo calls their infotainment interface, is intuitive, tablet-like, and very quick to respond to inputs. In previous years, we've complained about the long and hard button presses often required on the virtual buttons on Volvo interfaces. That's gone with the smooth new setup in the XC90, leaving the SUV with a clear, easy to read, simple user interface that may be one of the best in the industry.
Options are good, but not as in depth as some other luxury makes might offer. App integration, for example, is not as sophisticated as that which we've seen in Infiniti and Lexus vehicles. For all but the most technophilic of users, though, Sensus Connect offers everything you could ask for. Add in the excellent manual climate controls mounted underneath that screen, obviating the need to navigate menus for climate setup, and you have a great combination.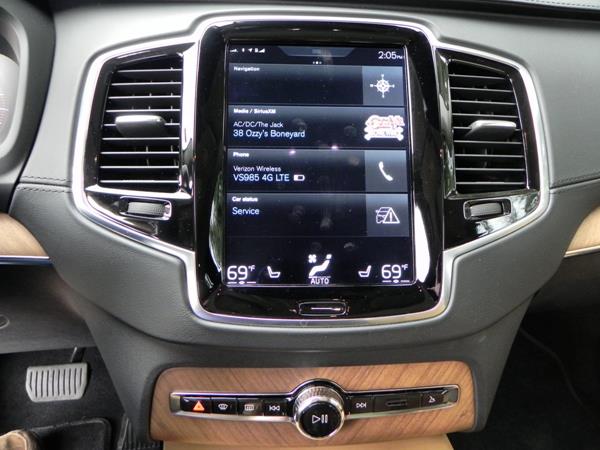 Fuel Economy (8/10)
The fuel economy rating for the 2016 XC90 is 22 mpg combined. The EPA estimates the SUV as having 20 mpg in the city and 25 mpg on the highway. Most who note the small engine size will find this a bit disappointing, despite the engine's high output for its size.
The stop-start system for the engine, which stops it at traffic signals and the like to conserve fuel, is likely to be turned off by most drivers after it's engaged a time or two. It's a bit clumsy and can be disconcerting due to the lag between the foot coming off the brake and the engine re-engaging.
There is a plug-in version of the XC90 called the T8 Plug-in Hybrid, but the EPA has not released fuel economy numbers for it yet and its markets will be limited.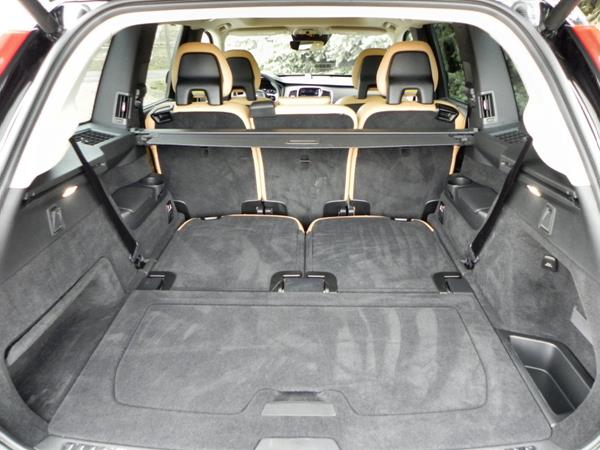 Performance (9/10)
The 2016 Volvo XC90 is fitted with a small 2.0-liter supercharged and turbocharged four-cylinder engine that seems very small for a vehicle this size, on first glance. But that little powerplant chugs out a very respectable 316 horsepower and 295 pound-feet of torque. This runs through an eight-speed automatic transmission in all-wheel drive as standard equipment.
This configuration isn't going to win drag races, but it churns out more than enough power to move the XC90 well. The high torque and turbocharged nature of the little engine mean that the XC90 feels peppy off the line and nimble around town, despite its bulk. All good points.
On the road, the XC90 is a very comfortable ride with enough give in its suspension to stay supple on the highway, yet tight enough to be a good ride in town. Off the road and in inclement weather, it's also a capable, confident ride. Although not a serious off-roader like some in this segment might be, the Volvo XC90 has enough chops to get most where they need to go and plow through the worst of weather when required.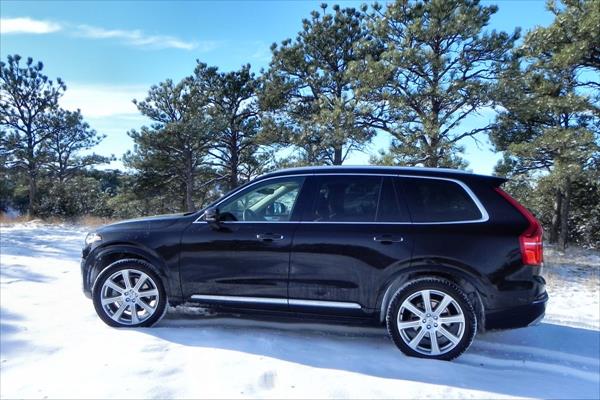 Total Score and Competitive Comparison (70/80, 88%)
The full-sized luxury three-row SUV market has grown quickly with some excellent offerings to be found. The BMW X5 is sportier and has a diesel option. The Acura MDX is also more fun to drive and has plenty of features as standard.
For those needing an adult-ready third row, the Buick Enclave and Mercedes-Benz GL are great choices. Still, as an overall package, the Volvo XC90 is definitely a contender against any of these and worthy of any buyer's consideration.
The 2016 Volvo XC90 has won several awards since its introduction last year and has deserved every one of them. This new design of the luxury sport utility is one of the best re-thinks of a vehicle of any type that we've seen in some time. It's a classy, well-considered, confident and comfortable drive.
Read the FULL REVIEW Now to get more expert tips on the 2016 CS90's safety, reliability, pricing, exterior and technology.
Search used cars for sale and find the best deals near you at iSeeCars.com.
To get a FREE iSeeCars VIN Report for a car, click here.