*Go straight to the FULL REVIEW.
Overview (Final Score: B)
Three-row crossovers have largely displaced minivans as the family vehicle of choice on the American landscape. For roominess, daily usefulness and family comfort, there are few that can compete with the 2016 Dodge Durango.
Outside of a new stop-start system for the V6 engine in the Durango, little has changed in this crossover. This doesn't mean it's outdated or outclassed by the competition, as this current-generation Durango set the benchmark for others to achieve.
The 2016 Durango is a 3-row crossover that comes in four trim levels with two engine options and seating for up to seven.
What We Love About the 2016 Dodge Durango:
Extremely family-friendly interior
Excellent drive dynamics despite its bulk
Unique exterior look and curb appeal
What We Don't Love About the 2016 Dodge Durango:
Fuel economy is about average
Base package is bereft of many amenities
Reliability expectation is not high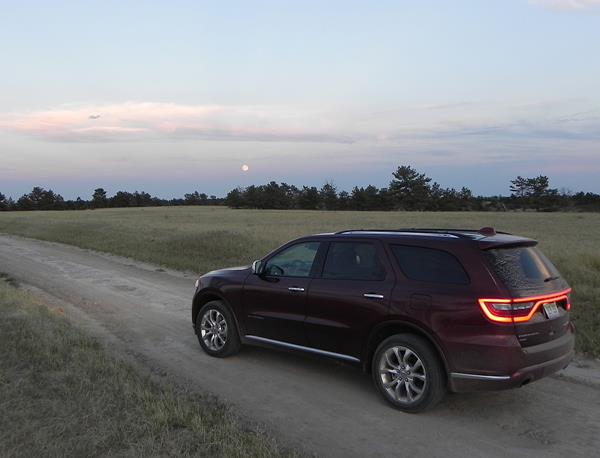 Interior Comfort, Quality, Ergonomics (9/10)
Aside from minivans, the 2016 Dodge Durango has one of the best family-ready, road-trip-ready interiors you'll find on the market. Unlike others in this segment, the Durango's third row is actually adult usable and entry and egress to any seating position is simplified thanks to wide-opening doors and easy-fold seating for access or cargo options.
The front seating in the 2016 Durango is very good with plenty of space all around and a nicely-done driver's layout. Access to infotainment is canted towards the driver a bit, but is still easily usable by the front passenger. Options available on some trim levels or as standard equipment on others add things like extra seat adjustments and a better instrument cluster information screen. Driver aids such as blind spot management and adaptive cruise control are also options.
In the second row seating is still very good with plenty of adjustment and bolstering. Although this kind of comfort is becoming the norm in this segment, the Durango helped pioneer it as a standard. Behind that second row is a third row that is adult-friendly and one of the most comfortable you'll find in any market segment. Even luxury SUVs don't often have a third row that useful. In all seating positions, headroom is some of the best in the class as well.
Cargo space in the 2016 Dodge Durango is good, standing at 84.5 cubic feet when the second and third rows folded. An adjustable cargo cover can be used with either the third row folded or up.
The only place that the Durango falters is in materials quality. Though materials are very good, the interior of the Durango is getting a bit dated for the segment, given the newer options now available from competitors. That said, it's only a slight mark against the big Dodge as it doesn't give a low-rent feeling or cheap appearance, just one that's slightly dated.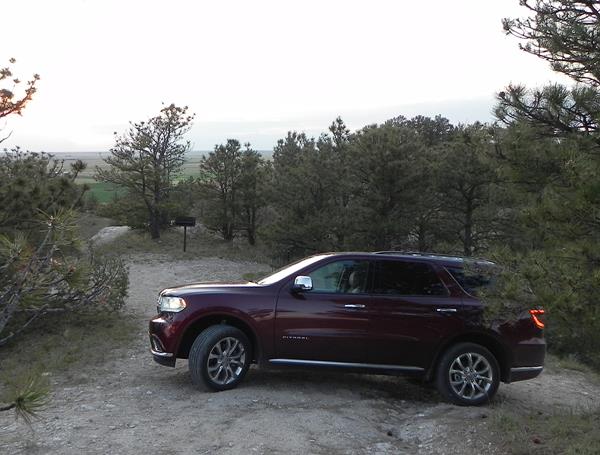 Technology (10/10)
One more shining point for the Durango is in its tech offerings. Like most Chrysler-Jeep-Dodge products, the Durango uses the latest-generation UConnect (version 8.4). The standard offering is UConnect 5.0 on a 5-inch screen, but moving from the base model Durango to any other trim level replaces that with a much more usable 8.4-inch touchscreen utilizing version 8.4 of the system.
Standing as the most usable infotainment interface on the market, UConnect is one of the easiest and most useful systems consumers can find. With both touch and voice controls, UConnect is also one of the few infotainment interfaces on the market that offers speech-to-text and text-to-speech to both read and allow verbal replies to text messages on your connected phone. Several app-based and other options are also available for the system and the user's phone as it interacts.
Fuel Economy (8/10)
The big 2016 Durango comes with two engine options. The V6 models in rear-wheel drive are EPA rated at 19 mpg in the city and 26 mpg on the highway, or 17 mpg combined. V6-equipped models with all-wheel drive are rated at 21 mpg combined (18 city, 25 highway). In 8-cylinder engine Durangos, EPA ratings are 17 mpg combined, with 14 mpg in the city and 22 mpg on the highway in both rear-wheel and all-wheel drive.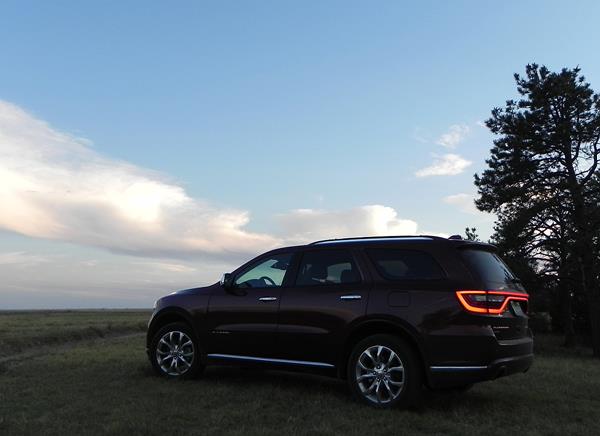 Performance (10/10)
There are two engines, one transmission choice, and either rear-wheel or all-wheel drive for the 2016 Dodge Durango's drivetrain options. Most Durango models are powered by a 3.6-liter V6 that produces 290 horsepower and 260 pound-feet of torque through an 8-speed automatic transmission. Adding the Rallye or Blacktop packages boosts that output to 295 horsepower. Both RWD and AWD are available and towing is rated at 6,200 pounds maximum, which is about tops in the crossover segment.
The V8-powered models utilize a 5.7-liter that outputs 360 hp and 390 lb-ft of torque through an eight-speed automatic. Again, both RWD and AWD are options. This engine is available as standard equipment in the R/T model and as an option in the Citadel model. Towing is rated at up to 7,400 pounds.
The V6 Durango is capable of 7.8-second 0-60 mph times per our testing and has an aggressive, powerful appeal to it despite its bulk and the seemingly small engine under the hood. Powering up the on-ramp to the freeway and passing at highway speeds are all muscular in the Durango with the V6. The 8-speed transmission is smooth and quick to respond in most situations.
The V8-powered Durango is considerably quicker, with a throatier sound to its power.
In either configuration the Durango is a comfortable, nice-driving highway vehicle with a solid feel about it. Around town, visibility is somewhat poor, but available cameras and aids help eliminate that. Those inside the Durango may be surprised at how quiet it is on the road and how capable it is off the road in light and medium duty trail blazing. It's also a capable tower, though like most unibody vehicles in this class, the trailer's presence transfers readily into the cabin when wind and weather interfere.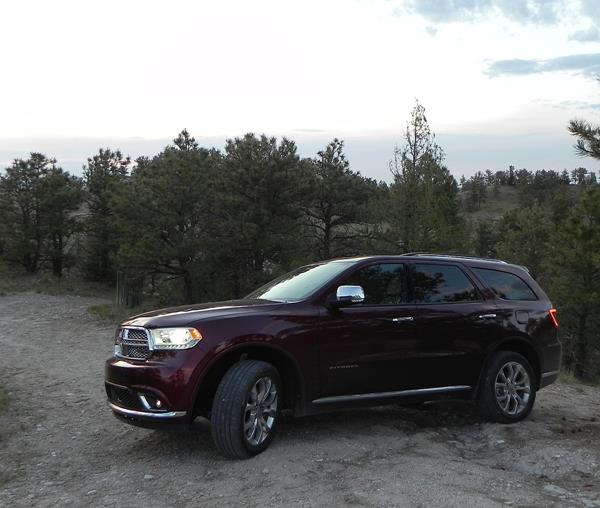 Total Score and Competitive Comparison (69/80, 86%)
The 2016 Dodge Durango has no lack of competition in today's market. The closest competitors it has, in terms of family usability, are the excellent Toyota Highlander and the equally-good Honda Pilot. The Mazda CX-9 is sportier and might be seen as more stylish. In terms of towing and 3-row comfort, though, only a truck-based sport-utility like the Chevrolet Tahoe and the Ford Expedition are truly competitive.
We became big fans of the 2016 Dodge Durango despite it being a bit aged next to the newer-generation competition. The interior is well done and very comfortable with a lot of family-oriented ergonomics that others just can't match. With class-leading infotainment options and a smooth highway ride, the Durango is definitely one to consider. Add in the aggressive R/T package and even muscle car fans can be proud to drive this family machine around.
Read the FULL REVIEW Now to get more expert tips on the 2016 Dodge Durango's safety, reliability, pricing, exterior and technology.
Search used cars for sale and find the best deals near you at iSeeCars.com.
To get a FREE iSeeCars VIN Report for a car, click here.