*Go straight to the FULL REVIEW.
Overview (Final Score: A-)
The compact Hyundai Elantra sedan was updated for 2018 and an all-new Elantra GT hatchback was introduced for the new model year. The new Hatchback is lower and wider and has two very distinct trims, including the GT Sport we tested. The sedan changes amount mostly to a new SEL trim and some minor pricing tweaks.
The Elantra is the conventionally power Hyundai/Kia sibling to the new Ioniq and Niro green car family. The Elantra line features excellent creature comforts, a simple to use but modern infotainment system, and outstanding safety credentials.
The Hyundai Elantra will appeal to a wide range of shoppers, including small families, young adults, empty nesters and commuters. The sporty elements available in the GT may even lure some sports car shoppers who are looking for value and cargo space. The compact segment has grown up in recent years. Cars in this class are relatively roomy and comfortable, similar to the midsize cars of just a generation or two ago. 
The Elantra sedan has six trims and the Elantra GT five-door Hatchback has two. With prices starting at almost unbelievable $15,000 and rising to about  $30,000, the Elantra line is broad and offers choices for many buyers. The Elantra has expanded to be a full line of vehicles, much like the Honda's Civic.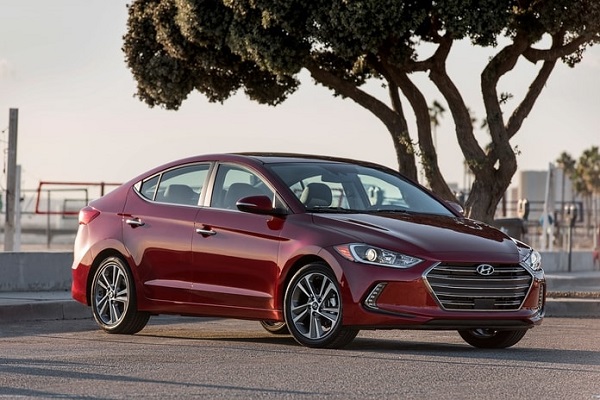 What We Love About the 2018 Hyundai Elantra:
Excellent value
Simple and effective infotainment
Outstanding safety
What We Don't Love About the 2018 Hyundai Elantra:
Active safety on top trims only
Apple Car Play and Android Auto not available on base model (where it's needed most)
Confusing trim choices: 8 trims and 10 powertrain combinations plus packages?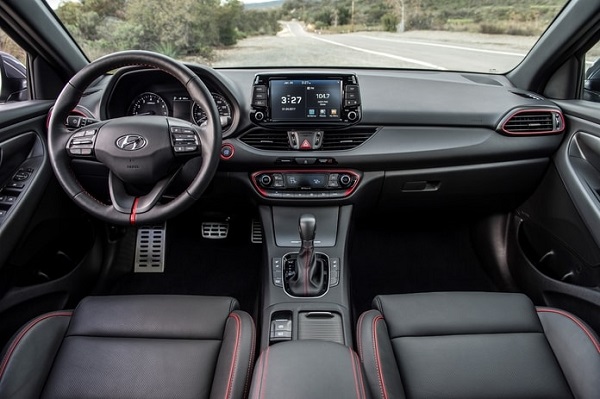 Interior Comfort, Quality, Ergonomics (9/10)
Inside, the Elantra scores with simplicity and a style that never gets in the way of functionality. Hyundai uses a conventional set of controls and a conventional gear selector. There is no learning curve to use every feature. The center console is perfectly suited to its tasks. The armrest is properly situated and adjustable. The cupholders are in the perfect spot, and your phone has an ideal location to be stored and even charged.
Our GT Sport had power adjustable seats in fine leather that we found very comfortable and easy to adjust. Outward visibility is excellent in all directions, and there is no blindspot over your left shoulder. The rear seats are also comfortable for normal trips, and a child can sit comfortably behind an adult who has their seat back. Some adjustments to the front seats may be needed for adults have enough legroom in back, but that is to be expected in a compact vehicle.
The cargo area is wide and deep for the segment. We checked for and found a compact spare under the cargo floor. Hyundai has done everything right in the Elantra's packaging.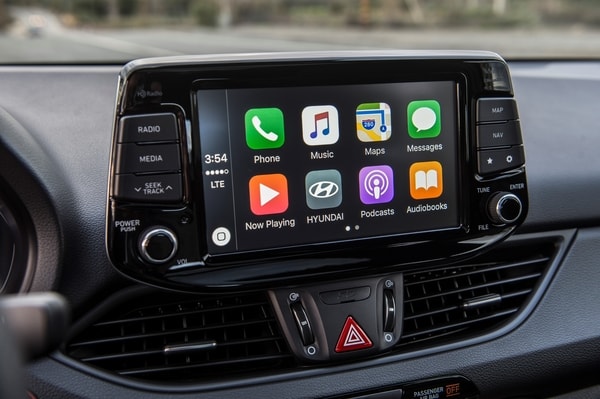 Technology (10/10)
Hyundai is one of the smart companies that has embraced Apple Car Play and Android Auto. It's included on every Elantra trim above the base SE. This is a great alternative to buying an in-dash navigation system and costs owners nothing.
The Elantra is an affordable compact sedan. This category used to be called economy car. Yet, luxury features like bending headlights that move side to side when you turn are available in the Elantra. As is a driver's seat that retracts to allow for easier ingress and egress. Those aren't expected things in a $29,000 vehicle, which was the price of our tester. 
The Elantra also offers a great infotainment package. It's easy to operate, but it includes all the detailed system info and features that many luxury bands claim as special content. We would also include the small turbocharged engine in the Sport GT as a high-tech offering, particularly because it comes with a dual-clutch automatic transmission with paddle shifters. Stated plainly, in terms of technology there is little that separates a top-trim Elantra from a front-drive Mercedes or Audi compact sedan.
Fuel Economy (8/10)
The Elantra offers a wide range of fuel economy results, ranging from relatively poor 25 mpg combined in its 1.4-liter turbo with a manual transmission to an outstanding 35 mpg combined and 40 mpg highway in its seven-speed automatic-equipped sedans. Be sure you check to see which rating applies to the trim you are considering. Our 1.6-liter turbocharged Elantra Sport GT with the seven-speed dual-clutch automatic was rated at 28 mpg combined and 32 highway, which isn't bad given its performance mission.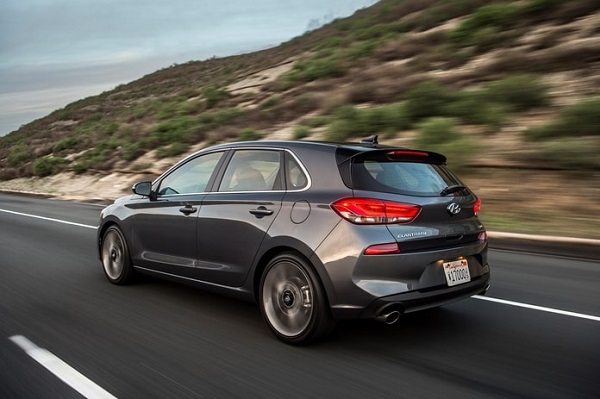 Performance (10/10)
Like safety, performance is a relative category. Ranked among its peers and compared to other cars its size and price point, the Elantra has excellent performance. Every trim will meet a buyer's expectations for vehicles in this segment, and the Sport trims are downright fun to drive.
Shoppers who value performance should consider the trim we tested, the GT Sport. It has a turbocharged engine with over 200 hp and a dual clutch automatic transmission with paddle shifters. The sporty elements don't end there. The GT Sport also has low-profile sports tires on alloy rims and a Sport mode. The Sport mode changes the throttle mapping and transmission shift points to make the Elantra GT Sport very peppy in all situations and quick off the line. In our testing, the Elantra Sport compared well with similarly priced Honda Civics and Mazda3 hatchbacks in terms of performance.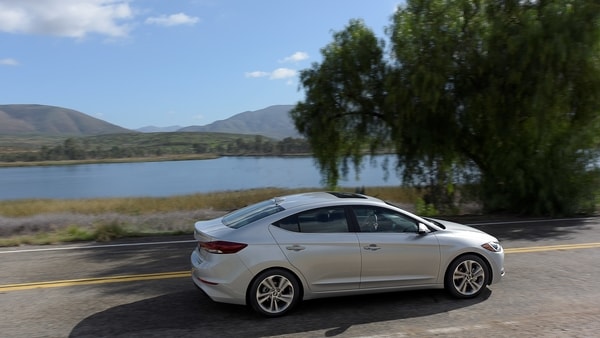 Total Score and Competitive Comparison (72/80, 90%)
The Hyundai Elantra is many things to many buyers. It can be an outstanding entry-level sedan, a premium feature-packed sedan or a sporty hatchback with excellent performance. And it has many value levels in between. No matter what a buyer opts for, the Elantra comes with outstanding quality and a warranty that's the best in the business.
Compared to the Toyota Corolla, Elantra offers much more performance at some trim levels and Apple Car Play and Android Auto. However, the Corolla has standard active safety. The Mazda MAZDA3 matches up well with the Elantra and edges it out in interior quality but does not offer Apple Car Play and Android Auto. The Honda Civic comes very close to the Elantra in every way and is its toughest competitor. But the Elantra has a much better warranty.
The Hyundai Elantra is an outstanding compact car, particularly at its upper trim levels. It should be at the top of every compact car shoppers' list.
Read the FULL REVIEW Now to get expert tips on the 2018 Hyundai Elantra's safety, reliability, fuel economy, interior, exterior, technology and more.
Search used cars for sale and find the best deals near you at iSeeCars.com.
To get a FREE iSeeCars VIN Report for a car, click here.