*Go straight to the FULL REVIEW.
Overview (Final Score: B)
When Nissan launched the refreshed 2016 Sentra last year at the LA Auto Show, the company claimed this would be the year of the sedan. It was true as Nissan had introduced a fully redesigned Maxima and an updated Altima. But the Maxima was the only one to have some pizzazz and excitement. The Altima and Sentra were just somewhat plain. But maybe we are being a bit harsh on these models. There could be something we're not seeing. In the case of the Sentra, there is more to it than what the eye sees.
What We Love About the 2016 Nissan Sentra:
Nice balance of performance and fuel economy
SR offers a lot of equipment for not that much money
Provides a smooth ride even over some of the roughest roads
What We Don't Love About the 2016 Nissan Sentra:
NissanConnect infotainment system looks dated
SR trim only applies to looks, not handling
A little bit more power would not be a bad thing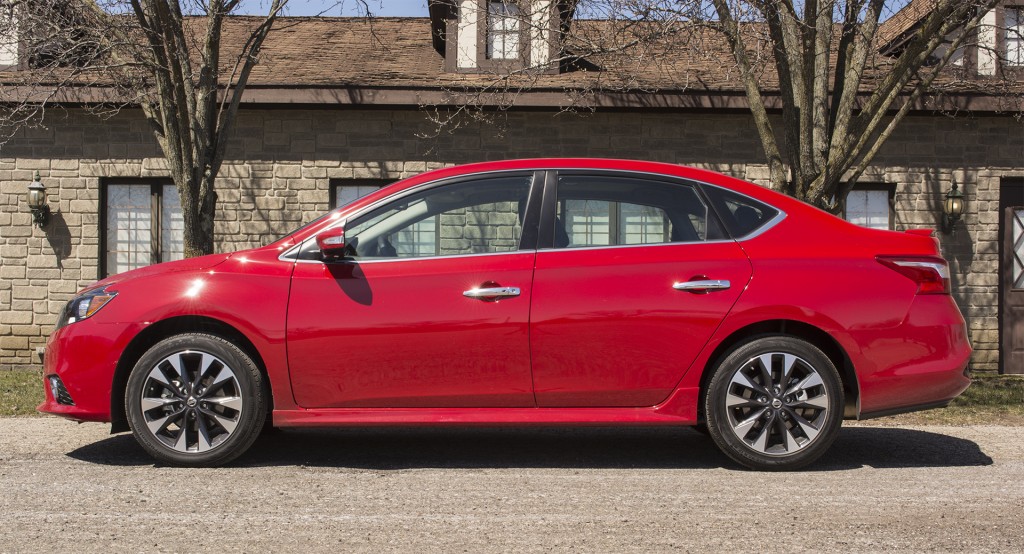 Interior Comfort, Quality and Ease of Use (9/10)
The Sentra's interior didn't see many changes during the refreshing process. The design is still conservative with simple shapes. But the interior gives the impression of being well built with a good mix of hard and soft touch materials, and no rattles or squeaks coming from the dash. Our SR tester came with a set of optional leather seats. The seats themselves provided good comfort for short trips, but we found ourselves wishing for a bit more thigh support on longer trips. At least finding a comfortable driving position is an easy process with an optional six-way power seat and tilt-telescoping steering wheel. Most back seats in compact cars are seen as a penalty box with a small amount of head and legroom. But the Sentra's back seat is quite the opposite as it is the largest in the class. Tall passengers will have no qualms sitting back here as head and legroom figures come close to midsize sedans. Trunk space measures out to 15.1 cubic feet which put the Sentra towards the top of the class.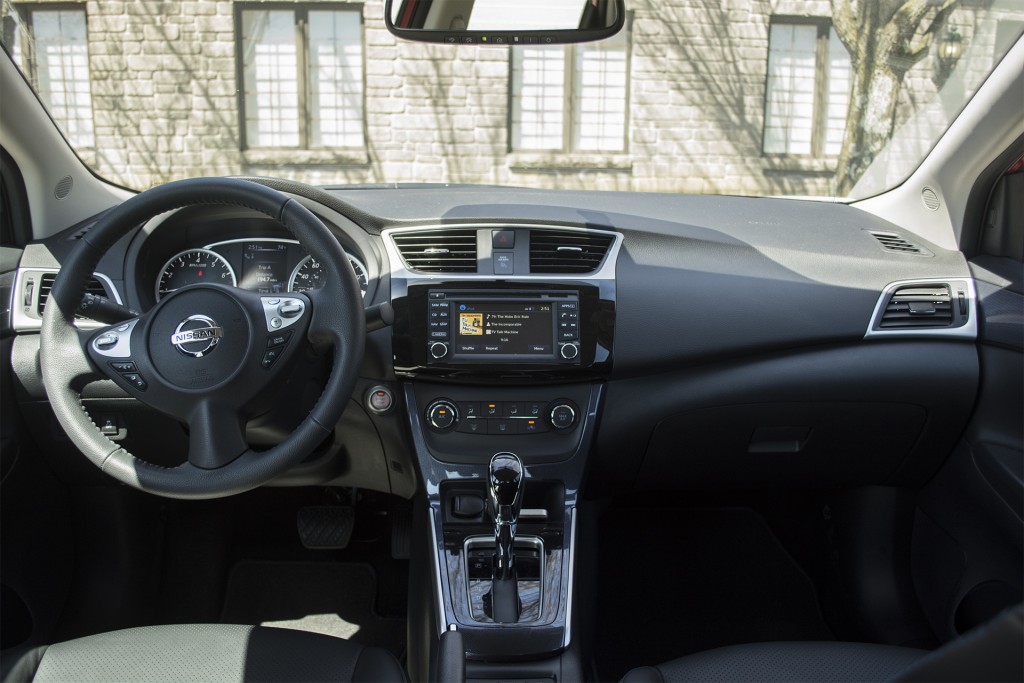 Technology (7/10)
Sentra SV models and up come with the NissanConnect infotainment system with a five-inch touchscreen. Our SR tester featured an optional package that added navigation, NissanConnect services, and mobile apps. We're not fans of NissanConnect for a couple of reasons. The first is the interface looks dated when compared to competitors, despite being one of the newer systems on the market. Second are some of the odd choices made by Nissan with this system. An example is there not being a pause button for whenever you're listening to something from a USB device or Bluetooth. The only way we found it would pause is turning the volume down to zero. The system does redeem itself somewhat when it comes overall usability. Performance is snappy and the interface is easy to navigate.
Optional for the Sentra SR and SL is NissanConnect services. This provides a number of services to an owner such as automatic 911 notification in the event of an accident, tracking your vehicle if it is stolen, roadside assistance, ability to remote start and lock your vehicle from your smartphone, and sending directions from Google maps to the vehicle. Nissan will provide a six-month trial of their services when you buy or lease a Sentra. Plans start at $11.99 per month.
Fuel Economy (10/10)
The EPA rates the Sentra SR at 29 City/38 Highway/32 Combined. Our average for the week landed around 32.4 MPG. Those who want to maximize fuel economy should look at the Sentra FE+ S model that is rated at 30 City/40 Highway/34 Combined. This is due to Nissan making some tweaks to Sentra's aerodynamics and low-rolling resistance tires.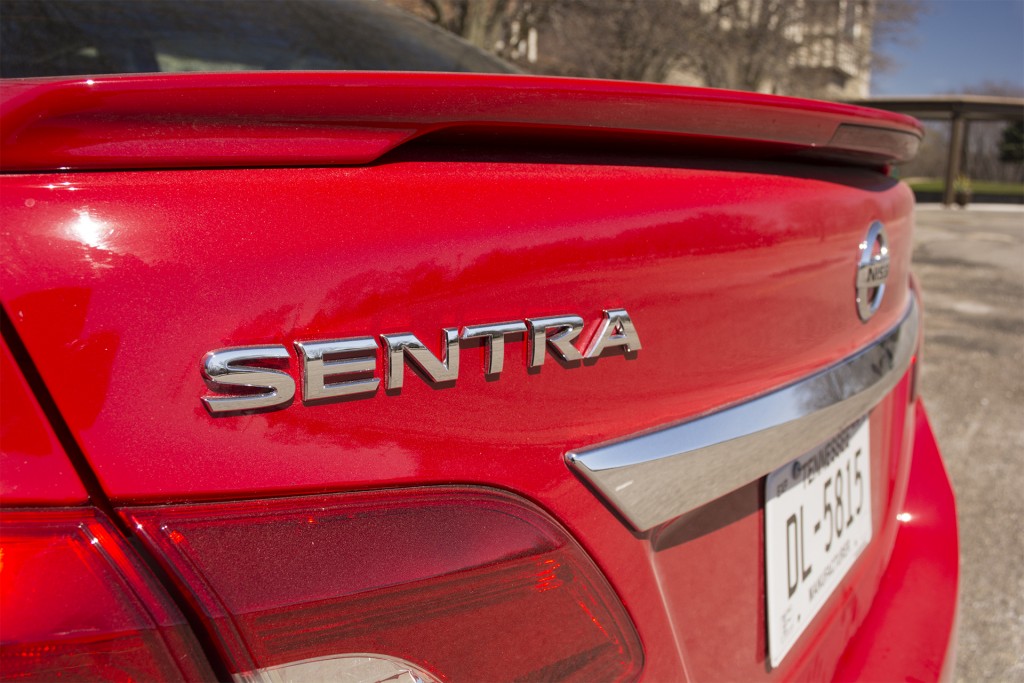 Performance (7/10)
All Sentras come with a 1.8L four-cylinder with 130 horsepower and 128 pound-feet of torque. The base S and FE+ S come with a six-speed manual as standard. A CVT is optional on the S and FE+ S models and standard on the remainder of the lineup. The small power figures mean you won't be moving at a decent clip. Performance can be best described as lethargic as it will take the Sentra few seconds longer to get up to speed than other competitors. At least the CVT is one of the best in the class by mimicking an automatic transmission's gear shifts. The transmission also doesn't suffer from the rubber-band effect – engine rpms climb up before dropping back down – like other competitors.
The Sentra does redeem itself when it comes to ride quality. Smooth and relaxing would be the words to describe how the Sentra's suspension deals with roads of any shape. We do wish Nissan had done a better job of isolating tire noise as you can hear it when driving on a freeway. At least wind noise is kept to very acceptable levels. SR in Nissan's parlance means this model is the sporty one with tweaks to the exterior and suspension. In the case of the Sentra SR, this only applies to the way it looks. Going around a corner, the Sentra doesn't show any body lean. But the steering feels a bit light and somewhat disconnected from the road.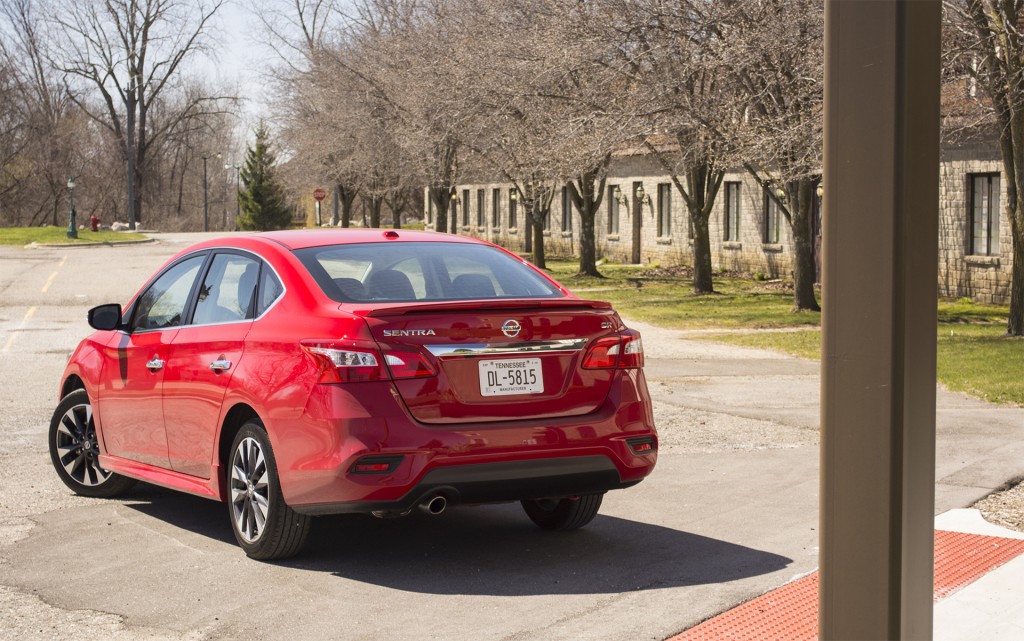 Total Score and Competitive Comparison (66/80, 83%)
The compact car marketplace has been getting better and better every year. It seems there is a model that will fit your needs and desires. For example, if you want something that is quite fun to drive, you can't go wrong with the Ford Focus or Mazda MAZDA3. Need some practicality? The Volkswagen Golf and Jetta should be closely looked at. If you want a car for the money, the recently updated Hyundai Elantra makes a strong case. Then we have the redesigned Honda Civic that could be the best compact in the class.
The 2016 Nissan Sentra really doesn't have something that makes it stand out from the crowd aside from its large back seat. But it is a competent compact sedan that goes about its business with mostly no issues. We really would like Nissan to add some extra oomph to the Sentra's engine as it would help it make a bit more competitive. But as it stands, the Sentra is a good vehicle if you want something to get you from point a to b with no fuss and a lot of equipment to boot.
Read the FULL REVIEW Now to get more expert tips on the 2016 Nisssan Sentra's safety, reliability, pricing, exterior and technology.
Search used cars for sale and find the best deals near you at iSeeCars.com.
To get a FREE iSeeCars VIN Report for a car, click here.