*Go straight to the FULL REVIEW.
Overview (Final Score: B+)
The 2016 Chrysler 300 is a strong, premium-level, stand-apart sedan in the full-size market. It's most well known for its very American style and presence, making no excuses for its large size and spacious interior. Yet this size and attitude don't translate into poor fuel economy or lackluster performance. In short, for those looking for a distinctly American sedan, the Chrysler 300 has all that and a heap of pancakes too.
For the 2016 model year, the Chrysler 300 adds a few points of refinement, some surprising upgrades to its infotainment system, and a suite of safety features in a single add-on package. Carrying through from last year's major redesign are the drivetrain choices the car is popular for, including a fuel-sipping but powerful V6 and a muscular V8 with an improved eight-speed transmission. All-wheel drive is available on the V6 models as an option, rear-wheel drive is standard otherwise.
The 2016 Chrysler 300 is offered in four trim levels, including the 300S sport model with a re-tuned chassis and some upgrade options for more fun on the road.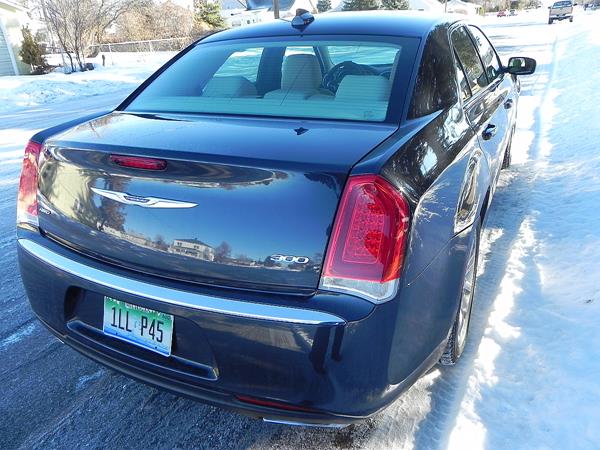 What We Love About the 2016 Chrysler 300:
Solid value proposition with its offered accouterments for the price paid.
Excellent, roomy interior with a lot of upscale attributes.
Solid, well-mannered ride quality with great fuel economy returns.
What We Don't Love About the 2016 Chrysler 300:
Safety is not as good as some rivals.
Expected reliability is only average.
No more AWD option with the beefy V8 engine upgrade.
Interior Comfort, Quality, Ergonomics (9/10)
The 2016 Chrysler 300 may be the roomiest sedan on the market. The plush, well-made interior has quality materials throughout and boasts excellent legroom, headroom, and shoulder room. Rich finishes and soft-touch materials are found everywhere with expensive-looking inlays and well-designed flair adorning surfaces. Especially in the upper trims.
In the front, the driver's cockpit is well-done with a comfortable atmosphere that keeps that comfort level no matter how long the drive might be. Controls are easy to reach and well-placed and visibility is very good, despite the narrow greenhouse. On the passenger's side, things are just as good with a nice array of storage space and access for gadgets and gear.
In the back seat, there is more room than might be found in some Manhattan apartments with the big sedan's size really paying off in spaciousness and comfort for the rear passengers. The trunk is equally as impressive, at 16.3 cubic feet.
Everything about the Chrysler 300's interior is excellent for the class and price point.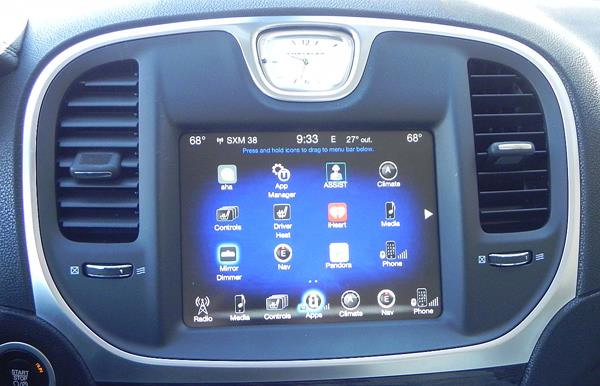 Technology (10/10)
For the class, the 2016 Chrysler 300 has an impressive array of available technology. This centers on the Chrysler Uconnect system, which has an 8.4-inch touchscreen interface. As one of the easiest to use infotainment systems on the market with options that others don't even offer, like voice-to-text, it's one of the most useful day-to-day systems you'll find.
For 2016, several things were added to enhance the Uconnect's capabilities even further. These include drag-and-drop functionality (similar to a smarpthone or tablet), Siri Eyes Free, and more smartphone connectivity.
The Chrysler 300 also boasts three premium audio options, more than any other in the class. A system from Alpine, one from Harmon Kardon, and one from Beats Audio is available to suit whatever expectation the owner might have. Hands-free voice activation is another excellent built-in for Chrysler's tech system.
Fuel Economy (9/10)
Considering the Chrysler 300's size, it would be assumed that fuel economy is only marginal. This is not the case. The big sedan is very efficient and competes well against its rivals. The standard V6 engine offers 23 mpg combined in rear-wheel drive and 21 mpg combined in all-wheel drive. That is 19 mpg in the city, 31 mpg on the highway in RWD and 18 city, 27 highway in AWD.
The bigger V8 option lowers fuel economy to 19 mpg combined, with 16 mpg in the city and 25 mpg on the highway.
In our test drives of this car, we achieved 22 mpg combined in both rear-wheel and all-wheel drive variants.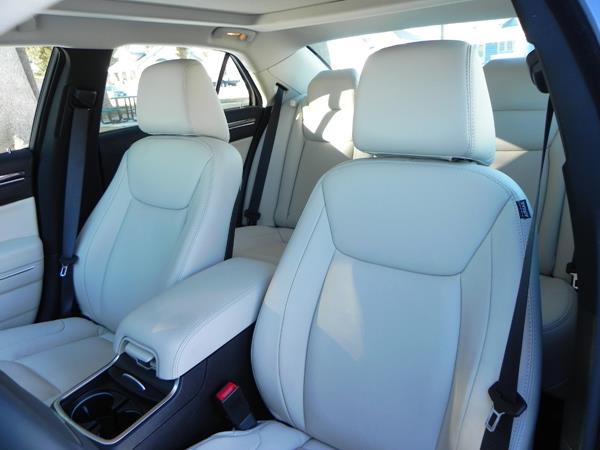 Performance (10/10)
There are more expensive sedans that will outperform the big 300, but its contemporaries cannot. There are two engine options and a single transmission offered for the 2016 Chrysler 300 along with two drivetrain options.
The base engine is a 3.6-liter V6 that outputs 292 horsepower and 260 pound-feet of torque. This is boosted to 300 hp and 264 lb-ft in the 300S model. An eight-speed automatic transmission is standard, as is rear-wheel drive. All-wheel drive is an option with this drivetrain, however, and is recommended for those living in inclement areas.
This is a fuel-efficient, nicely-driving package for the 300. In either RWD or AWD, it's a smooth car to operate with enough power delivery to keep things interesting and get where you need to go with more than just "A to B" functionality. The Chrysler's eight-speed auto is smooth and quiet and the choppiness from gear-hunting at some middle speeds is now gone.
The larger engine option is a 5.7-liter V8 that produces 363 hp and 394 lb-ft of torque, attached to the same eight-speed automatic. Rear-wheel drive is the only option with this engine. This makes the 2016 300 into a quasi muscle car, but many may not see the payoff as being enough to justify the cost and fuel economy loss. Chrysler's Dodge Charger is likely a better option for those seeking muscle in a big sedan.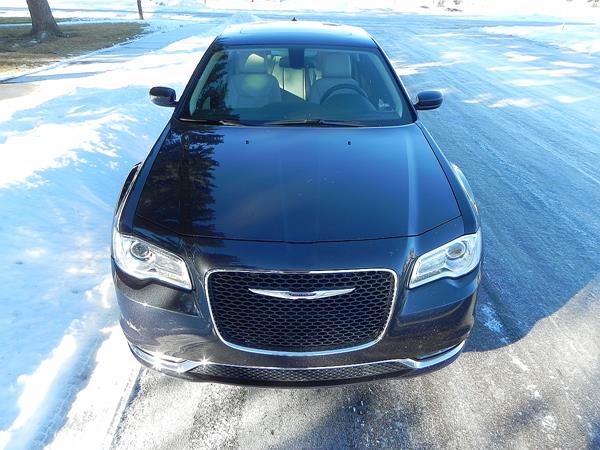 Total Score and Competitive Comparison (71/80, 89%)
Comfort levels in the large sedan segment have risen considerably in the past few years. Competitors like the Chevrolet Impala and Toyota Avalon are solid choices in this market, but the Chrysler 300 takes it up a notch to compete with premium-level sedans like the Buick LaCrosse instead. The Avalon, in its highest trim, is similarly outfitted to the 300 in its best point, but offers less interior space by comparison. The LaCrosse is generally more expensive when trim points and included luxuries are compared. The Impala offers a more engaging driving experience and similar appeal otherwise when compared.
In all, the 2016 Chrysler 300 is one of our best-rated full-size sedans. It offers a solid mix of upscale fittings, great driving and fuel economy that just cannot be rivaled as a single package. It's admittedly polarizing, but very distinctive look is also usually seen as a plus in today's market.
Read the FULL REVIEW Now to get more expert tips on the 2016 Chrysler 300's safety, reliability, pricing, exterior and technology.
Search used cars for sale and find the best deals near you at iSeeCars.com.
To get a FREE iSeeCars VIN Report for a car, click here.