*Go straight to the FULL REVIEW.
Overview (Final Score: B)
The 2016 Infiniti QX60 is a three-row, seven-seat luxury crossover that has been updated this year with a few exterior changes, some sound dampening inside, updated chassis changes and a new Personal Assistant service from Infiniti. All of which add up to a better crossover that continues to compete well in the luxury segment.
The QX60 (formerly the JX) is based on the Nissan Pathfinder, which can be seen in some of its general body styling and build. Although it's a luxury crossover, the QX60 doesn't require a fat wallet to purchase or operate, and is well noted for its family ergonomics and excellent drive quality. A QX60 Hybrid model takes the fuel economy to a new level for those wishing to maximize efficiency.
All of these points and more make us consider the Infiniti QX60 a must see on any luxury family crossover shopping list.
What We Love About the 2016 Infiniti QX60:
Excellent interior ergonomics and design.

Wonderful to drive with the right mix of sport and big box.

Excellent safety and reliability expectations.
What We Don't Love About the 2016 Infiniti QX60:
Outdated technology in infotainment.

Exterior looks are not very standout.

Fuel economy estimates don't match reality.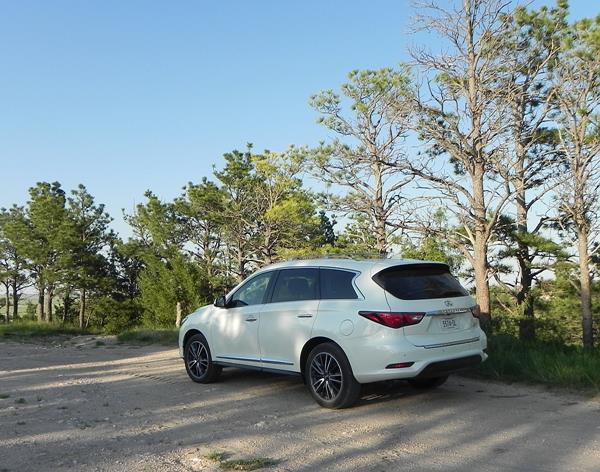 Interior Comfort, Quality, Ergonomics (9/10)
The most striking thing about the Infiniti QX60's interior, though, is what sets apart all Infiniti interiors: the rich mixture of woods, leathers, and metals in a respectful, but very plush display of luxury.
There is no questioning Infiniti's expertise when it comes to interiors that are both plush and versatile. Nowhere is that more obvious than with the QX60, which debuted the line's second row slide forward that keeps a child's safety seat in place when doing so. This allows a passenger to climb into the third row without removing a child safety seat from the second row to do so. We also like the reclining seats in both the second and third rows and the mostly adult-friendly nature of that third row – a rarity in SUVs this size.
Cargo space is good, though not class-leading, but very accessible in the large rear hatch on the 2016 Infiniti QX60. It totals 76.5 cubic feet with the second and third rows folded down and bottoms at 15.8 cubes when all seating is up.  That's usable enough that most will be able to get luggage, warehouse club groceries, etc. into the QX60 and even make the occasional trip to the hardware store when required.
We also note the improved sound quality and quiet ride quality of the Infiniti QX60, another major upgrade for the 2016 model year.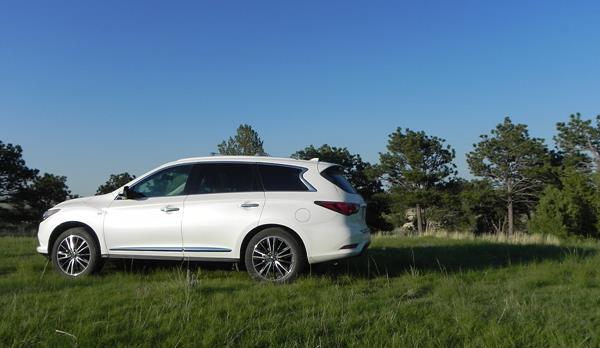 Technology (7/10)
The infotainment and technology integration that is in the 2016 QX60 is a bit dated. Not much has changed in this regard for the crossover since its debut in 2013 and the small-ish, less integrated touchscreen that is found in the QX60. We do like the redundancy of the rotary knob selector and touchscreen, however, which makes many tasks more intuitive. We found ourselves using the touchscreen for common quick items like stereo tuning but using the rotary to page through menu options.
Missing are two major points, however. Streaming from a device via Bluetooth seems to be absent in the Infiniti QX60, though streaming via a USB connection is possible. This was frustrating as was the lack of any kind of app integration outside of the simplistic Infiniti-branded Nissan Mobile App, which can do little with this vehicle.
An upside in the QX60 are the upgraded options like the 360-degree AroundView camera for backing and parking and the very well-done Bose sound system. The latter complements the very quiet interior well.
Fuel Economy (8/10)
The three-row luxury crossover segment can often struggle with fuel economy. In this light, the 2016 QX60 does well with an EPA combined rating of 23 mpg in front-wheel drive and 22 mpg combined in all-wheel drive. A Hybrid option for the QX60 ups those numbers to 26 mpg combined.
In our real-world use of an AWD QX60, though, we were unable to come close to those EPA estimates with our average being about 19 mpg in mixed driving that was heavy on highway usage. We expect that most 2016 Infiniti QX60 owners will also struggle to see EPA estimate matches with their driving.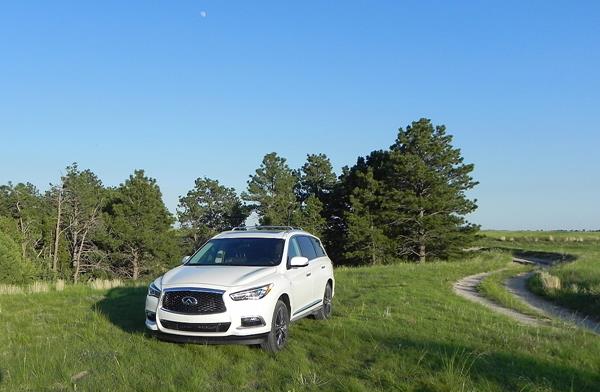 Performance (8/10)
The 2016 Infiniti QX60 is powered by a 3.5-liter V6 that outputs 265 horsepower and 248 pound-feet of torque. This tried-and-true engine maes with a continuously variable transmission (CVT) that does very for the crossover. Front-wheel drive is standard and all-wheel drive is optional on the QX60. Towing is rated at 5,000 pounds with proper equipment.
The Hybrid model is powered by a 2.5-liter four-cylinder and 15 kW electric motor with a small battery pack. Output is rated at 250 hp combined and 243 lb-ft of torque all together. Towing is rated at 3,500 pounds in the QX60 Hybrid.
On the road, the 2016 QX60 AWD with the V6 is a very good drive. It's a bit sporty, thanks to good steering and suspension tuning, but not overly so. It's boxy crossover nature cannot be easily hidden and the engineers at Infiniti appear to have merely wished to cut off the hard edges of that box. We like that, as it keeps the crossover's true nature in focus, especially at lower speeds around town and in parking lots.
Visibility in the QX60 is good and the added cameras and other gadgets as parking aids go a long way towards making this three-row SUV drive smaller than it is when it counts.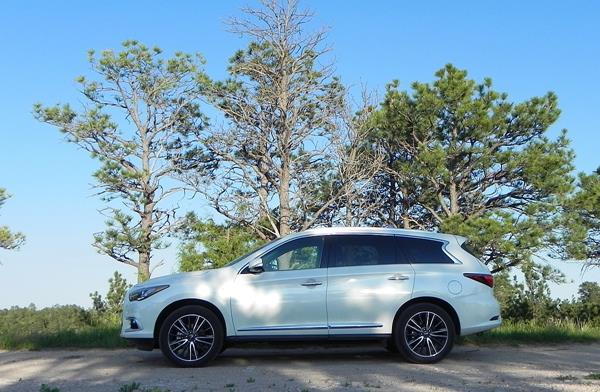 Total Score and Competitive Comparison (69/80, 86%)
Competition in the three-row luxury crossover segment is high. Excellent options to shop when looking at the QX60 include the Acura MDX, Volvo XC90 and BMW X5. Of these, we found that the BMW is sportier, the MDX is more fuel-efficient, and the XC90 is one of the most well-rounded and smartest options. Compared to these, only the XC90 likely ranks higher in overall value and excellence versus the Infiniti QX60.
The 2016 Infiniti QX60 is a well made, though lightly dated, seven-seat crossover whose choice of Hybrid or V6 powertrain makes it versatile. It's very family friendly with a lot of ergonomics for those on the go, including excellent cargo options and some of the best seating in the class. There are many compelling reasons to consider an Infiniti QX60 when shopping for a luxury crossover.
Read the FULL REVIEW Now to get more expert tips on the 2016 Volvo XC90's safety, reliability, exterior and pricing.
Search used cars for sale and find the best deals near you at iSeeCars.com.
To get a FREE iSeeCars VIN Report for a car, click here.