Overview (Final Score: B+)
The 2017 Dodge Durango has just about everything a family needs: space, versatility and comfort. Options for muscle and towing are also there. What's more, the Durango has managed to boost its scoring by just tweaking a couple of things that bothered us last year. It's now a top-rated crossover.
Most notable changes for the 2017 Durango are dropping the Limited trim, which has been renamed the GT. That GT adds a monochromatic exterior look and some sporty add-ons that give those who like the "sinister" looks (blackouts and such) the Durango is known for at a lower-cost option. Another change is the option for removal of the third row from the base SXT model. This gives the fleet buyer a cargo-specific option in the Durango.
Another option changed for the 2017 model year was the addition of a new Anodized Platinum package for the top-level Citadel model. We got to see it first-hand and were impressed with its luxuriousness.
The 2017 Dodge Durango is otherwise the same solid crossover it has always been. It's big, it's roomy, and it's ergonomic. It's unique look and choice of powertrains make it a great option for the full-size crossover-SUV buyer.
Because the 2017 Dodge Durango is unique, there are no direct competitors to it on the market. In its V6 form, it's comparable to crossovers, whereas with its V8 option, it's more comparable to traditional body-on-frame SUVs.
In terms of family-friendliness and ergonomics, the most direct competitor is the Toyota Highlander, which is a little better in interior ergonomics and a little worse in performance. The fun-filled Mazda CX-9 is also competitive in terms of performance. For towing and capability, it's SUVs, where the Chevrolet Tahoe (and its GMC Yukon twin) and the Ford Expedition are competitive in both interior volume and capability, but are also pricier as a result.
What We Love About the 2017 Dodge Durango:
Very family-friendly and ergonomic
Unique exterior look and curb appeal
On-road feel is top of the class
What We Don't Love About the 2017 Dodge Durango:
Barely average fuel economy
Reliability expectation is only average
Base package is not very well equipped
Want to know more? Check out the Full 2017 Dodge Durango Review Here.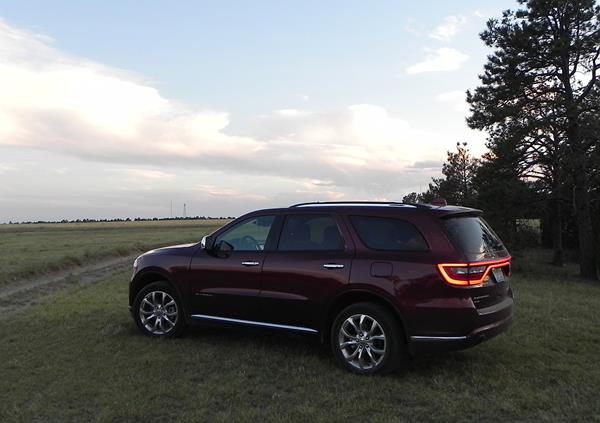 Search used cars for sale and find the best deals near you at iSeeCars.com.
To get a FREE iSeeCars VIN Report for a car, click here.