*Go straight to the FULL REVIEW.
Overview (Final Score: B-)
Acura has quite a challenge of them. Their MDX was already a competitive SUV in an ultra-competitive luxury SUV segment. Plus, the Honda brand is simultaneously launching a redesigned Honda Pilot, which shares a lot of the same underpinnings and platform with MDX. So, how does Acura maintain a luxurious enough vibe for the MDX, while sharing enough traits with the Pilot and stay ahead of the competition within the segment? Very carefully.
Redesigned for 2016, the Acura MDX has numerous changes and updates. The third-generation MDX still has the third-row seating, which helps differentiate it from its competition, but it also boasts a more modern-looking exterior and more refined interior. Plus a new powertrain, including a new transmission and new all-wheel drive system help advance this vehicle.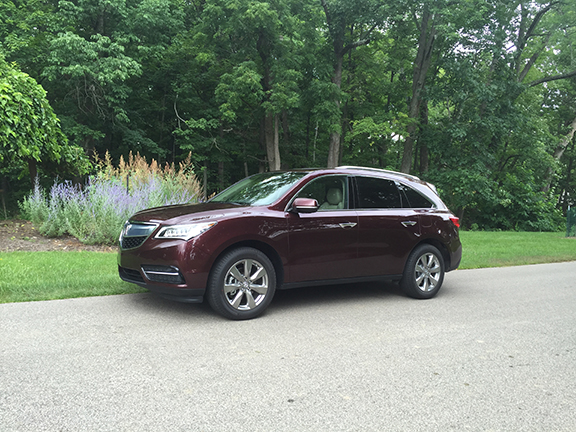 What We Love about the 2016 Acura MDX:
Quiet interior
Great handling
Improved fuel economy
What We Don't Love about the 2016 Acura MDX:
Push-button transmission
Stop-start engagement
Interior needs to feel more luxurious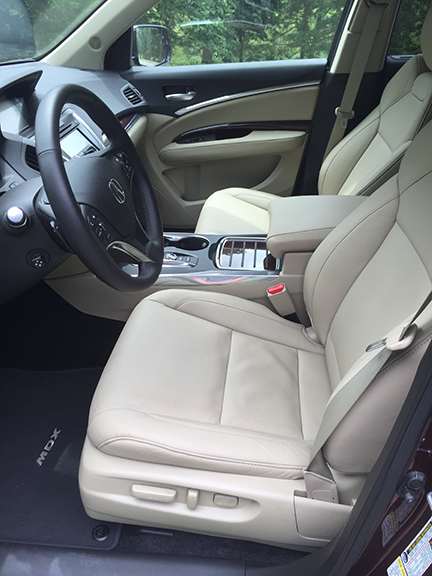 Interior Comfort, Quality and Overall Ease of Use (7 out of 10)
As mentioned, Honda is a conservative brand. They are competing against another conservative luxury brand, in the Lexus RX. In an apples-to-apples comparison, the redesigned interior of the MDX is quite comparable to that of the RX. However, I was hoping for a little more luxury out this third generation MDX. A lower trimmed MDX is close in interior quality to a top-of-the-line trimmed Honda Pilot. So the consumer may want and expect a little more luxury than they'll get with this MDX.
To be clear though, the MDX is not just a "glorified" Honda, as some critics have insinuated. There is plenty of luxury inside. There are nice materials, comfortable seats and soft touch points found throughout the cabin. All of these softer materials are noticeable in the quiet ride offered by the MDX. It's one of the quietest vehicles on the road.
The MDX is a seven-passenger vehicle. The second-row seats are suited for all passengers, even adults taller than six feet will be quite comfortable. Access to the third-row seat is easy, however limit your passengers to children for the third row as, like so many other SUVs, legroom is limited. Cargo space behind the third row is below average. There's 15.8 cubic feet of space with the third row seat upright. Fold the third row flat and it expands to 43.4 cubic feet. While the MDX is capable, it's more ideally suited to be a people mover and grocery hauler than anything else due to its cargo limitations.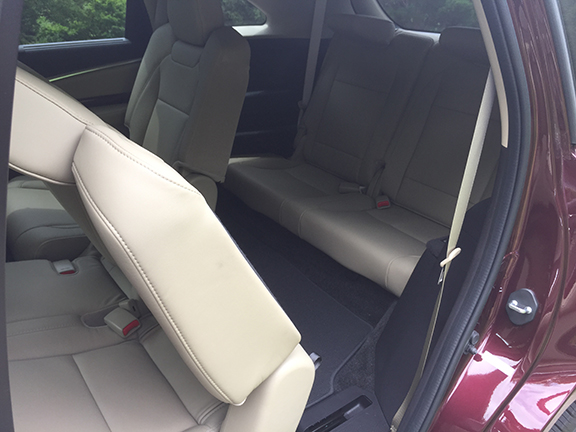 Fuel Economy (8 out of 10)
As part of the MDX's redesign, Acura drops more than 300 pounds of weight from the vehicle. They also added a nine-speed transmission. And they put in start-stop technology. All of these combined mean a significant improvement in fuel economy for the 2016 MDX. Front-wheel drive models have an EPA rating of 19 mpg/city and 22 mpg/hwy. The all-wheel drive version has a similar rating of 18/21.
I'm always of the opinion that with practically no difference in fuel economy, the AWD version is the way to go, at least in places where snow and weather conditions are a factor. The start-stop technology is one of the most noticeable additions to this model year. When you depress the brake at a complete stop, the engine shuts off. This technology saves fuel economy. However, I found the start-stop technology to be very difficult to engage and very easy to disengage. You have to press hard on the brake to activate it and then any little movement of the steering wheel or off the brake will disengage it. Plus, there's about a one second lag when things re-engage, so it affects the off the line times of the MDX.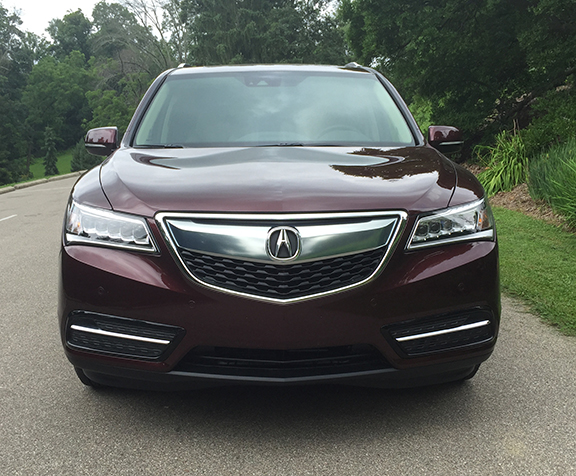 Performance (8 out of 10)
As mentioned, the MDX has a new nine-speed transmission. While the same 3.5-liter, V6 engine from the last generation returns, there's other new changes to change up the performance of the MDX. A brand new all-wheel drive system makes the MDX more agile. Braking is more responsive and the lighter weight makes the SUV more agile on the road. When before the MDX drove bulky, it feels lighter and feels more agile than before. The MDX makes 290 horsepower and 267 lb./ft. of torque. Those numbers aren't overly impressive, the MDX is spry and while it may not be fast, it's quick when it needs to be.
A driver select mode changes how the MDX handles and performs, including a sport mode, which changes the steering dynamics altogether. The nine-speed transmission is smooth. The only issue with it is that it's a push-button system. To put the vehicle in drive, you push a button. Same for reverse and park. It takes some getting used to. Consumers may initially reject this concept because it's different, but after a short time with it, it becomes second nature. But it does feel less engaged in the actual driving by having it there.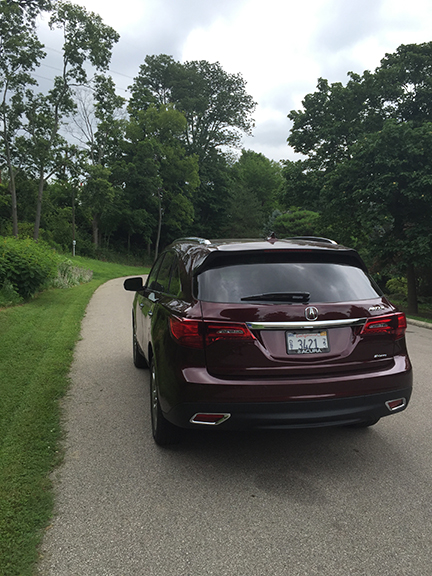 Total Score and Competitive Comparison (64/80, 80%)
The 2016 Acura MDX plays it cool with its updates and upgrades. It does what it needs to do in order to advance the brand into its third generation. It also does what needs to be done to keep it modern. And most importantly, the 2016's improvement increase fuel economy and make for a much better handling, and fun SUV.
With room for seven passengers and ample luxury, the 2016 MDX proves its merit and then some.
Read the FULL REVIEW Now to get more expert tips on the 2016 Acura MDX's safety, reliability, pricing, exterior and technology.
Search used cars for sale and find the best deals near you at iSeeCars.com.
To get a FREE iSeeCars VIN Report for a car, click here.