*Go straight to the FULL REVIEW.
Overview (Final Score: A-)
It's hard to argue with the ageless elegance of the BMW 7 Series. Executive sedans are the pinnacle of big car design before entering into the exclusive, hand-made world of ultra-lux special order saloons. For decades, BMW has been one of the top options in the executive luxury sedan arena. With the newly-redesigned 7 Series, they still are.
The reinvention of the 7 Series comes with a lot of changes for the big sedan. Most notable are the vast amount of technology options for the interior – something BMW has usually shied away from. Some of these, such as the available tablet for the rear seats, are without compare elsewhere.
Coming later this year are more engine options for the BMW 7 Series, but for now, the 2016 model has two: a six and an eight-cylinder. A plug-in hybrid has also been announced and will be coming soon with a drivetrain similar to the big X5 plugin SUV.
Also new this year for the 7 Series is a host of updated safety and driver convenience options like adaptive cruise with stop-and-go, gesture control for the infotainment screen, and an interesting "traffic jam assistant" that helps steer during low-speed driving on crowded roads.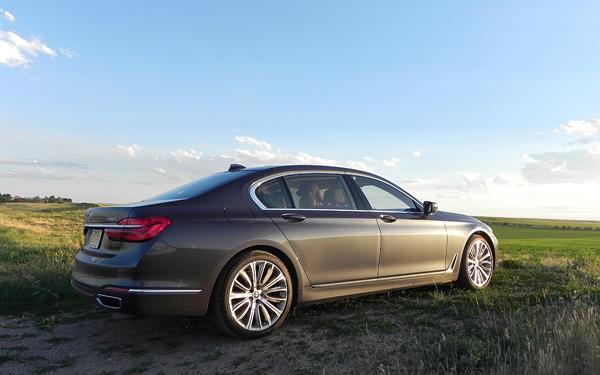 Missing this year is a short wheelbase option, with the big 7 Series now being available only in what was previously it's long-wheelbase configuration. With 126.4 inches to play with, though, the 7 Series becomes the largest non-limousine sedan in this segment and that really shows in the rear seating.
In all, this is a well-rendered executive sedan with a lot to offer.
What We Love About the 2016 BMW 7 Series:
Beautiful exterior design blending class and simplicity.

Interior is beyond excellent with very forward-thinking tech.

Excellent on-road drive despite the long wheelbase.
What We Don't Love About the 2016 BMW 7 Series:
Safety and reliability are hard to predict.

No short wheelbase option, as there has been before.

Rear entertainment screens are not touchscreens.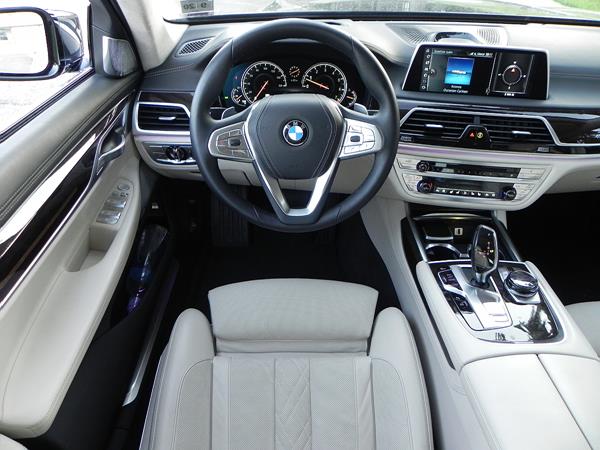 Interior Comfort, Quality, Ergonomics (10/10)
Being so festooned with technology and fun gadgets, it's easy to overlook the elegance and style that also make up the BMW 7 Series' interior. Ambient LED lighting and entryways are just the start here, followed by a classic BMW dashboard design with its familiar Teutonic wave form. A large infotainment screen and an impressive array of controls beset the front of the 7 Series, but none of it feels out of place or overly complex.
The front seating is excellent, especially for a car that is meant to be chauffeured rather than driven. Available are multi-contoured seats with heating and cooling as well as heated arm rests. Wood-trimmed seat belts are also an option, as are a bevy of other luxury items that most probably would never think of were it not for the BMW brochure explaining their availability. As they should be in a sedan this large, head-, shoulder-, and legroom are all accommodating enough for even NBA players to find comfort.
In the back, things get even more luxurious. Top-shelf seating is met with a complete array of positioning controls for slide, recline, and more. An available inset tablet can be removed from the center armrest and used to control other optional functions such as massaging, seat heating and cooling, and more. We'll go into more detail on the tablet in the Technology section below. Other options include a remote-controlled set of large entertainment screens set into the headrests of the front seats, full climate controls, and more.
Luggage space is enormous, measuring larger than many city apartments at 18.2 cubic feet. A cargo passthrough measuring an impressive 8×9.5 inches is also standard, allowing items slightly too long for the trunk to fit.
In all, there are too many options to list with even standard equipment in the big BMW 7 Series being long and impressive.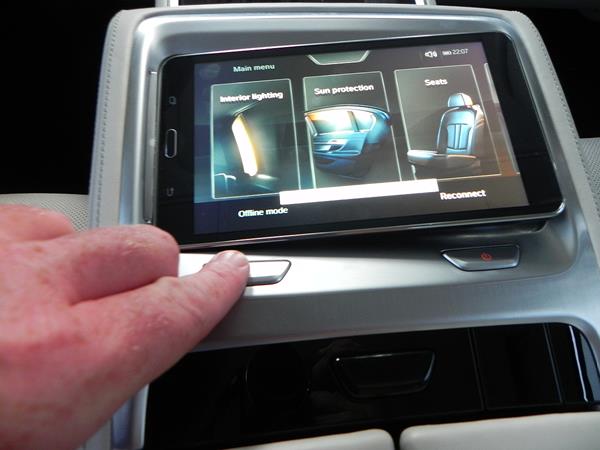 Technology (10/10)
As we said before, the 2016 BMW 7 Series is festooned with technology. A 10.2-inch central infotainment display is standard and includes several apps and connectivity options. Most of the BMW ConnectedDrive portfolio of apps are there, including BMW Online and BMW Apps, both of which require smartphone connectivity, but onboard WiFi hotspot and Internet access is standard as well. The new Gesture Control is also included, allowing the driver to use gestures to control certain features such as radio volume and phone call acceptance or hangups from the steering wheel. Wireless phone charging and a Harmon Kardon audio system with satellite radio and dual USB ports is also standard.
A special Rear Executive Lounge Seating package adds non-tech upgrades to the rear passenger-side seat, adding a footrest and foldaway table. It also adds dual entertainment screens with a wireless remote that works in a way similar to the command knob up front. We found the interface and controls on those screens to be clunky, though, and would have preferred touchscreens for the rear entertainment. This package also adds a Touch Command Tablet.
That is an 8-inch tablet which can be removed from the center armrest and used to control most of the comfort and entertainment options in the car. This includes the entertainment screens, audio, etc. It also controls the massage and heating for the rear seats. This is an Android tablet with Internet access, so web surfing and Android downloads are also possible.
There is a ton of tech inside the BMW 7 Series and it's all fun to play with.
Fuel Economy (8/10)
Fuel economy in executive sedans is notoriously low, given their size and bulk. The BMW 7 Series is no exception, though it has two drivetrain options, one of which offers good MPG returns given its bulk.
The 740i model with its inline-six engine offers 24 mpg combined, with 21 mpg in the city and 29 mpg on the highway. Our test model was the 750i xDrive, with a V8 and all-wheel drive. This model returns 19 mpg combined, per the EPA, with 16 mpg in the city and 25 on the highway. In the real world, that model returned close to those estimates at about 18 mpg combined overall.
BMW has promised other powertrain options later this year, but no fuel economy numbers for them have been announced.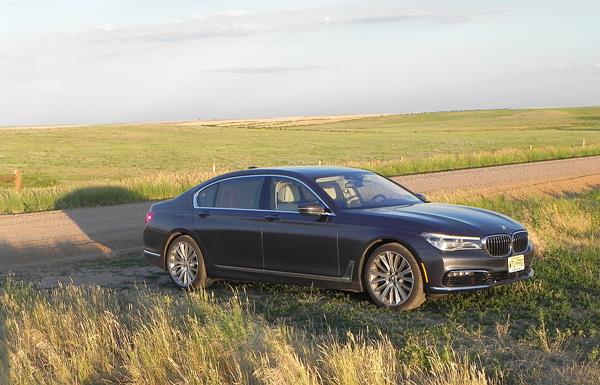 Performance (9/10)
The 2016 BMW 7 Series is a big executive car and that long wheelbase means that handling is not going to be as sporty as a smaller sedan might be. That said, the two (so far) available powerplants are impressive. The 740i model is powered by a 3.0-liter turbocharged inline-6-cylinder engine that produces 320 horsepower and 330 pound-feet of torque. An eight-speed automatic transmission is standard and rear-wheel drive is the only option.
Our test model was the 750i xDrive, which is driven by a 4.4-liter turbocharged V8 that outputs a massive 445 horsepower and 480 lb-ft. This powerful engine propels the big 7 Series sedan along the highway and up the onramp with gusto and returned 0-60 times inside the 7 second range for us. It emits a satisfying grumble when pressed, but otherwise leaves the cabin quiet.
We really liked the eight-speed automatic's shifting as well, which is quick and precise. It rarely hunts for gears, having a good tune for most common speeds. In corners, the bulk of the big sedan is felt, but it still handles itself well. Executive sedans are about comfort, not road-hugging, but the 7 Series manages to feel competent in even the hardest of turns. We appreciated that.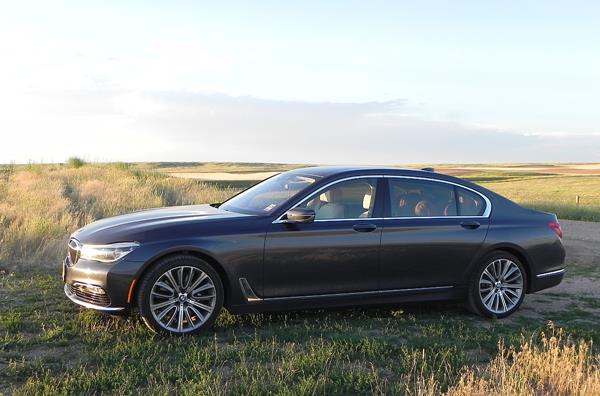 Total Score and Competitive Comparison (73/80, 91%)
The most direct competitor to the BMW 7 Series is the Mercedes-Benz S-Class, which is often considered the benchmark in this segment. The S-Class has more powertrain options and prestigious appeal, but the 7 Series is now very comparable and offers a better price point for the accouterments.
Also in this class are the Porsche Panamera, which is becoming aged in its design, and the newly-done Jaguar XJ, which we thoroughly enjoyed. The Jaguar is not as tech-infused as is the BMW, but does offer a compellingly smooth drive.
To summarize the 2016 BMW 7 Series, we'd say that it's a big, beautiful sedan that carries forward the German tradition of bringing smart engineering into the executive arena in an elegant way. It's redesign brings it, once again, up to the fore in the executive sedan segment.
Read the FULL REVIEW Now to get more expert tips on the 2016 BMW 7 Series' safety, reliability, exterior and pricing.
Search used cars for sale and find the best deals near you at iSeeCars.com.
To get a FREE iSeeCars VIN Report for a car, click here.