*Go straight to the FULL REVIEW. 
Overview (Final Score: A-)
The 2017 BMW X1 was introduced last year as a new Sport Activity Vehicle from the German automaker. Meant as an entry into the compact luxury crossover market, the X1 is neither a traditional crossover nor a traditional sedan. It's somewhere in between.
The 2017 X1 is based on the MINI Cooper's underpinnings, making it light on its feet and high in performance for a compact. It's peppy and nimble with eye-catching looks and a niche feel that makes it stand out among stiff competition. This 5-passenger luxury compact crossover has standard all-wheel drive, premium content, a good-sized touchscreen for infotainment, and just one well-outfitted trim level.
With this much standard equipment, it's difficult to overlook the X1's promise of fun and versatility.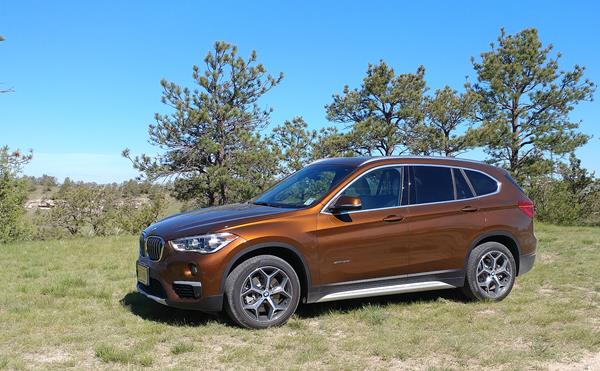 What We Love About the 2017 BMW X1:
Roomy in the front with a useful cargo area behind
Fun to drive with a lot of sporty feel to its turbocharged goodness
Fuel economy is excellent for the class
What We Don't Love About the 2017 BMW X1:
Looks may be polarizing for some, but are always eye-grabbing
Premium fuel required, making it expensive to fill
Expected reliability is only average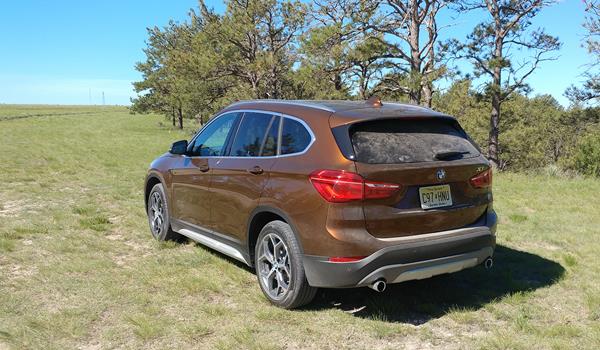 Performance (9/10)
The 2017 BMW X1 is powered by a 2.0-liter turbocharged 4-cylinder engine that outputs 228 horsepower and 258 foot pounds of torque. This engine is straight out of the MINI line and does very well in the X1. An 8-speed automatic transmission and standard all-wheel drive are also included. Hill descent control is also included as standard.
The fast-moving torque delivery and small size of the X1 mean that it's extremely sporty for the segment. It launches from 0 to 60 mph in under seven seconds without hardship. Handling and steering are light and nimble and maneuverability is superb. The standard rear-view camera is a boon as rear visibility is not the best in this elongated wagon-ish crossover.
The 2017 X1 is well-mannered on the highway and passes with ease. It's quick around town as well, though road bumps can enter the cabin readily thanks to a sporty suspension tune. The fun engagement of the drive negates most of the disappointment that might bring.
Pricing and Value (9/10)
The 2017 BMW X1 is very well priced for the segment, given its plethora of amenities. Most will probably add a package or two (we recommend the Technology package), but costs are reasonable and compared to many, the X1 is high in value. Most competitors do not include AWD or turbocharged engines as standard equipment.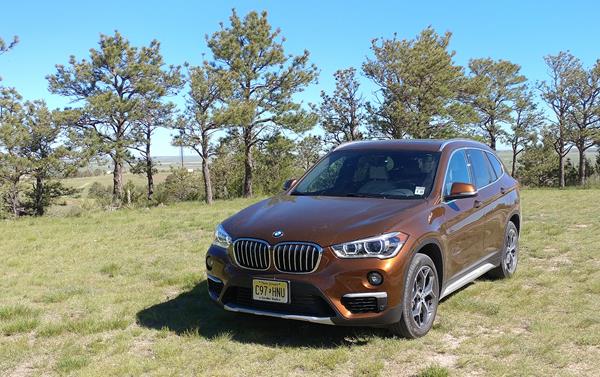 Shoppers should look around because the luxury compact crossover segment is fiercely competitive and incentives are plentiful. The X1 remains a solid choice, unless a competitor has an extremely compelling price offering.
Total Score and Competitive Comparison (72/80, 90%)
The 2017 BMW X1 is a hard target to beat, but looking at the segment does show some competition worth considering as alternatives. The Audi Q3 is similar in sportiness and appeal, but is smaller than the X1 and not as value conscious. The Lexus NX with its 200t package is a good choice, but doesn't meet the X1's sportiness overall. The Acura RDX is stiff competition for the BMW X1, but it's more expensive and a bit larger as well.
The 2017 BMW X1 offers a great mix of practicality, sporty driving, eye-catching styling and an excellent interior. With luxury levels of refinement, it's also reasonably priced and fuel efficient to boot.
Read the FULL REVIEW Now to find out about the 2017 X1's safety, reliability, fuel economy, interior, exterior, technology and more.
Search used cars for sale and find the best deals near you at iSeeCars.com.
To get a FREE iSeeCars VIN Report for a car, click here.