*Go straight to the FULL REVIEW.
Overview (Final Score: A)
There's a lot to love about the 2017 Mazda CX-5, from its charismatic good looks to its award-winning interior and engaging drive.
The CX-5 was introduced in 2013 as a new small crossover and it immediately rivaled mainstays in the marketplace with its dynamic feel and fun everyday drive. For 2017, Mazda revamped the CX-5 to add more comfort, a better interior and advanced safety systems as standard equipment. It's now one of the highest-rated crossovers in any class.
With these upgrades, Mazda didn't mess with its winning formula. The CS-5's SKYACTIV chassis and drivetrain remain much the same and just as sporty and fun. Mazda also left the CX-5's pricing structure and trim point levels roughly the same, keeping this little crossover poised to remain a high seller in the small, two-row crossover market.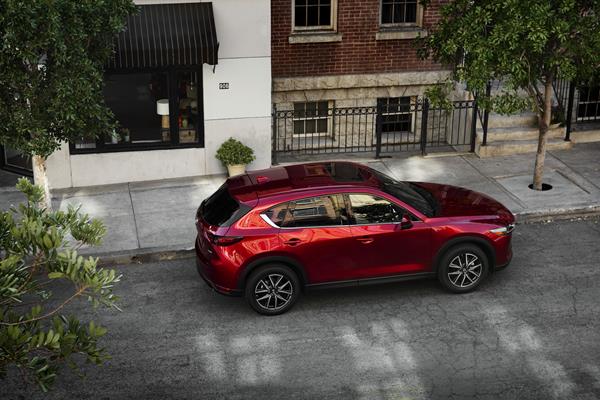 The 2017 Mazda CX-5 comes in four trim levels with front-wheel drive as standard and all-wheel drive as an option. This two-row crossover has seating for up to five and a standard split-fold rear bench.
What We Love About the 2017 Mazda CX-5:
Very engaging to drive
Excellent interior experience with lots of appeal
Good fuel economy and high safety ratings
What We Don't Love About the 2017 Mazda CX-5:
Not as roomy in the back seat as some rivals
Reliability only about average
Pricing for some advanced features is a bit premium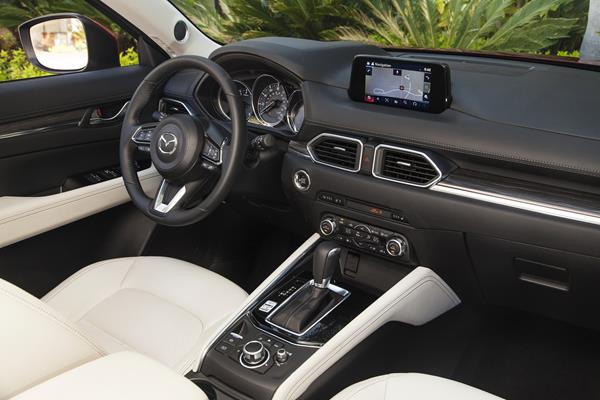 Performance (9/10)
The 2017 CX-5 comes with a 2.5-liter four-cylinder engine that's capable of 187 horsepower. This mates to a six-speed automatic transmission as standard equipment. Mazda dropped the manual transmission that was available in the previous-generation CX-5.
The engine and transmission don't sound like much on paper, given the overall size of the CX-5 and segment averages. Yet they are both more than adequate for the crossover, thanks to Mazda's excellent engineering. Marketing might say "zoom zoom," but Mazda's engineers say "turn and say whee!"
The chassis controlling the 2017 Mazda CX-5 is similar to what was underpinning the previous rendition of the crossover, but has some tightening for better control and a little tuning for a nicer highway ride. The engine is eager to put out its maximums and the transmission shifts quickly without hesitation to keep those maxes high. Turning into curves and making corners is a thrill in the CX-5 that won't be found in any other non-luxury small crossover we've tried.
The CX-5 is just a joy to drive. That's all there is to it.
Pricing and Value (9/10)
The 2017 Mazda CX-5 is very well priced for the segment. Its starting price is about on par with rivals, though its interior is generally better.
Where the CX-5 really shines is in the Touring and Grand Touring trim packages. The Touring hits the $27,000-ish price point well with excellent equipment to include all-wheel drive and an upgraded interior. The Grand Touring averages about $3,000 more, but includes upgrades to infotainment, the stereo and possibilities for advanced safety options like crash mitigation.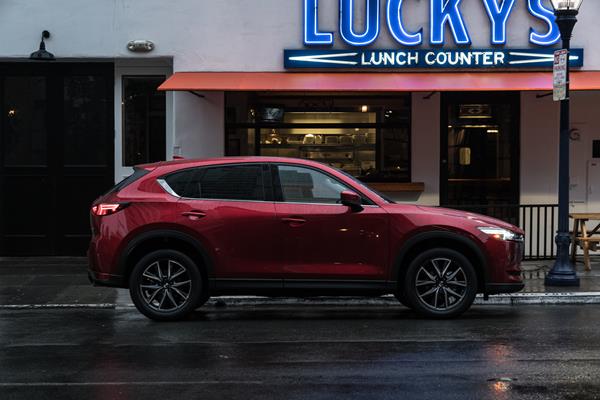 Total Score and Competitive Comparison (75/80, 94%)
The 2017 Mazda CX-5 has no shortage of rivals in the small crossover segment. It's nearest competitor, in terms of all-around excellence, is the Honda CR-V. The Honda doesn't have the CX-5's good looks, but it does have a larger interior and equal fuel economy.
Also competing are the Toyota RAV4, which has less interior room and a more sluggish drive, and the Ford Escape, which has similarly high good looks and a smart interior, but a more expensive price tag with similar accouterments. Finally, the excellent Subaru Forester is worth considering against the Mazda CX-5. Though the Subaru has a less dynamic feel to its drive, it does have a stronger reputation for excellence.
The 2017 Mazda CX-5 is by far our highest-rated crossover-SUV in the small, two-row segment. It's slight weaknesses are nothing against its strengths and we cannot recommend the CX-5 enough, especially in its new 2017 rendition.
Read the FULL REVIEW Now to get expert tips on the 2017 CX-5's safety, reliability, fuel economy, interior, exterior, technology and more.
Search used cars for sale and find the best deals near you at iSeeCars.com.
To get a FREE iSeeCars VIN Report for a car, click here.