*Go straight to the FULL REVIEW.
Overview (Final Score: B)
The 2018 Infiniti Q50 is aged compared to its rivals, but like anything that ages well, the Q50 has a little wisdom behind it. There is no lack of competition in the luxury sport sedan class and the Q50 faces off against competition that is almost all newer and more modern in design. A light refresh for 2018 and some upgrades made a couple of years ago come together to keep the Q50 relevant. For now.
It's worth noting that although the 2018 Q50 is now well past middle age (in automotive design years), it's wearing that age well. Sporty engine options, a timeless exterior and a good interior design all keep it up to par with rivals.
For 2018 the Q50 gets a little option shuffling and changes to its trim level names, along with a few subtle changes to the front and rear fascia. The 2018 Infiniti Q50 is otherwise unchanged from 2017. A total of five models and three trim levels are offered for the 2018 Q50. All are five-seat luxury sport sedans in the small-midsize segment.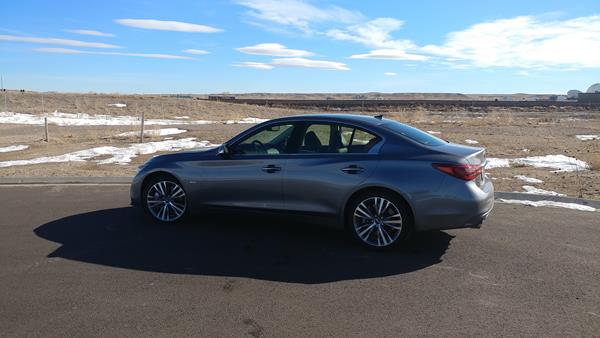 What We Love About the 2018 Infiniti Q50:
Timeless exterior look and appeal
Interior is comfortable and made with quality in mind
Road presence and handling are very good for the segment
What We Don't Love About the 2018 Infiniti Q50:
Dual infotainment screens are often duelling and prone to glare
Fuel economy returns in base model and hybrid are disappointing
Lack of updates, especially in technology, holds the Q50 back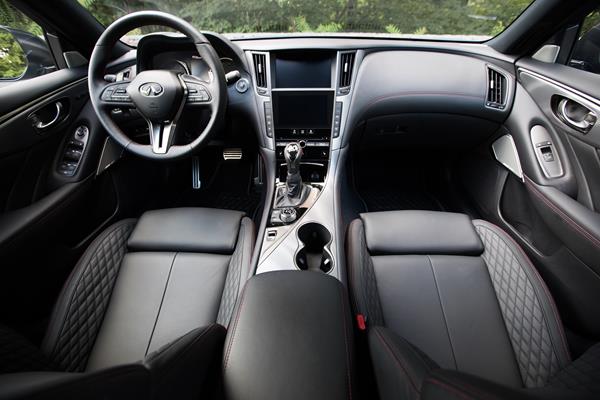 Interior Comfort, Quality, Ergonomics (8/10)
The last-minute quality of some of the added extras, especially infotainment, in earlier renditions of the Q50 remain in this 2018 model. This mars what is otherwise excellent quality and fine workmanship in the sedan. The dual infotainment screens are prominent and give the appearance of a pair of low-riding jeans on a middle aged man: a ridiculous attempt to be hip.
By contrast, seating in the 2018 Infiniti Q50 is excellent, with a lot of well-done cushion and bolster to fit most any derriere. A low step-in height for both front and rear passengers aids entry and egress, and wide-swinging doors complement that thoughtfulness in the car's design. There is more room in the Q50's front seats than might be found in many luxury sedans this size. Yet a cozy appeal is kept thanks to Infiniti's careful use of light materials and curvature in the dashboard's movement toward passengers.
In the rear, outboard seating is excellent with plenty of comfort and room for even the tallest riders. Legroom can be at a premium if the person up front is also tall, but headroom is very well done. Fitting a third person in back may be a challenge given the car's size, but that's true of all vehicles in this class.
Storage is good inside the 2018 Q50 as well, with plenty of space for most everyday items. Cargo space is also good, standing at 13.5 cubic feet in the standard sedan and a bit less in the hybrid option. We recommend foregoing the optional spare tire unless roadside assistance is difficult to come by, as it greatly reduces trunk space.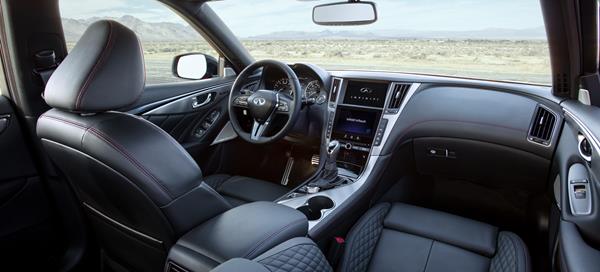 Fuel Economy (8/10)
The expectations for fuel economy in the luxury segments are changing to match the times. Although often subjective, with some drivers caring little for mpg ratings, the market is moving toward better economy on the whole. In its mainstream V6 option, the 2018 Infiniti Q50 keeps up with par for mpg returns, but the lower end model and hybrid option are disappointing.
The base model 2.0t has an EPA rating of 23 mpg in the city and 31 mpg on the highway. Most should see that in the real world, thanks to the turbochargers, but Infiniti obviously gave up some mpg in order to keep the model's sport focus. The segment average is a bit higher for a four-cylinder-powered sedan.
The mid-tier 3.0t is better with a 20 mpg city and 29 mpg highway rating. We saw a bit better than those in our average after a week's driving in cold weather. We averaged 24 mpg, which is slightly higher than the EPA's combined rating for this car.
The power-hungry Red Sport 400 model of the 2018 Infiniti Q50 receives an EPA rating of 20 mpg in the city and 26 mpg on the highway. The Q50 Hybrid is rated at 27 city/32 highway, and we would expect more from a hybrid in this class.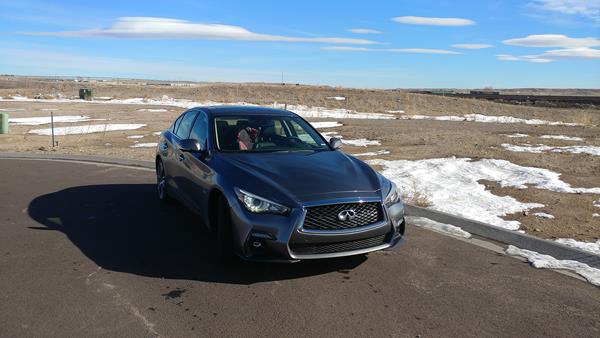 Performance (10/10)
Where the 2018 Infiniti Q50 shines is performance, as would be expected from a car billed as a luxury sport sedan. The 2018 Q50 has four powertrain options, each offering differing levels of performance on top of a very well-balanced chassis. Front-wheel and all-wheel drive are available on most models.
The entry level 2018 Infiniti Q50 2.0t has a turbocharged four-cylinder engine that outputs 208 horsepower and 258 pound-feet of torque. This is a peppy choice, but not the mainstream option for the car given the lackluster mpg returns given for the smaller engine's relatively low output.
The middle-tier 3.0t model offers a turbocharged 3.0-liter V6 that outputs 300 hp and 295 lb-ft, giving much more vigor to the Q50's drive. A good growl, plenty of umph and a solid range of output for power mean this is the Infiniti of choice in the Q50 lineup.
For those who need more, there is the powerful 2018 Infiniti Q50 Red Sport 400. This model takes the same 3.0L six and pumps it up to 400 horsepower and 350 lb-ft of output. Chassis tuning and some other changes make the rest of the car match this high output level, turning the Q50 into a truly muscular sports car.
On the opposite end of the spectrum is the Q50 Hybrid model, which opts to deliver more impressive fuel economy rather than muscle. Yet it's not underpowered, thanks to the inclusion of a naturally aspirated 3.5-liter V6 that pairs with an electric motor to combine for 360 horsepower. Extra vehicle weight for batteries and electronics counteract the boost this might otherwise give, but the added torque and excellent weight distribution found in the 2018 Infiniti Q50 Hybrid is very welcome. It remains a fun drive and keeps the sport in mind.
Pricing and Value (9/10)
The 2018 Infiniti Q50 remains a low seller compared to the newer competition in this segment, which means that buyers have an advantage when negotiating with a dealer. Slumping sales are a good thing for new car buyers, providing motivation for the seller. The low starting price and relatively low price of entry for most models in the Q50 line are also high points in favor of the buyer.
The base model 2018 Infiniti Q50 is a good start, but we think most Q50 buyers will be happier with the 3.0t model because of its better performance. It doesn't sacrifice much fuel economy for that added boost and brings some good amenities for the price. Any of the options packages (Luxe, Pure, Sport) are worth the money spent if their inclusions match your needs.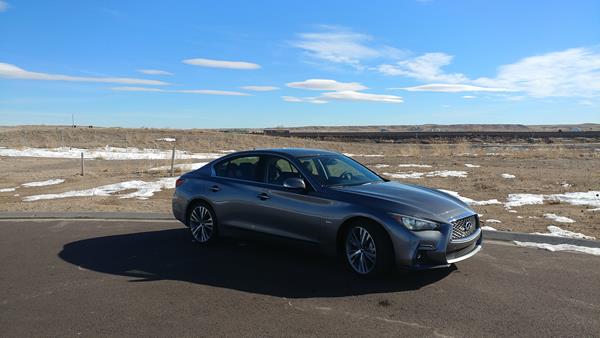 Total Score and Competitive Comparison (69/80, 86%)
There are plenty of competitors for the 2018 Infiniti Q50. The best sellers tend to be newer and include the Audi A4, BMW 3 Series, BMW 5 Series and the Mercedes-Benz C-Class. These German options are generally more sport-centric than the Infiniti, though not by much, and all will have higher price points in the bargain. The BMW 5 Series is one of our highest-rated vehicles of all time, so it's definitely worth cross-shopping.
The Lexus IS also competes with the 2018 Infiniti Q50. It offers superior interior luxury and better fuel economy in its hybrid variant. We would recommend cross-shopping the Lexus IS 300h against the Q50 Hybrid for value.
The 2018 Infiniti Q50 is a great vehicle with a lot to offer. It's competitive, though aged, and offers a well-rounded package for sedan buyers who emphasize sport in their drive.
Read the FULL REVIEW Now to get expert tips on the 2018 Q50's safety, reliability, exterior, technology and more.
Search used cars for sale and find the best deals near you at iSeeCars.com.
To get a FREE iSeeCars VIN Report for a car, click here.