Overview (Final Score: B)
The Colorado is Chevrolet's midsize truck, aiming towards a market that's grown quickly over the past few years. The small truck segment, long dominated by Toyota, has seen a resurgence and the Colorado (along with its GMC twin, the Canyon) has is a big part of that renewed interest. As far as midsize pickup trucks go, the Colorado is a solid entry in a busy market. It's capable, well-designed, and affordable for most buyers.
The Chevrolet Colorado, reintroduced in 2015, has seen a few minor changes since then. For the 2019 model year, the Colorado gets more standard equipment, more options, and a hardcore off-road variant in the ZR2 Bison.
The 2019 Chevrolet Colorado features two cab styles, two bed lengths, three engine choices (including a diesel) and five trim levels. Most of the trim levels can be upgraded with packages of options to suit the buyer.
What We Love About the 2019 Chevrolet Colorado:
Excellent diesel engine option
Comfortable with good ride quality in most situations
Good capability for a truck in this segment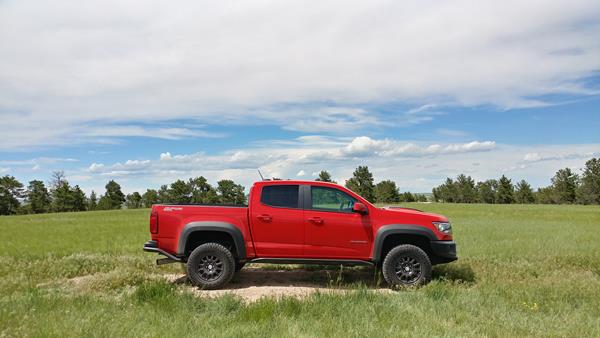 What We Don't Love About the 2019 Chevrolet Colorado:
Headroom can be at a premium for taller folks
Less in-cab storage than in other midsize trucks
Off-road-oriented trims are pricey in comparison to larger trucks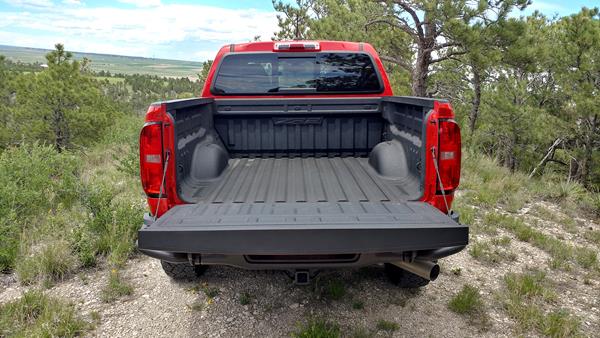 Total Score and Competitive Comparison (64/80, 80%)
There are several options in the midsize pickup truck segment now. The best-selling Toyota Tacoma continues to rule the roost, but the Colorado is strong competition against it with less polarizing looks and a more comfortable interior. The new Ford Ranger is more crossover-like in its appeal, offering less capability but a lot more comfort and ease of drive quality. Similarly, the crossover-based Honda Ridgeline offers maximum ergonomics. The tough little Nissan Frontier is a workaday, rough-and-tumble truck that's fallen far behind in terms of modernization. Finally, the almost identical GMC Canyon is worth cross-shopping against the Colorado.
The 2019 Chevrolet Colorado is a great daily truck. It offers a good mix of capability, comfort, and style for most buyers. The varied trim levels, strong option lineup, and interior comfort are high points for the Colorado.
Get more expert advice now in the 2019 Chevrolet Colorado FULL REVIEW with tips on its exterior, technology, safety, reliability, pricing and more.
Search used cars for sale and find the best deals near you at iSeeCars.com.
To get a FREE iSeeCars VIN Report for a car, click here.